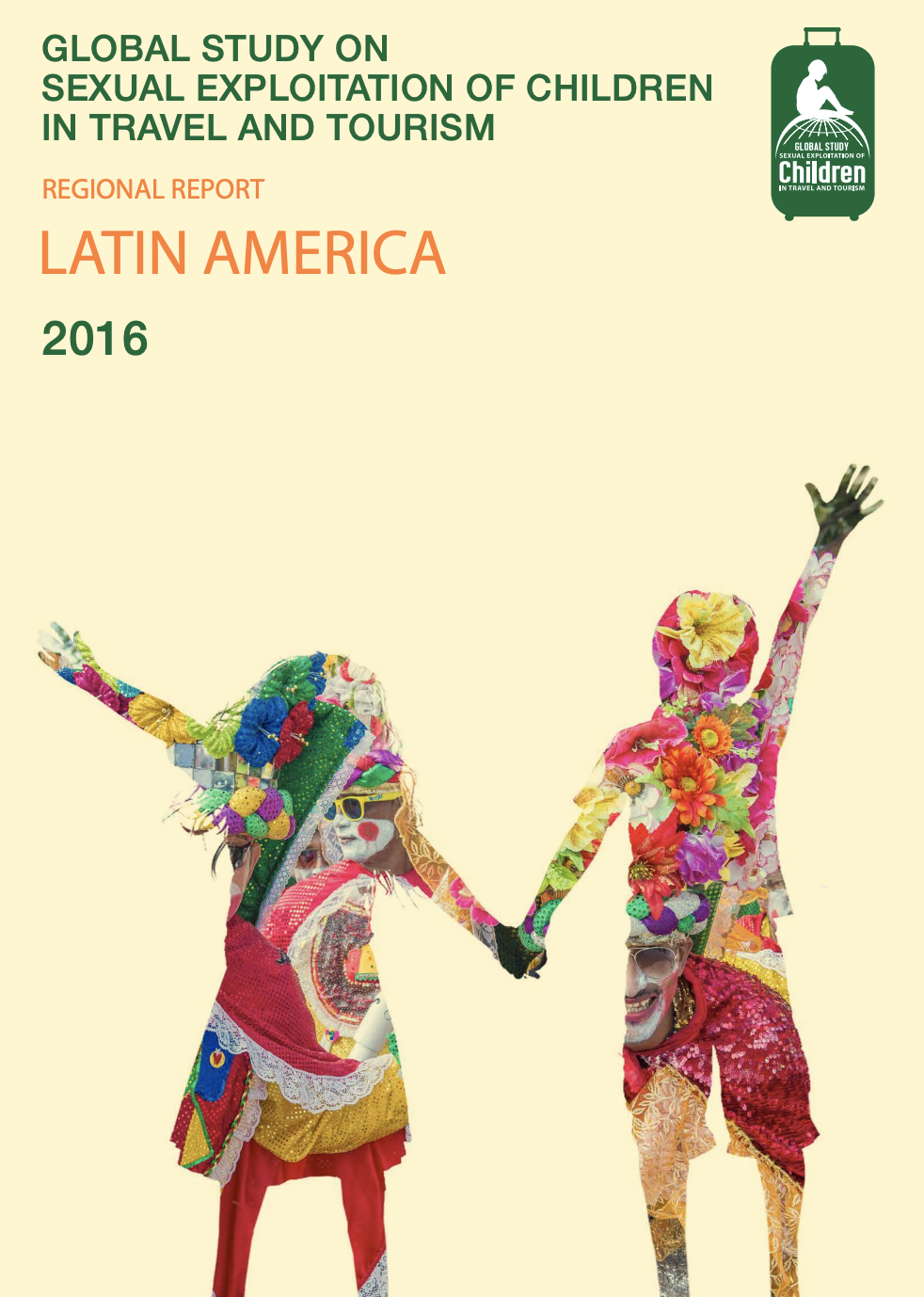 Global Study on Sexual Exploitation of Children in Travel and Tourism – Latin America
Executive Summary
Purpose
This desk study presents an up-to-date picture of the phenomenon of sexual exploitation of children in travel and tourism (SECTT) in Latin America. Its aim is to conduct a comprehensive review of available published documents on the subject, extract the most current and accurate information on the subject and bring it all together in one document.
It covers the characteristics, the scale and the scope of the problem, providing the latest available information on the number of victims across different countries. It also includes up-to-date information on emerging trends in SECTT and a review of the many initiatives that have sprung up in an attempt to combat this phenomenon, highlighting the efforts that have been most innovative and successful. Based on this, recommendations are made about how to best continue the fight against SECTT, combining both the insights already present in the literature and the conclusions of the researchers who produced this study. For those interested in understanding the problem of SECTT in Latin America, this desk study will be a valuable tool; it will also serve as a basis for finding country-specific texts and studies on the subject.
The desk study has been compiled as part of a global study conducted by ECPAT International with the goal of better understanding SECTT, raising awareness and finding solutions. ECPAT International is a global network of organisations working to eradicate the commercial sexual exploitation of children. It is anticipated that the global study will be an important document and lobbying tool for mobilising efforts to address the problem of SECTT across government, non-government and private sectors.
Procedure
This desk study draws on the body of published information on/or relating to the subject of SECTT in Latin America. ECPAT International has member groups in 12 Latin American countries and in 2014 these groups produced country monitoring reports on the wider issue of the commercial sexual exploitation of children (CSEC), which includes SECTT. Researchers used these reports as a starting point for the study, both for information on the phenomenon and links to other texts. At the same time, experts from the ECPAT groups were consulted to provide links to other documents that would be useful.
SECTT is one manifestation of the commercial sexual exploitation of children, so texts that referred to this wider phenomenon were included in the desk study. However, the volume of information and the need to produce this document in a timely manner meant that preference was given to texts dealing specifically with SECTT, and that documents which provided more recent information were given priority over older texts.
Similarly, Latin America is a vast region comprising four sub-regions (North America, Central America, the Caribbean and South America) and 20 sovereign countries, making it impossible to conduct an exhaustive study of every country in the time available. Thus 14 countries were chosen to provide a representative sample. These include the 12 countries with ECPAT member organisations – Argentina, Brazil, Chile, Colombia, Costa Rica, Dominican Republic, Guatemala, Mexico, Nicaragua, Peru, Paraguay and Uruguay – and two others that offered important information on SECTT: Ecuador and Panama.
Documents relating to other countries were also consulted and referred to in the study, but the focus was on the 14 sample countries. Equally, the researchers drew on more general documents (that were not country-specific or that provided background information on SECTT) where appropriate.
To complement the information from ECPAT groups, the researchers consulted information published by international organisations including the United Nations Children's Fund (UNICEF), the United Nations World Tourism Organisation (UNWTO), the Organization of American States (OAS), the Inter-American Children's Institute (IIN) and the International Labour Organization (ILO). Groups and organisations (both government and non-government) were also consulted at the regional and national levels. Furthermore, a comprehensive internet search was conducted to find other documents (often academic) related to the subject.
Please note that this desk study has been circulated among all ECPAT groups in Latin America and shared with State members of the Regional Action Group of the Americas (GARA). Their comments have been incorporated into the final version.
Results
Chapter 2 begins by defining SECTT, highlighting what makes it different from other forms of commercial sexual exploitation and explaining why it must be addressed in a specific way. It also looks at the method used to carry out this study, including its limitations and also explores relevant terminology in understanding this issue in the context of travel and tourism.
Chapter 3 analyses the factors that contribute to SECTT. In very simple terms, these relate to the issues that place victims in a situation of vulnerability and the circumstances that expose them to SECTT. In the first category, we find structural problems such as unequal income distribution, high dropout rates in schools, gender and racial inequality, migration, the disintegration of the family unit, poverty, social exclusion and consumerism. Social practices and norms also play a part here: the supremacy of masculinity and heteronormativity, public tolerance of commercial sexual exploitation, padrinazgo or criadazgo (where children are sent to live and work in other households), homophobia and perceptions of childhood. Additionally, corruption allows exploiters to commit crimes with impunity.
While these myriad factors increase the vulnerability of populations in Latin America, other circumstances put them at risk of SECTT and other forms of commercial sexual exploitation. These include the rise of tourism and travel and their increasing importance in modern Latin American economies, which gives exploiters greater access to children. Mega events (for example, the FIFA World Cup and the Olympic Games in Brazil), conferences, trade events and business travel, transport centres, mega projects and transit zones (often on borders), all place vulnerable populations in the firing line of SECTT.
The chapter finishes with a look at the scale and scope of the problem in numbers. One of the major challenges in this area has been obtaining hard data on the extent of the issue. Information from government and non-government reports has been compiled for each of the 14 sample countries and is presented in Table 2. Once again, this exercise highlights the dramatic gap between officially reported cases and the scale and scope of the problem as observed working in the field, directly with the affected populations.
Chapter 4 looks at more recent trends and patterns related to SECTT in Latin America. These include the links between SECTT and civil conflict, criminal activity, trafficking of children and technology.
This chapter also provides more detailed portraits of SECTT exploiters. In relation to the travellers and tourist exploiters who demand sex, it notes the differences between preferential and situational exploiters – those who travel with the express aim of engaging in SECTT versus those who travel for other reasons, then take advantage of the opportunity to engage in SECTT – and between paedophiles and other exploiters. SECTT exploiters are marked apart by certain characteristics: their position as outsiders, their cultural distance from the place where they commit their crimes, their transience and their socio-economic status. "The aesthetics of power" – the complex dynamics between exploiter and victim – play a key role too. Facilitator-exploiters are another major link in the SECTT chain, and it is important to understand how they operate. Thus this study looks at pimps, intermediaries and criminal networks.
The chapter finishes with a case study of a male SECTT victim from Uruguay. His story is used to illustrate different aspects that characterise victims of this crime and its links with other forms of commercial sexual exploitation as well as poverty and lack of access to basic rights.
Chapter 5 offers a comprehensive picture of the responses to SECTT in Latin America. It begins by describing the emergence of SECTT on the Latin American agenda, since commercial sexual exploitation of children was first identified as a global issue with the Convention on the Rights of the Child (UNCRC) in the early 1990s. In combating SECTT, Latin America has achieved high levels of coordination and cooperation. This study looks at the regional efforts by groups such as IIN, UNWTO, international aid organisations, GARA and the Andean Committee of Tourism Authorities (CAATUR). At the national level, the plans and initiatives of all 14 sample countries are looked at in detail and listed in Appendix 2. This exercise shows that despite numerous efforts and positive starts, the issue has fallen off the agenda somewhat and needs to be re-addressed.
Many initiatives have been created specifically to prevent SECTT and these are analysed in detail in this study. Due to the sheer number of such initiatives, emphasis is placed on the most successful or innovative ones, and an effort has been made to include at least one example from each sample country.
The Code of Conduct is an initiative supported by ECPAT International worldwide to encourage sustainable and responsible tourism, and this has had great take-up in Latin America with some countries requiring businesses to comply with the code (or a local version of it) by law. Some initiatives are illustrated in Appendix 3. The work of Mexican airline Volaris is presented as a good example of how the code can be an important tool in preventing SECTT.
Educational material has been created to help raise awareness of the problem and strengthen local knowledge. Ecuador's Project to Prevent the Sexual Exploitation of Children is mentioned here as a standout project in this regard. Online courses have also been implemented by IIN and other organisations.
Some awareness campaigns are aimed at tourists and travellers, with the idea of dissuading them from engaging in SECTT. The No Hay Excusa (No Excuses) campaign from Chile, the No + Trata (No People Trafficking) campaign from Mexico and the Cárcel (Prison) campaign from Peru are highlighted here. Other campaigns have stood out for their multi-faceted holistic approaches. These include, among others:
La Muralla Soy Yo ("I am the Wall") in Colombia, which worked extensively with the informal tourism sector to change perceptions and encourage a community response to SECTT;
The Binational Project, carried out by Fundación Paniamor-ECPAT Costa Rica and the International Bureau for Children's Rights (IBCR), which addressed the problem at the destination (Costa Rica) and the source (Canada);
The No Permito ("I Don't Allow") campaign in Guatemala, the Protégeme ("Protect me") campaign in Peru and the National Commission for Prevention of Crimes of Sexual Exploitation in Panama, all of which trained up workers in the formal tourism sector and showed the importance of working with tourism bodies;
The Por La Mano Correcta ("On the Right Path") initiative in Uruguay, which worked with transport companies to combat SECTT in the transport sector;
The Don't Look Away campaign in Brazil, related to mega-events such as the FIFA World Cup and Carnival in that country;
The Unforgettable Campaign in Costa Rica that used internet websites and forums to prevent tourists and travellers from engaging with SECTT
And the Combating the Sexual Exploitation of Children awareness-raising campaign in the triple border of Argentina, Brazil and Paraguay – an example of cooperation between countries.
A full analysis of the legal framework is provided, looking at the laws in place to prevent SECTT and punish offenders. From the 14 countries reviewed, Colombia, Costa Rica, Dominican Republic, Guatemala, Panama, Peru, Mexico and Nicaragua have specific criminal definitions related to SECTT; other Latin American countries have put administrative measures in place to prevent this crime. The specific laws for these countries are listed in detail in Appendix 5. While there is certainly much work to do in the establishing of better legal frameworks – and above all in implementing them – it should be noted that Latin America is more advanced than other regions of the world in this area. This is also true for extraterritorial laws, which are specially important in relation to SECTT where perpetrators can be from other countries. One issue here is double criminality. This dictates that an offence must be prohibited in both the home country of the perpetrator and in the jurisdiction where the offence took place. It is a barrier to convicting criminals of SECTT and currently exists in Brazil and Mexico.
Recovery and reintegration of CSEC survivors is another vital element of response initiatives. Few Latin American countries have specialised programs to attend the victims of CSEC, although it has been established that child survivors of this crime need this type of service. This study looks at the key programs in the sample countries and also examines the problem of reporting. Due to the lack of services for victims and survivors, the problem is underreported in official databases.
Finally, Chapter 5 looks at how children have participated in the fight against SECTT. Once again, standout initiatives have been selected. Some of the strategies used successfully have been peer education, artistic performances, network building and youth representation at major events where the topic of SECTT (and more broadly commercial sexual exploitation) is addressed.
Chapter 6 concludes the desk study with 17 key recommendations for better addressing the issue of SECTT in Latin America. These have been taken from the available literature and complemented by the researchers in the process of compiling this document. They are:
Place the issue of CSEC on the political agenda in Latin America in line with countries' commitments at the World Congress III against the Sexual Exploitation of Children and Adolescents (WCIII) in Rio de Janeiro, Brazil, 2008
Strengthen cooperation and coordination by expanding and continuing bilateral and multilateral projects against SECTT
Support and encourage regional bodies already working in the fight against SECTT in coordination with IIN, UNWTO, ECPAT International and other organisations
Build regional knowledge about scale, scope and characteristics of SECTT
Implement national and local plans to combat CSEC with resources and clear indicators to address all modalities, including SECTT
Strengthen and create (where they do not exist) inter-institutional committees to combat CSEC at the national and local level
Address the root causes of SECTT
Continue extending the implementation and signing of The Code of Conduct in all Latin American countries and monitor its implementation
Promote the adoption of company policies against SECTT, within and beyond travel, tourism and transportation industries (e.g. mining, business and construction sectors, among others)
Develop and support innovative community strategies to reach the informal sector, communities, families and children and make them agents in the prevention of SECTT
Expand focus of prevention campaigns beyond traditional targets
Address the increasing use of information and communication technologies (ICT) in SECTT
Reinforce the protection of children from sexual exploitation in the context of mega events
Strengthen the legal framework for SECTT and mechanisms to monitor enforcement of the law
Promote greater cooperation between law-enforcement agencies from different countries
Implement specialised care and reintegration programs for children survivors of CSEC
Ensure children's voices are heard and considered in plans and programs addressing SECTT; secure resources to support the participation of children and young people in the long term
Read more here.