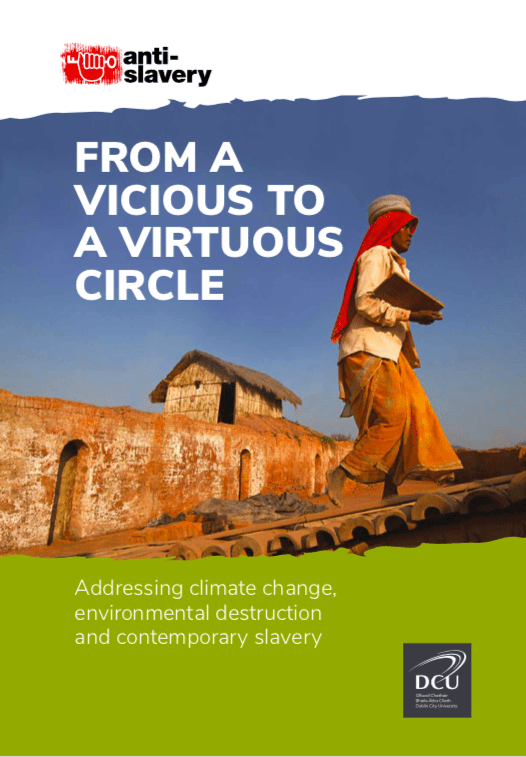 From a Vicious to Virtuous Circle: Addressing climate change, environmental destruction and contemporary slavery
Climate change affects everyone. Changing weather patterns have left millions of people at risk of losing their homes and livelihoods; environmental degradation is pushing millions more at risk of greater inequality, as well as driving migration and leaving people at risk of exploitation. For people already at risk of modern slavery, the climate crisis presents a horrifying new threat to their freedom. Vulnerability to slavery caused by climate change is a threat that we cannot ignore.
Our new report, From a Vicious to a Virtuous Circle, looks closely at the link between climate change and modern slavery, and the challenges presented by environmental harms. Based on research conducted by Dr Chris O'Connell, CAROLINE Fellow at Dublin City University, the report shows that climate change and exploitation are closely linked – and demonstrates why our strategic focus on climate change and the environment is a necessary part of our campaign to end slavery for everyone, everywhere, always.
The vicious circle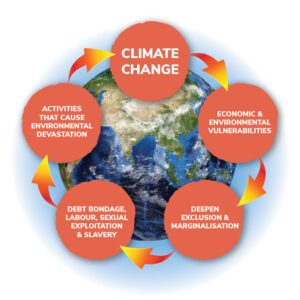 In our report, we argue that climate change and modern slavery form a vicious circle, whereby the climate crisis forces many people into work that actively contributes to environmental harm. Dr O'Connell spoke to people who've experienced this cycle of exploitation and environmental harm at first hand: the report includes compelling case studies from Peru and Bolivia, looking at this vicious circle in effect.
We know from our work on modern slavery in the UK and worldwide that to tackle modern slavery – and to support its survivors – we have to tackle its root causes. When we look at the effects of climate change, it's clear that this is going to be one of the most challenging campaigns we have ever mounted. But we can't afford to step back: without concerted efforts at a global level, including from experienced campaigners like Anti-Slavery International, potentially millions more people look set to fall into modern slavery as a result of climate change.
A new approach
We can bring our decades of experience lobbying for change in international organisations like the EU and UN, as well as our understanding of modern slavery in all its forms, to the global effort to end slavery – but radical solutions are needed to prevent people from falling victim to slavery as a result. Right now, we have an opportunity to design a global recovery that has human rights and climate justice at its heart: we need to build a new global economy, based on equity, justice, and sustainability. Our new report presents policy recommendations for national and international action.
Climate change is a global problem. It needs a global solution. We couldn't be prouder to add our voice to the clamour for change.
Read Report here.
Learn about Anti Slavery here