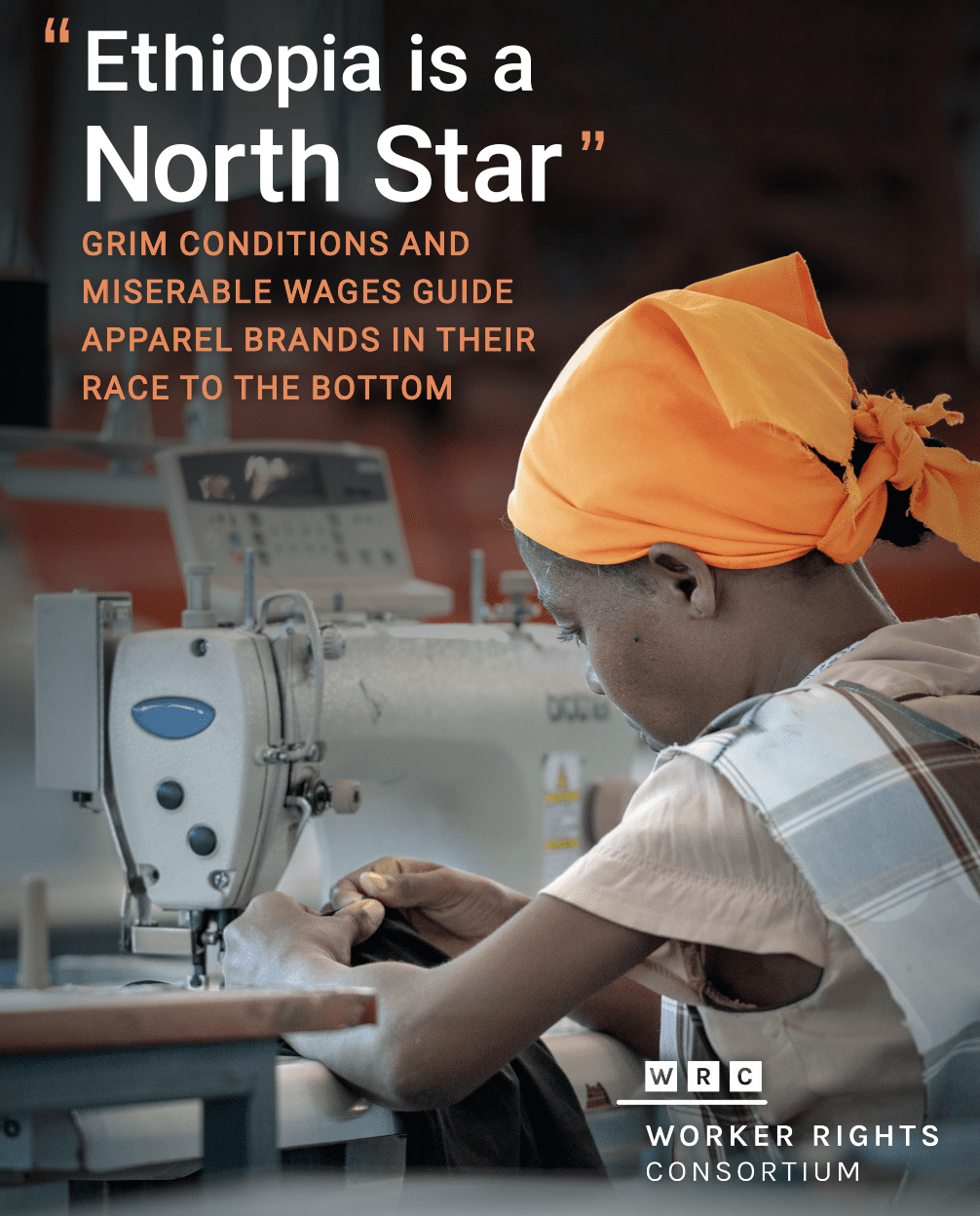 "Ethiopia is a North Star:" Grim Conditions and Miserable Wages Guide Apparel Brands in their Race to the Bottom
Executive Summary
As global brands continue their relentless quest for low-cost production locations, Ethiopia is emerging as a coveted destination. This report presents the results of an investigation of the labor rights environment in Ethiopia's growing textile and apparel export sector. The investigation included in-depth interviews with garment workers at four export factories producing for leading brands. It reveals wages that are lower, by a substantial margin, than those in any other significant exporting country and grim working conditions that bear little resemblance to the standards the brands claim to be upholding in their supply chains.
The Growth of Ethiopia's Garment SEctor Makes Independent Labor Rights Reporting Essential
While still small in absolute terms, Ethiopia's garment export industry is experiencing substantial growth, as Asia-based manufacturers have set up operations and Western brands like H&M, PVH, The Children's Place, JCPenney, and KiK, have all begun sourcing from the country.¹ According to recent data reported by Ethiopia's government, in the last half decade, the country's textile and apparel industry has grown at an average annual rate of 51 percent, with more than 65 textile investment projects licensed for foreign investment in this time period.² According to Ethiopia's Growth and Transformation Plan II (2016 – 2020) – the government's plan for reaching lower-middle income status by 2025 – the country aims to create 174,000 jobs and generate US$779 million in export revenue from the textile and apparel sector by 2020,³ with a goal of eventually creating over 300,000 jobs.4 These specific goals seem unlikely to be met; as of October 2017, only about 40,000 workers were employed in the sector, and growth over the past two years has not kept pace with yearly targets.5 However, significant ongoing development projects and an influx of major Asian suppliers and Western brands just beginning to source from the country indicate that the sector is poised to grow substantially in coming years.
Given Ethiopia's emerging importance as a sourcing platform, it is important for the international community to have accurate information concerning labor practices in garment factories. Yet while the growth of the sector has received increasing media attention, published research on labor conditions, particularly research involving interviews with garment workers, has been scant.
The purpose of the Worker Rights Consortium's (WRC) investigation is to help fill this gap and to test the reality for garment workers against the labor standards of the brands that are driving the growth of the Ethiopian garment industry.
Brands like H&M and PVH Promised High Labor Standards in Ethiopian Garment Plants
It is important to understand that all of the buyers sourcing from Ethiopia have committed, as a matter of both corporate policy and public promises, to protect the rights of workers in their factories. Each of these firms has a code of conduct that requires compliance with national law and other basic labor standards.6 As a member of the Fair Labor Association (FLA), PVH has also committed to uphold the FLA's code of conduct.7 In addition, two of the factories covered in this report are certified by the Worldwide Responsible Accredited Production (WRAP), an industry-created factory certification initiative that was established in 2000.8 As part of this process, in addition to undergoing supposedly rigorous labor inspections, factory representatives are required to attest that they are "utilizing socially-compliant practices," including compliance with national law.9
One important brand, PVH, has made expansive public claims of high ethical standards in its operations in Ethiopia. Bill McRaith, chief supply chain officer for PVH, pledged in a speech at the inauguration of a major industrial park that PVH's investment in Ethiopia's garment and textile sector "will show the world there is no conflict between companies doing well and companies doing right by the people, the community, and the environment they operate within."¹0 The corporation's CEO, Emanuel Chirico, avers that PVH is "in a unique position to make positive impacts in the places around the world where we work and live" and that "one of those places is Ethiopia.
The WRC Found Severe Labor Abuses and Wages as Low as 12 Cents and Hour
Three of the four factories the WRC investigated produce for H&M, two of the four for PVH. According to news reports, PVH is an investor of one of those facilities.12 Other buyers sourcing from at least one of these facilities include: Walmart, The Children's Place, and Gerber Children's Wear.
Despite the brands' and retailers' codes of conduct and certification schemes and the attendant public assurances about human rights in their supply chains provided by H&M, PVH, and others, the WRC's investigation of four Ethiopian garment factories uncovered numerous labor rights abuses. These include: draconian wage deductions, exacted as punishment for minor disciplinary infractions; degrading verbal abuse of workers by their supervisors; discrimination against pregnant workers; a high incidence of workers collapsing unconscious at their workstations, due to overwork and other factors; and forced overtime; among other violations of law and buyer codes. All of the abuses the WRC identified constitute violations of the brands' and retailers' own labor standards, violations they have apparently either failed to detect or chosen to ignore.
Our investigation also found the lowest wages the WRC has documented in any garment exporting country in recent years: wages as low as US$0.12 per hour, less than US$25 per month.¹3 The average wage at the factories the WRC investigated, exclusive of overtime hours, was US$0.18 an hour (US$38 per month).
The Ethiopian garment sector's rapid growth has been fueled by these extraordinarily low labor costs. The Ethiopian Investment Commission, a government body charged with attracting foreign investment, has beckoned to potential investors with promises of "[c]heap and skilled labor" with wages that are "1/7 of China and 1⁄2 of Bangladesh."¹4 These wages are possible, in part, because Ethiopia is unique among significant apparel exporting countries in the developing world in having no statutory minimum wage for workers in the private sector, including garment workers.¹5 Ultra-low wages, and the lack of any legal wage floor, have, unsurprisingly, been the source of significant worker unrest in the country's garment sector, as well as in other industries.¹6
It must be noted that many of the brands sourcing from Ethiopia, including H&M and PVH, have officially embraced "living wage" as the appropriate wage standard for workers in their global supply chains. On its corporate website, H&M states that "All textile workers have the right to a fair living wage," and as a member of the Fair Labor Association, PVH has the obligation to take meaningful action to ensure that its suppliers are paying their workers a living wage (in FLA parlance, a "basic needs" wage).¹7 None of these brands have commented publicly on how their living wage commitments can be reconciled with their decision to expand sourcing in a country which has no minimum wage for garment workers and to use suppliers who pay wages as low as US$0.12 an hour and average wages of US$0.18 an hour (see Figure 2.a below). Wage Indicator's Living Wage Series, which draws data from the International Labour Organization, the World Bank, and the Food and Agriculture Organization, estimates that a living wage in Ethiopia is between $US0.54 and $US0.93 per hour.18
The four factories the WRC investigated are all significant exporters, producing for major global brands. They all have different owners, and they are located in several different parts of the country. It is reasonable to assume that the abusive conditions and extremely low wages identified at these factories are generally representative of conditions in Ethiopia's garment industry as a whole.
Read more here.