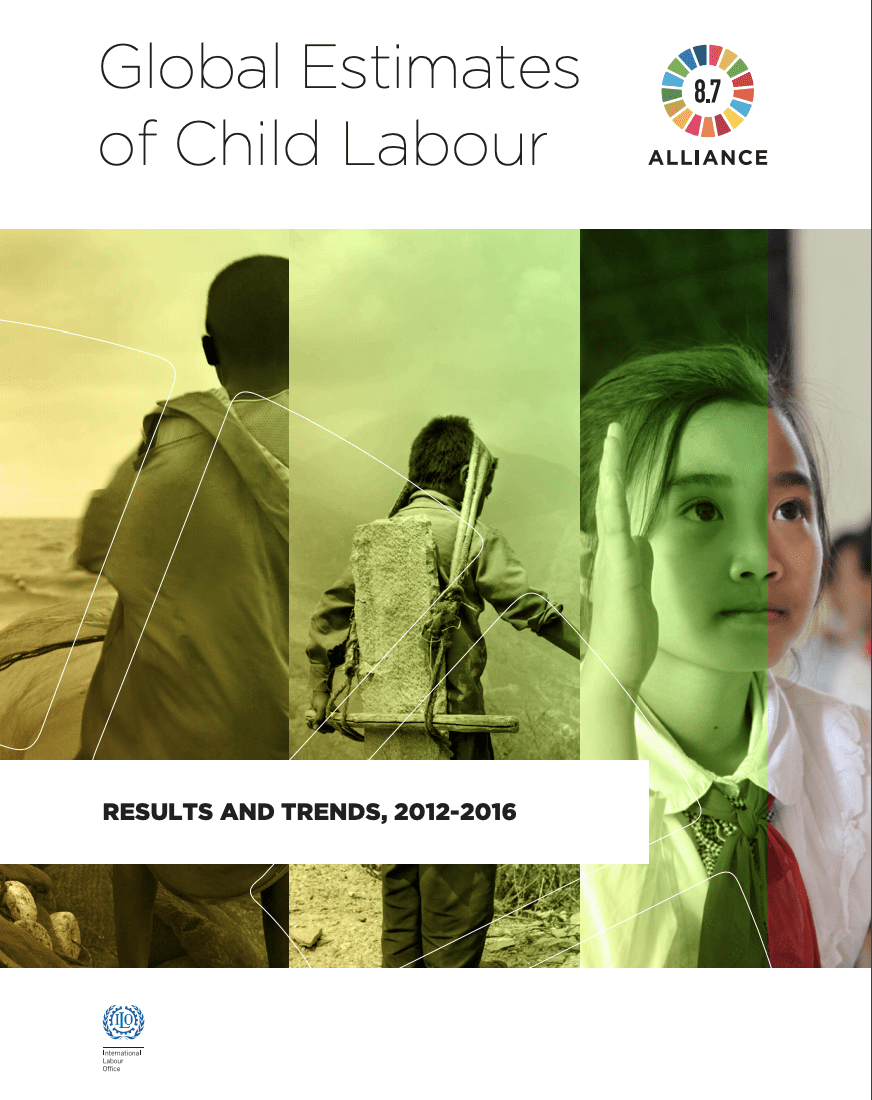 Global estimates of child labour: Results and trends, 2012-2016
Executive Summary
The Sustainable Development Goals include a renewed global commitment to ending child labour. Specifically, target 8.7 of the Sustainable Development Goals calls on the global community to: Take immediate and effective measures to eradicate forced labour, end modern slavery and human trafficking and secure the prohibition and elimination of the worst forms of child labour, including recruitment and use of child soldiers, and by 2025 end child labour in all its forms.
The current report, the fifth edition of the ILO's quadrennial report series on global estimates of child labour, charts how far we have come and how far we still have to go to honour this commitment to ending child labour. The report describes the scale and key characteristics of child labour in the world today, as well as changes in the global child labour situation over time. It also discusses key policy priorities in the campaign to reach the 2025 target. The report, and the global estimation exercise that underpins it, form part of a broader inter-agency effort under Alliance 8.7 to measure and monitor progress towards target 8.7 of the Sustainable Development Goals.
The 2016 estimates tell a story both of real progress and of a job unfinished. They show a dramatic decline in child labour over the 16 years since the ILO began monitoring child labour in 2000. But the estimates also indicate that the pace of decline has slowed considerably in the last four years, precisely at a time when substantial acceleration is needed to reach the ambitious 2025 target date for ending child labour. The bottom line is that we remain far from the world we want: 152 million children are still engaged in child labour, almost half them in its worst forms.
Global figures
The challenge of ending child labour remains formidable. A total of 152 million children – 64 million girls and 88 million boys – are in child labour globally, accounting for almost one in ten of all children worldwide. Nearly half of all those in child labour – 73 million children in absolute terms – are in hazardous work that directly endangers their health, safety, and moral development. Children in employment, a broader measure comprising both child labour and permitted forms of employment involving children of legal working age, number 218 million.
The dynamic picture indicates that we are moving in the right direction. Child labour declined during the period from 2012 to 2016, continuing a trend seen since the publication of the ILO's first global estimates of child labour in 2000. The 16-year period starting in 2000 saw a net reduction of 94 million in children in child labour. The number of children in hazardous work fell by more than half over the same period. There were almost 134 million fewer children in employment in 2016 than in 2000. Real advances have been made in the fight against child labour, providing an important foundation for efforts moving forward.
But progress slowed during 2012 to 2016. A narrower focus on the most recent four-year period indicates a significant slowing down of progress. The reduction in the number of children in child labour amounted to 16 million for the 2012 to 2016 period, just one third of the 47 million reduction recorded during 2008 to 2012. Expressed in relative terms, the share of children in child labour fell by only one percentage point during 2012 to 2016 compared to three percentage points in the previous four-year period. The decline in hazardous work slowed in a similar fashion.
We must move much faster if we are to honour our commitment to ending child labour in all its forms by 2025. A simple projection of future progress based on the pace of progress achieved during 2012 to 2016 – the business-as-usual scenario – would leave 121 million children still in child labour in 2025, of which 52 million would be in hazardous work. A similar calculation indicates that even maintaining the pace achieved during 2008 to 2012 – the fastest recorded to date – would not be nearly enough. We are moving in the right direction, but we will need to move much more quickly to reach zero by 2025.
Regional figures
The Africa region and the Asia and the Pacific region together host nine out of every ten children in child labour. Africa ranks highest both in the percentage of children in child labour – one-fifth – and the absolute number of children in child labour – 72 million. Asia and the Pacific ranks second highest in both these measures – 7 percent of all children, 62 million in absolute terms, are in child labour in this region. The remaining child labour population is divided among the Americas (11 million), Europe and Central Asia (6 million), and the Arab States (1 million).
A breakthrough in Africa will be critical to ending child labour worldwide. The 2016 estimates suggest that sub-Saharan Africa, the regional grouping for which we have comparable estimates for 2012, witnessed a rise in child labour during the 2012 to 2016 period, in contrast to the other major regions where child labour continued to decline, and despite the number of targeted policies implemented by African governments to combat child labour. It is likely that the retrogression was driven in important part by broader economic and demographic forces acting against governmental efforts, although this is a matter requiring further research.
There is a strong correlation between child labour and situations of conflict and disaster. The Africa region has also been among those most affected by situations of conflict and disaster, which in turn heighten the risk of child labour. The incidence of child labour in countries affected by armed conflict is 77 percent higher than the global average, while the incidence of hazardous work is 50 percent higher in countries affected by armed conflict than in the world as a whole. This situation underscores the importance of prioritizing child labour within humanitarian responses and during reconstruction and recovery; governments, workers' and employers' organizations, and humanitarian actors all have a critical role to play in this context.
Characteristics of child labour
The agricultural sector accounts for by far the largest share of child labour. The sector accounts for 71 percent of all those in child labour and for 108 million children in absolute terms. Child labour in agriculture relates primarily to subsistence and commercial farming and livestock herding. It is often hazardous in its nature and in the circumstances in which it is carried out. Children in child labour in the services and industry sectors number 26 million and 18 million, respectively, but these sectors are likely to become more relevant in some regions in the future in the face of forces such as climate change displacing families from their farms and into cities.
Most child labour takes place within the family unit. More than two-thirds of all children in child labour work as contributing family labourers, while paid employment and own-account workers make up 27 percent and 4 percent, respectively, of those in child labour. These numbers underscore an important broader point concerning the nature of child labour in the world today. Most children in child labour are not in an employment relationship with a third-party employer, but rather work on family farms and in family enterprises; understanding and addressing family reliance on children's labour will therefore be critical to broader progress towards ending child labour.
Forced labour of children requires special attention. According to the 2016 Global Estimates of Modern Slavery,1 there were about 4.3 million children aged below 18 years in forced labour, representing 18 percent of the 24.8 million total forced labour victims worldwide. This estimate includes 1.0 million children in commerical sexual exploitation, 3.0 million children in forced labour for other forms of labour exploitation, and 300,000 children in forced labour imposed by state authorities. This extreme form of child labour, in which the children suffer both the impact of the hazardous working conditions and the trauma of coercion, threats of penalty, and lack of freedom, require urgent action from governments and the international community.
Read more here.