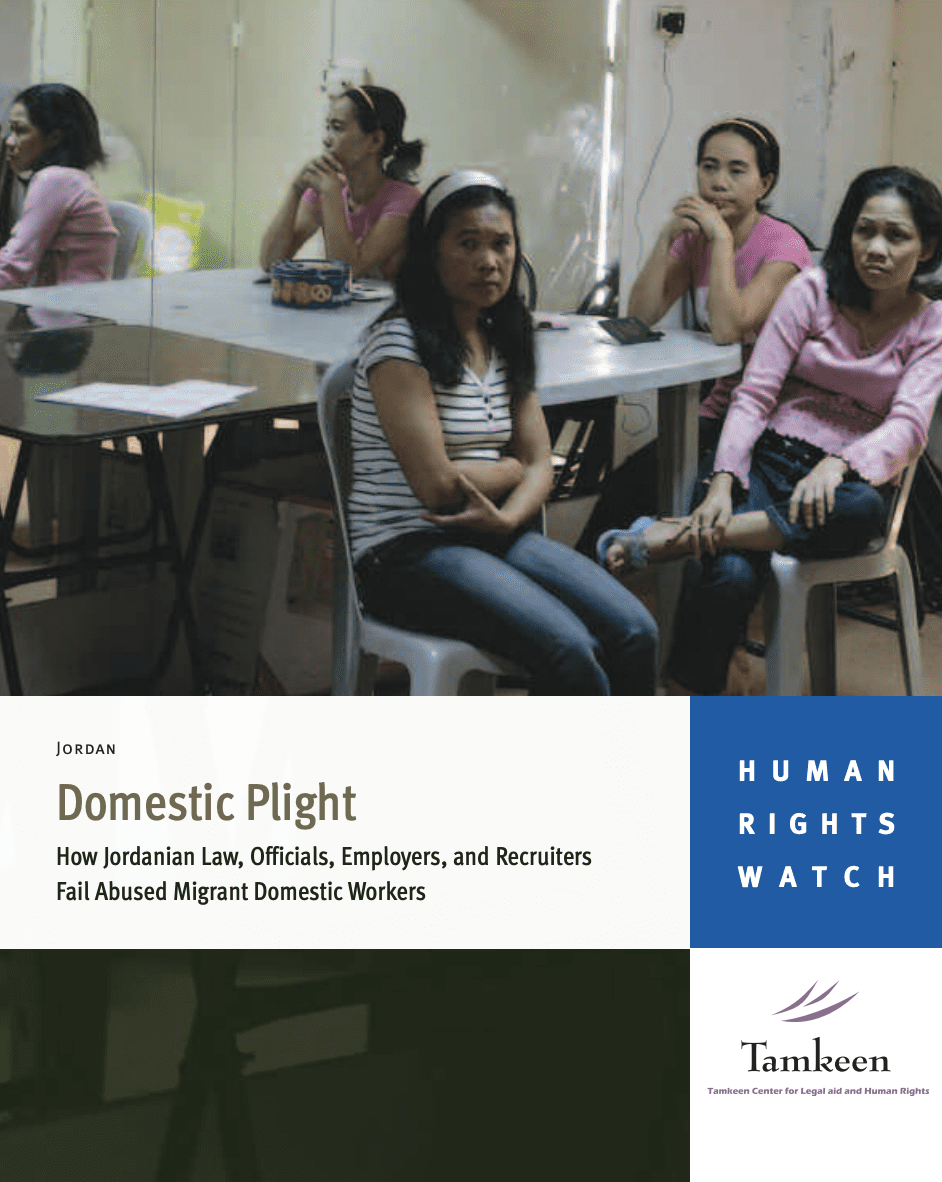 Domestic Plight: How Jordanian Laws, Officials, Employers, and Recruiters Fail Abused Migrant Domestic Workers
Summary
Despite significant legal reforms in recent years, the chances of a migrant domestic worker (MDW) having all her human rights respected and protected in Jordan are slim, if nonexistent.
Pressing financial needs have led hundreds of thousands of women to migrate as domestic workers to Jordan, where many face systemic and systematic abuse. This results from a recruitment system in which employers and recruitment agencies disempower workers through deceit, debt, and blocking information about rights and means of redress; and a work environment that isolates the worker and engenders dependency on employers and recruitment agencies under laws that penalize escape. Jordanian law contains provisions and omissions that facilitate mistreatment, while officials foster impunity by failing to hold employers and agencies to account when they violate labor protections or commit crimes, and belittling or ignoring a disturbing pattern of abuse.
Such instances of deception and exploitation – especially when combined with labor and physical abuses within a legal and practical environment that punishes escape – may in some cases amount to forced labor under international law, which defines this as work extracted involuntarily under the menace of penalty.
This report, based on research conducted in Jordan in 2009 and 2010, records abuses experienced by some of the 70,000 Indonesian, Sri Lankan, and Filipina women who comprise Jordan's three MDW population groups.
Human Rights Watch documented employers and recruitment agents beating domestic workers, almost always locking them inside the house around the clock, depriving them of food, and denying them medical care. Employers generally required workers to work more than 16, and sometimes up to 20, hours a day, seven days a week. The most common complaint that local aid organizations and embassies of labor-sending countries received involved non-payment of salaries. Domestic workers often had no privacy, sleeping on balconies, and in living rooms, kitchens, and corridors. Many employers also forced domestic workers to work after their two-year contracts expired.
Many workers endured abusive conditions for months and even years, not knowing where to turn to for help. Workers' disempowerment began at home with recruiters charging excessive fees and deceiving them with false promises. Neither home-country nor Jordanian recruitment agents provided workers with copies of their contracts. Among cases documented by Human Rights Watch, Jordanian agents and employers almost universally confiscated workers' passports immediately upon arrival, making it harder for workers to leave abusive conditions and return home.
In some important respects, Jordan has led legislative reform for MDWs in the region: in 2003, it became the first regional country to use a Unified Standard Contract for MDWs and in 2008 finally included domestic workers under its labor law. In 2009, the government issued regulations specifying MDW rights, toughened regulations on recruitment agencies, and criminalized slavery, servitude, and forced labor for exploitation under a new law against human trafficking. In 2010, new agreements called for raised salaries for MDWs of all nationalities to at least $200 a month, and Jordan increased the number of labor inspectors responsible for enforcing MDW regulations.
However, in other ways Jordanian law exacerbates and even facilitates abuses by, for example, prohibiting workers from leaving the house without the employer's permission, thus violating domestic workers' freedom of movement guaranteed under international law. Indeed, if the cases of forced confinement in our sample reflect the ratio of confinement for the total estimated MDW population, 50,000 migrant domestic workers are confined to the house around the clock – slightly less than Jordan's total prison population in 2008. Confinement in the house opens the door to other abuses because it becomes more difficult for the worker to complain about them.
Labor Ministry officials rarely held employers and recruitment agencies to account when they violated labor protections, and criminal prosecutions for trafficking were few and far between. Moreover, Jordanian police sometimes detained escaped domestic workers, in violation of Jordanian law, because employers had reported them to the police. Employers also filed frivolous charges of theft against workers who escaped, leading to immediate detention, prosecution, and possible deportation.
Jordan has no shelter for domestic workers escaping abuse. Workers turned to overcrowded embassy shelters or to their agencies whose staff sometimes abused them, forcibly returned them to their employers, or placed them with new employers against their will. Others MDWs who escaped worked as freelancers in the informal labor market. Besides embassies, only a handful of Jordanian organizations work with domestic workers.
Many escaped workers could not return home because they accumulated fines of JOD1.5 (US$2.12) for each day that they lacked legal, or documented, residency status. They became undocumented either because their employers did not apply for residency permits, or because they were unable to renew those permits once they had escaped. Negligent employers are legally obliged to pay the fines but suffered no consequence for failing to do so. Similarly, migrant domestic workers are entitled to an employer-paid return ticket after two years of service, but enforcement was non-existent.
One June 16, 2011, the International Labour Organization adopted a new international convention for the protection of migrant domestic worker rights, the Convention Concerning Decent Work for Domestic Workers. Jordan, which supported the convention, should promptly ratify and implement it domestically, and should revise the Standard Unified Contract for domestic workers and the 2009 MDW Regulation to strike clauses conditioning a MDW's freedom of movement on her employer's permission. Jordan should stop detaining MDWs for "escaping" their employers, and also allow MDWs with overstayer fines to return home while the government collects those fines from recruiters or employers responsible for maintaining her documented residency status. Prosecutors should more forcefully pursue cases of forced confinement, passport confiscation, and forced labor for exploitation. Labor inspectors should investigate and fine those employers found responsible for making their MDWs work more than 10 hours a day and not granting a day off.
The following sections outline the background to migrant domestic workers in Jordan; the abuses they suffer; the reasons for, and nature of, their disempowerment; before detailing the problem of residency fines and repatriation costs; instances of forced labor; and limited access to redress. The report also highlights the views of employers and provides an overview of international and Jordanian law on issues related to MDWs.
Read more here.