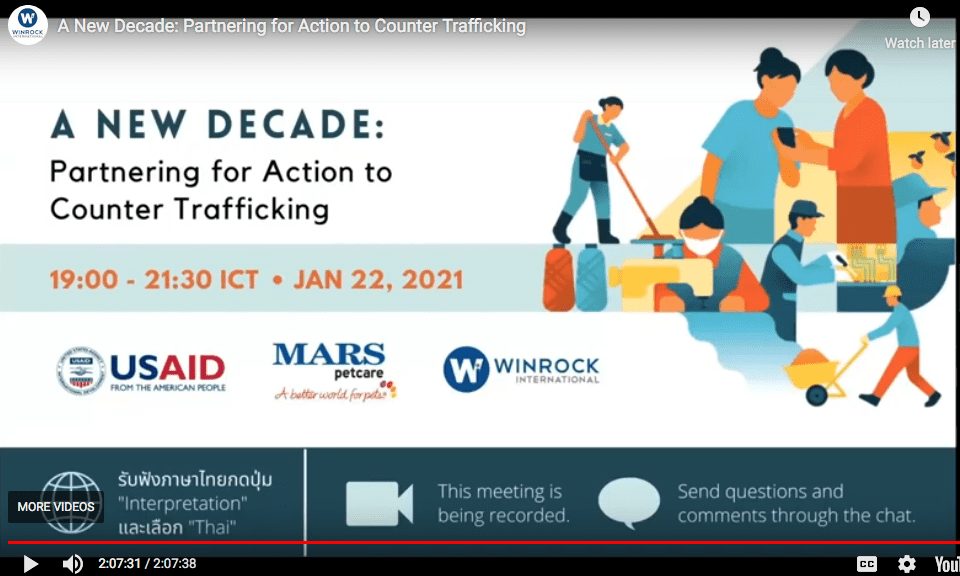 Collaborating to Fight Human Trafficking Webinar
Many of the world's most vexing challenges span national borders and jurisdictions and are best solved collaboratively. As a result, many leaders are concluding that partnerships between government, nonprofit, private-sector and other stakeholders are the key to lasting solutions.
Winrock International recently hosted an online panel discussion to mark an ongoing three-year partnership between Mars Petcare and the USAID Asia and Thailand Counter Trafficking in Persons (CTIP) programs to address the needs of vulnerable migrants working on fishing boats in Thailand. The collaboration is led by Winrock and supported by international development consultancy Resonance Global. "A New Decade: Partnering for Action to Counter Trafficking" featured a panel of experts exploring how such partnerships will evolve over the next five to 10 years and offering practical ways to design, negotiate and implement effective partnerships to address human trafficking in Southeast Asia.
Steven Olive, the Mission Director for the USAID Regional Development Mission for Asia, said he hoped the panel "will be a starting point for participants from different sectors to continuously interact and collaboratively reduce people's vulnerability to trafficking and better protect the rights of trafficked persons."
Winrock International CEO Rodney Ferguson said, "This has been one of our signature projects globally for a lot of reasons, not least of which is the wonderful partnership that we enjoy with Mars Petcare. The partnership is illustrative of the kind of work we're trying to do across the world where we bring in the talent and resources of partners."
Read more and watch here.