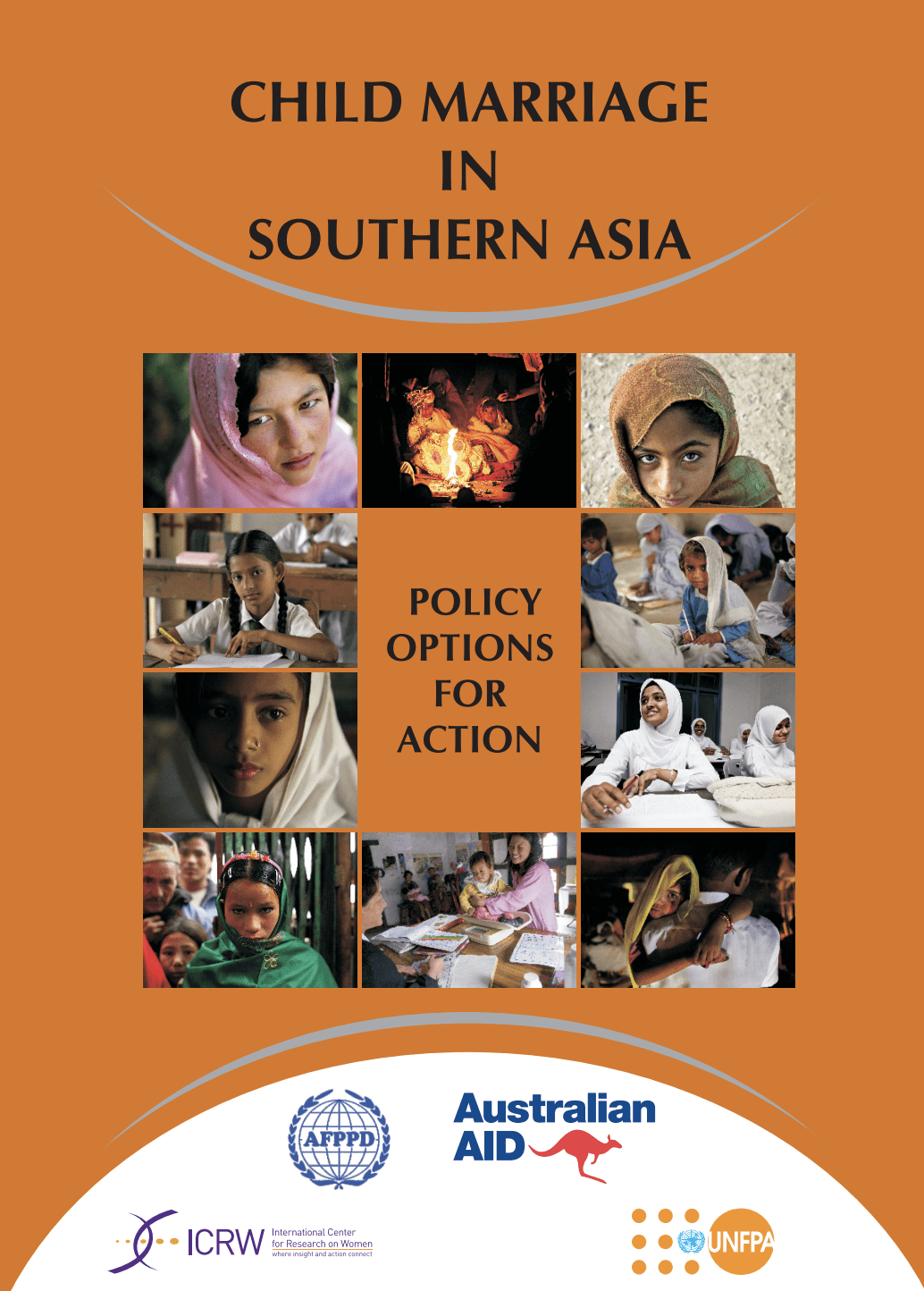 Child Marriage in Southern Asia
Child marriage is not only a violation of a girl's rights; it also seriously compromises efforts to reduce genderbased violence, advance education, overcome poverty and improve health indicators for girls and women. Child brides in Southern Asia are often forced into early sexual activity and therefore early childbearing. Because their bodies are not yet fully developed, these young adolescents are at risk of suffering lifethreatening or debilitating conditions as a result of childbirth like obstetric fistula and hemorrhaging, or even death. Countless child brides all over the region are in danger of such a fate: Girls between the ages of 15 and 19 are twice as likely to die of pregnancy and childbirth complications as women between ages of 20 and 24 according to UNICEF figures on child marriage in the region. Also, girls are more vulnerable to contracting life-threatening diseases as they are often given away in marriage to much older men who have an elevated chance of being HIV positive or having other sexually-transmitted infections because of prior sexual experience.
When a girl is pulled from school and forced to marry young, her personal development is stunted. She is left with few – if any – negotiation skills and therefore has limited decision-making power in her new household. Often uneducated and unskilled, many child brides are completely dependent on their husbands and in-laws to survive. Girls are often not yet mature or skilled enough to properly perform household tasks or care for their husbands and children. Child marriage also deprives a girl of the valuable and necessary skills required to enter the labour market, therefore denying her the opportunity to help lift herself – and her family – out of poverty. In short, pulling girls out of school and forcing them into early marriage ensures that poverty will be handed down from a mother to her daughter, and family to family, for generations to come.
The country briefs on child marriage included in this advocacy kit show that most national governments in the region are aware of the seriousness of the issue, and have taken some steps to prevent child marriage from occurring. For example, all countries have adopted laws designed to regulate its proliferation and prevalence. Laws in India, Bangladesh, the Maldives, Nepal and Bhutan reflect international standards, with legal age limits for girls set at 18. On the other hand, in Afghanistan and Pakistan where Sharia law bears a greater influence, girls can legally marry at age 15 and 16, respectively. And in Sri Lanka, a dual legal system prevails, with non-Muslim girls allowed to legally marry at 18, while Muslim girls are allowed by law to wed at 15.
In spite of these well-meaning laws, child marriage in the countries of Southern Asia remains one of the greatest development challenges the region faces today. A dangerous combination of entrenched poverty and cultural norms that are deeply rooted in patriarchal tradition continue to fuel the harmful practice. As a result, customary law and economic need often trump national policies and legislation. Despite best efforts, girls continue to be pulled out of school and forced into marriage – even in those countries that have set the legal age of marriage.
There has been some degree of government sponsorship and involvement in behavior-changing interventions across the region. Clearly, there is a need for many more innovative and evidence based initiatives in all countries to bring about widespread and sustainable outcomes. Furthermore, few existing interventions and initiatives on child marriage prevention have been well evaluated. Overall, there has only been limited investment in girls' education, cash incentive programmes to educate girls, and in awarenessraising campaigns needed to educate the public on the negative economic, social and health costs linked to child marriage.
The overall purpose of the country briefs is to highlight the seriousness of the life threatening situation that girls often face on account of child marriages in nine Southern Asian countries1 , and to recommend ways in which policymakers can take renewed action as a means to preventing the practice. More specifically, the individual country briefs highlight the unique context, consequences and efforts made in each country to address child marriage. The evidence presented within is based on well-researched and sourced data and programme reviews, and has been used to draw inferences and make recommendations. Since many countries under review lack consistent and high quality evaluation data on programme effectiveness and impact, it is important to note that some of the recommendations that emerge in these advocacy documents are indicative of the direction in which policies should be pursued. Countries will have to build a stronger evidence base to inform effective programming. While there are some generic policy options applicable to most countries, available data has also suggested country specific options that have been mentioned wherever applicable. The purpose of these briefs is to highlight the issue, its consequences and to present possible actionable items for parliamentarians to share, discuss and consider with other government officials in their respective countries.
Some common themes that emerged include the need to strengthen laws on child marriage prevention and to ensure robust birth and marriage registration systems. Greater synergy and harmonization among various policies is also needed to ensure the development of an overall framework that supports the eradication of child marriage. In addition, numerous studies have concluded that education results in delayed marriage in Southern Asia. It also leads to improved income-generating opportunities for families because educated girls are much more likely to enter the labour market as women. Trends in the region show that drop-out rates for girls accelerate shortly after they reach puberty. Both primary and secondary education for girls in all Southern Asian countries should therefore be made mandatory by law. Engaging with religious leaders is essential. University students, community leaders, village elders and parents and members of local and national government should also participate in awareness trainings and workshops. Studies also suggest that child marriage might be reduced by addressing the financial motivations behind it for impoverished or indebted families. While untested in some countries, cash incentive programmes linked with education warrant further exploration and consideration.
More effective policies and programmes will not only help reduce child marriage prevalence; it will also help in the fight against poverty and increase the pace of development in Southern Asia. The nine individual policy briefs can help kick-start strategies for reducing the prevalence of child marriage, tailored to the unique context and needs of each country. This will pave the way for more just Southern Asian societies in which boys and girls enjoy equal rights, freedoms and opportunities to grow into productive and healthy adults.
Read more here.