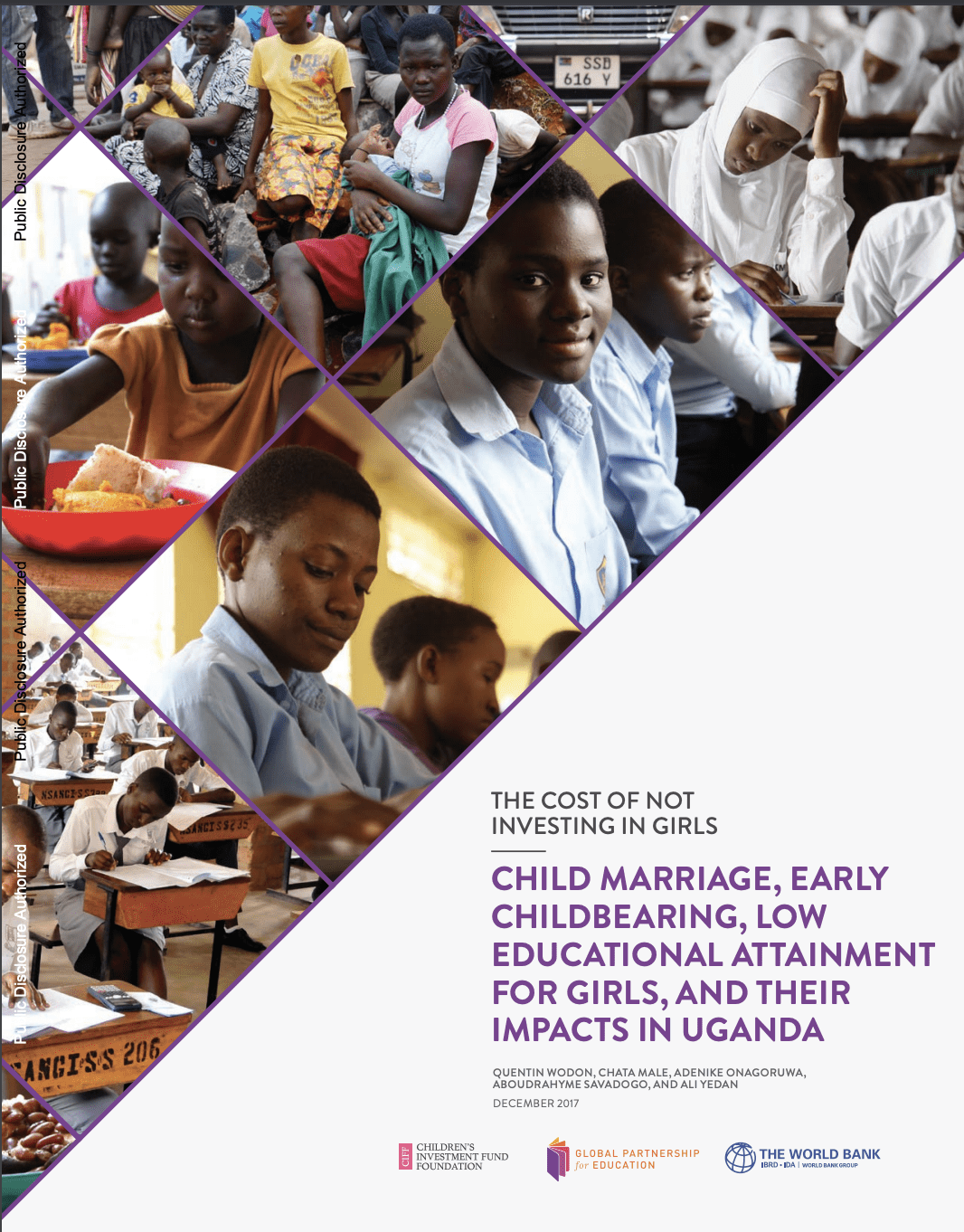 Child Marriage, Early Childbearing, Low Educational Attainment for girls, and their Impacts in Uganda
Background to this Series
Despite substantial progress over the last two decades, girls still have on average lower levels of educational attainment than boys at the secondary level in many countries. This is in part because many girls are married or have children before the age of 18, often before they may be physically and emotionally ready to become wives and mothers. Educating girls, ending child marriage, and preventing early childbearing is essential for girls to have agency, not only as future wives and mothers, but also beyond those roles. It is also essential for countries to reach their full development potential.
Girls' educational attainment, child marriage, and early childbearing are closely linked. Ending child marriage and early childbearing would improve girls' educational attainment. Conversely, improving girls' educational attainment would help reduce child marriage and early childbearing. In addition, low educational attainment, child marriage, and early childbearing affect girls' life trajectories in many other ways. Girls marrying or dropping out of school early are more likely to experience poor health, have more children over their lifetime, and earn less in adulthood. This makes it more likely that their household will live in poverty. Other risks include intimate partner violence and lack of decision-making ability within the household. Fundamentally, girls marrying, having children, or dropping out of school early are disempowered in ways that deprive them of their basic rights. This in turn affects their children. For example, children of young mothers often face higher risks of dying by age five, being malnourished, and doing poorly in school.
Overall, the economic and social costs of child marriage, early childbearing, and low educational attainment for girls are large. This note is part of a series that discusses trends in girls' education, child marriage, and early childbearing, their impacts on a wide range of development outcomes, and the policies and programs that could improve opportunities for adolescent girls. The analysis builds on work at the World Bank on the cost of not investing in girls, and on a previous global study on the economic impacts of child marriage conducted by the World Bank in partnership with the International Center for Research on Women. The conceptual framework for the analysis is provided in appendix.
Key Messages
To catalyze attention and investments in Uganda towards improving girls' education, ending child marriage, and preventing early childbearing, this note documents trends over time in these issues and their impacts on other development outcomes. Economic costs associated with selected impacts are also estimated. Finally, policies and programs that could improve outcomes for adolescent girls are discussed. The note summarizes findings from the 10th World Bank Economic Update for Uganda. It is based on a more detailed background study. The main findings are as follows:
Child marriage, early childbearing, and low educational attainment for girls have a wide range of negative impacts not only on the girls themselves, but also on their children, their families, and society at large.
Some of the impacts with the largest economic costs relate to fertility and population growth, women's earnings, and the health of children born of young mothers. Other impacts range from losses in women's agency to higher risks of intimate partner violence.
Ending child marriage today could generate by 2030 up to US$2.7 billion in annual benefits (in purchasing power parity terms) simply from lower population growth and a reduction in rates of under-five mortality and stunting for young children. In addition, women's earnings today would be higher if they had been able to avoid marrying early. This loss in earnings is estimated at more than US$ 500 million.
Other benefits from lower population growth would include budget savings for the government for the provision of basic services. These savings could be invested to improve the quality of the services provided.
To delay the age at first marriage and childbearing, adequate laws are a first step, but interventions are also needed. Interventions that alleviate economic constraints to girls' education tend to be the most proven. But there is also a role for interventions expanding economic opportunities for adolescent girls who dropped out of school and are not likely to be able to go back to school.
Imparting adolescent girls with life skills and reproductive health knowledge is also essential, whether girls are in school or out of school. This can be done among others through safe space clubs that have proven effective for such purposes.
To improve educational attainment for girls, basic conditions also must be met. At the secondary level, there is a need to build schools closer to where children (boys or girls) live. As an alternative, adequate modes of transportation to schools must be provided. Providing separate water, sanitation and hygiene facilities for girls is also important, as is the need to reduce the risk of violence and sexual harassment in school.
Finally, for the broader challenge of gender-based violence and inequality, community-based interventions to work with men, women, leaders and service providers can also be beneficial.
Introduction
The proportions of girls marrying or having children before the age of 18 have been declining in Uganda according to data from the latest publicly available Demographic and Health Survey (DHS) implemented in 2011 (the 2016 DHS is not yet publicly available). Yet despite progress, more than one third of girls still marry as children, and close to three in ten girls have their first child before turning 18. Similarly, despite substantial efforts to improve educational attainment, only one in four girls completes lower secondary school, and an even smaller proportion completes upper secondary school.
The Government of Uganda has adopted a national strategy to end child marriage and teenage pregnancies. Improving girls' education is also a priority of the government. Unfortunately, the cultural, economic, and social conditions that have historically contributed to child marriage, early childbearing, and low educational attainment for girls remain strong. More needs to be done to accelerate progress. To inspire greater investments in adolescent girls, this note analyses the economic and social impacts of these issues in Uganda. The note also suggests potential options for investments.
Read more here.