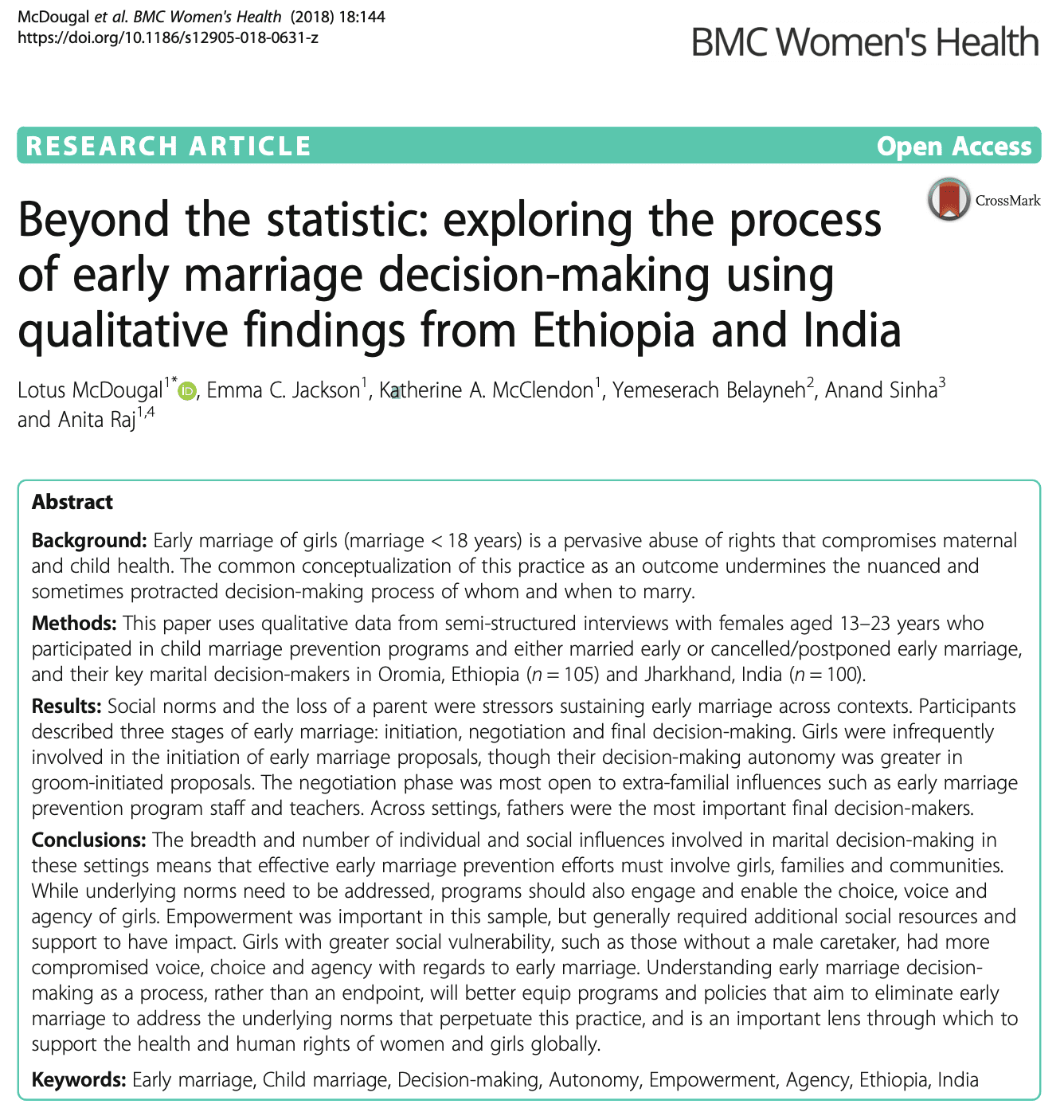 Beyond the statistic: exploring the process of early marriage decision-making using qualitative findings from Ethiopia and India
Abstract
Background:
Early marriage of girls (marriage < 18 years) is a pervasive abuse of rights that compromises maternal and child health. The common conceptualization of this practice as an outcome undermines the nuanced and sometimes protracted decision-making process of whom and when to marry.
Methods:
This paper uses qualitative data from semi-structured interviews with females aged 13–23 years who participated in child marriage prevention programs and either married early or cancelled/postponed early marriage, and their key marital decision-makers in Oromia, Ethiopia (n = 105) and Jharkhand, India (n = 100).
Results:
Social norms and the loss of a parent were stressors sustaining early marriage across contexts. Participants described three stages of early marriage: initiation, negotiation and final decision-making. Girls were infrequently involved in the initiation of early marriage proposals, though their decision-making autonomy was greater in groom-initiated proposals. The negotiation phase was most open to extra-familial influences such as early marriage prevention program staff and teachers. Across settings, fathers were the most important final decision-makers.
Conclusions:
The breadth and number of individual and social influences involved in marital decision-making in these settings means that effective early marriage prevention efforts must involve girls, families and communities. While underlying norms need to be addressed, programs should also engage and enable the choice, voice and agency of girls. Empowerment was important in this sample, but generally required additional social resources and support to have impact. Girls with greater social vulnerability, such as those without a male caretaker, had more compromised voice, choice and agency with regards to early marriage. Understanding early marriage decisionmaking as a process, rather than an endpoint, will better equip programs and policies that aim to eliminate early marriage to address the underlying norms that perpetuate this practice, and is an important lens through which to support the health and human rights of women and girls globally.
Read more here.