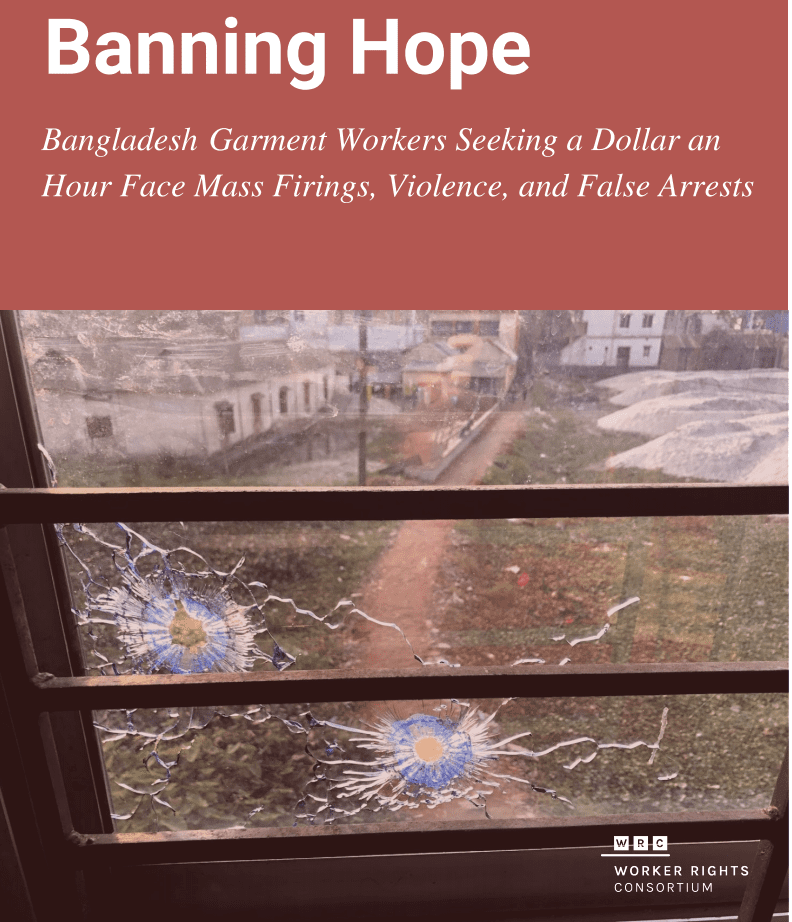 Banning Hope: Bangladesh Garment Workers Seeking a Dollar an Hour Face Mass Firings, Violence, and False Arrests
The government and apparel factory owners in Bangladesh have carried out a brutal crackdown on garment workers in retaliation for largely peaceful protests against the country's extremely low minimum wage. Since December of 2018, at least 65 workers have been arrested and subjected to baseless criminal charges, brought at the behest of factories that supply brands like H&M, Mango, and Next. 1 Factories producing for these and other brands have fired as many as 11,600 workers without legal justification, most of whom are unable to find other jobs due to systematic blacklisting.2 Some factories have even hired thugs to physically assault employees. Meanwhile, widespread violence by the Bangladeshi security forces has resulted in the death of one worker and sowed fear across the industry.
This attack on workers was in response to protests that erupted after the Bangladeshi government announced an increase in the minimum wage that left workers' pay below $22 per week ($0.45 per hour), maintaining Bangladesh as the lowest-wage country among all major garment exporters. This report documents – via interviews with more than a hundred workers and extensive documentary research – that:
The wage protests in December of 2018 were largely peaceful;
The response by government security forces was characterized by indiscriminate use of physical force, in contravention of workers' rights of speech, assembly, and association;
Arrests of, and criminal charges against, 65 workers were driven by demonstrably baseless complaints from managers of 30 factories, producing for a long list of well-known brands and retailers;
Some workers were charged based on alleged acts that took place miles away from their actual workplaces and in which the workers cannot possibly have taken part;
The mass firings, of as many as 11,600 workers, did not have valid grounds under the country's labor law and were not carried out in a manner consistent with required procedures; and
Rather than terminating individual workers for documented violations of company rules, factory managers fired workers en masse, with no effort to credibly demonstrate cause, as a means of collective punishment of workers for their decision to participate in protests.
Since the scope of the repression makes it impossible to detail the circumstances of every arrest and every dismissal, this report focuses on a number of specific case studies that illustrate the broader pattern of unlawful behavior by factory management and the government.
The repression documented in this report is the most extensive the WRC has observed in two decades of work in Bangladesh. While it has not yet received the level of public attention of the crackdown on workers and labor leaders following similar mass wage protests in 2016, our research indicates that the scope of the recent repression is broader. During the previous crackdown, far fewer workers – roughly 1,200 – lost their jobs and 38 workers and labor leaders were detained. 3 Efforts by international human rights and worker rights groups, brands, and governments in early 2017 ultimately succeeded in ensuring that some, although not all, of those charges were dropped and that some factories made commitments to offer reinstatement to workers; however, factory owners were never held meaningfully accountable for their role in the unlawful repression of peaceful protest and assembly. Western brands and retailers continued to pour business into Bangladesh; exports to the US, for example, have grown 19% in the last year.4 This impunity helps explain why factory owners, backed by the government and its security apparatus, are again responding to legitimate protests against poverty wages with a massive campaign of illegal retaliation.
In order to remedy the harm that has been done to the workers directly affected and reverse the broader chilling effect on the right of all garment workers to peacefully protest and organize, the WRC asks all brands sourcing from Bangladesh to require all of their suppliers to:
Withdraw any criminal complaints they have filed in relation to the recent protests (as well as any remaining criminal complaints against workers and leaders from 2016); 5
Reinstate and provide back wages to all workers terminated or forced to resign in the wake of the protests; and
Commit to a nondiscriminatory hiring process, designed to end the blacklisting of workers based in their involvement in the protests.
A prompt and robust response by brands will be crucial to achieve any measure of justice for the thousands of workers facing unemployment and the dozens facing false criminal charges.
Read more here.