Accelerating transition: the case for formalising artisanal and small-scale mined cobalt in the DRC
This whitepaper builds on our Meeting the EV challenge: Responsible sourcing of cobalt in the electric vehicle battery supply chain publication first published in 2018 and presents an update on Trafigura's proposals for managing the cobalt supply chain challenge posed by the continued rapid increase in demand for the raw materials for lithium-ion batteries used for electric vehicles and portable electronics.
Executive summary
As one of the world's leading independent commodity companies, Trafigura responsibly connects the world with the vital resources it needs.
We deploy infrastructure, skills and our global network to move physical commodities from the places they are plentiful to where they are needed most, forming strong relationships that make supply chains more efficient, secure and sustainable.
In this briefing paper, Trafigura presents proposals for managing the supply chain challenge posed by the rapid increase in demand for the raw materials for lithium-ion batteries, with particular regard to the cobalt supply chain.
Electric vehicles are key to the energy transition
The 2015 Paris Accord identified moving from fossil fuels to electrified transportation as a core strategy in the global effort to combat climate change. The transition to electric vehicles (EVs) is well underway. A growing number of governments around the world have announced plans to limit or ban sales of petrol and diesel vehicles. In the private sector, car manufacturers have announced multi‐billion‐dollar EV‐related investment programmes. Trafigura projects that the global EV fleet could exceed 200 million vehicles by 2030.
The high energy density battery is a critical component for EV mobility. Currently, only lithium‐ion chemistries deliver the required power and performance. This is driving demand for key raw materials, including lithium, graphite, nickel, copper and cobalt.
Of these, the cobalt market arguably has the most challenging supply chain. Advances in technology may reduce the need for cobalt in the long term but, for now at least, there are few realistic alternatives. Meeting that demand responsibly requires that social and environmental challenges, particularly those centred around artisanal and small‐scale mining (ASM), are urgently addressed.
EV demand outstrips expectations
Under existing technology, each new EV requires 5–10kg of cobalt. Approximately 170,000 tonnes of cobalt were consumed globally in 2021 and EVs made up around 25 percent of that figure, approximately 45,000 tonnes. That proportion is growing fast: Trafigura's most conservative estimate projects that by 2030 EV‐related demand will account for 45 percent of the market. In absolute terms, demand will likely at least treble, to over 150,000 tonnes annually. The rate at which EV uptake is currently accelerating, consistently outstripping market expectations, suggests that even that may turn out to be an underestimate.
Cobalt supply is critical but vulnerable
Cobalt production remains critical for EV mobility and ensuring its supply is strategically vital, but the rapid growth in cobalt demand is piling pressure on an already vulnerable supply chain – a chain that, knowingly or unknowingly, relies heavily on ASM.
The current situation is not sustainable. Artisanal cobalt miners, their families and wider communities are being left behind in the energy transition. Their plight, once a subject of significant media and civil society focus, appears to have slipped from the public consciousness.
Meanwhile, human rights violations perpetrated at and around ASM cobalt mine sites in the DRC continue to promote unsafe working conditions, permit child labour and result in considerable loss of life. Regrettably, almost without exception, international and domestic efforts to mitigate the negative, often egregious, human rights impacts associated with ASM in the Democratic Republic of the Congo (DRC) have so far failed to gain traction.
The DRC and China dominate global cobalt supply
More than two‐thirds of global mined cobalt production comes from the Democratic Republic of the Congo (DRC). There are deposits elsewhere, notably in Australia, Indonesia and Cuba, but these are considerably smaller and relatively uneconomic to exploit.
Most of the DRC's industrialised extraction is controlled by a handful of companies; 80 percent of its exports are committed to supplying Chinese refiners.
Current large‐scale mining (LSM) cobalt production falls well short of expected future needs. There is limited capacity to bring additional LSM production on stream within the timeframe needed to meet expected future shortfalls.
The world needs responsibly sourced ASM material
The DRC also has a large artisanal and small‐scale mining (ASM) sector, which currently contributes at least 20 percent, perhaps as much as 40 percent, of the country's total cobalt production. This is labour‐intensive, largely unregulated and often highly dangerous work. Exact numbers are hard to come by, but ASM is thought to employ more than 200,000 copper‐cobalt miners in the country.1
Globally, a tight market for cobalt underpinned upward price momentum during 2020 and 2021. These price rises incentivised the ASM sector to scale up production. ASM‐derived materials now account for more than 10 percent of global supply.
Without these additional cobalt units, battery production would have been severely curtailed over the past two years, radically slowing the shift to EV mobility.
Trafigura is forecasting surplus supply at least until 2024, but, again, this assumes continuing ASM production. As shown in the chart below, with ASM out of the picture the market would already be in deficit, and by 2026, we are forecasting a shortfall compared to global demand, even including ASM material.
An urgent need for standards
Governments are increasingly sensitive to security of supply. Many have been late to the table in attracting supply agreements for critical minerals but, nonetheless, are now seeking to rectify the situation. Engaging actively in righting the wrongs of the artisanal cobalt supply chain and, in turn, procuring responsibly sourced material should be an important consideration.
It is imperative that regulatory bodies come together, in support of those efforts already made by the DRC Government, to adopt a common set of standards, implementation processes, performance metrics and assurance protocols so as to ensure that only cobalt from safe and responsibly managed artisanal mine sites can reach the legitimate market.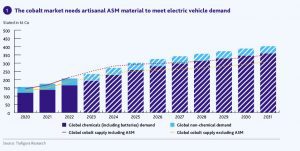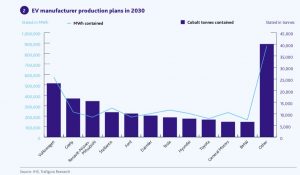 Managing the human rights consequences
The hazardous nature of ASM mining and its lack of regulation make it highly problematic as a production source for DRC cobalt. Amnesty International's landmark 2016 report, 'This is what we die for'2 documented the dangerous conditions in which artisanal miners, including thousands of children, mine and process cobalt in the DRC.
Since then, international organisations have tried to find ways to address the serious human rights concerns surrounding ASM in the DRC. Some downstream brands have pledged to secure their cobalt from other countries or through mechanised miners that commit to child‐labour‐free and/or ASM‐free production. Such 'de‐risking' strategies, which have been openly criticised by international bodies such as the OECD, will likely perpetuate rather than resolve issues on the ground. Various industry bodies have sought to develop standards for the responsible sourcing of cobalt from ASM, albeit rarely with the involvement of stakeholders within the DRC, nor with a clear plan to distinguish responsibly sourced material in the formal supply chain.
The complex interactions between ASM, LSM and refiners make it very difficult to provide absolute assurance of ASM‐free status. Declarations along such lines should be treated with a degree of scepticism. A lack of transparency in the ASM sector, its quasi‐legal status and the inability of the DRC State to secure vital taxes and royalties have hampered domestic and international attempts to raise standards.
Lives are still being lost and human rights violations continue to be perpetrated at and around artisanal mine sites in the DRC. This reality can and must be addressed.
The fundamental problem remains unchanged. Ultimately, rapid growth in global cobalt demand is a prerequisite for transition and that cannot be met without ASM. Engaging with that reality must be a priority for governments, producers, traders, refiners and the downstream market amongst others as they seek to meet evolving market needs.
The case for formalising ASM
Attempts by market actors to exclude ASM‐produced materials from supply chains have proven counterproductive. By constraining the supply of cobalt they push prices up faster, which encourages more, not less, unregulated ASM activity.
What is more, such measures are fundamentally at odds with the need for society to pursue a transition that leaves no one behind. The transition to electric vehicles should not come at the expense of the human rights and employment prospects of the many marginalised communities that currently rely on ASM for their livelihoods.
At Trafigura, we want to see a sustainable, regulated ASM sector. The following pages set out the rationale for, and broad parameters of, a new mining model we have been developing with the DRC Government and wider partners to formalise and professionalise ASM activity in the DRC. Such efforts are applicable not just to cobalt but also to the closely related copper sector, which has similar market dynamics. With industry and regulatory backing these procedures and processes, replicated globally, can potentially transform the working lives of more than 44 million people worldwide3 directly engaged in the artisanal production of metals and minerals.
Trafigura calls for the adoption of a domestically owned, internationally recognised standard in support of the DRC's ASM cobalt production. The DRC Government established Entreprise Générale du Cobalt (EGC) in 2019 to responsibly purchase,
process and sell all cobalt produced by artisanal miners or companies involved in ASM in the country. Despite this intervention, international buyers have continued to finance and purchase ASM cobalt at point of source and/or buy from a growing number of independent cobalt refiners that purchase ASM material often with limited regard for the social and environmental cost.
The EGC's Responsible Sourcing Standard (see page 33), launched in 2021, supports the creation and maintenance of safe and strictly controlled artisanal cobalt mining zones in the DRC. The Standard, which provides the basis for due diligence, will apply to all sites overseen by EGC and has been designed to complement and align with DRC law and DRC mining regulations as well as the OECD Due Diligence Guidance for Responsible Supply Chains.
A formalised, regulated ASM sector safeguards human rights, supports the livelihoods of thousands of people, sustains a just transition and helps meet the growing need to support energy security objectives. But this vision cannot be realised without a unified commitment to a practical and defence‐able standard, action on the ground and transparent, effective regulation.
Read white paper here.