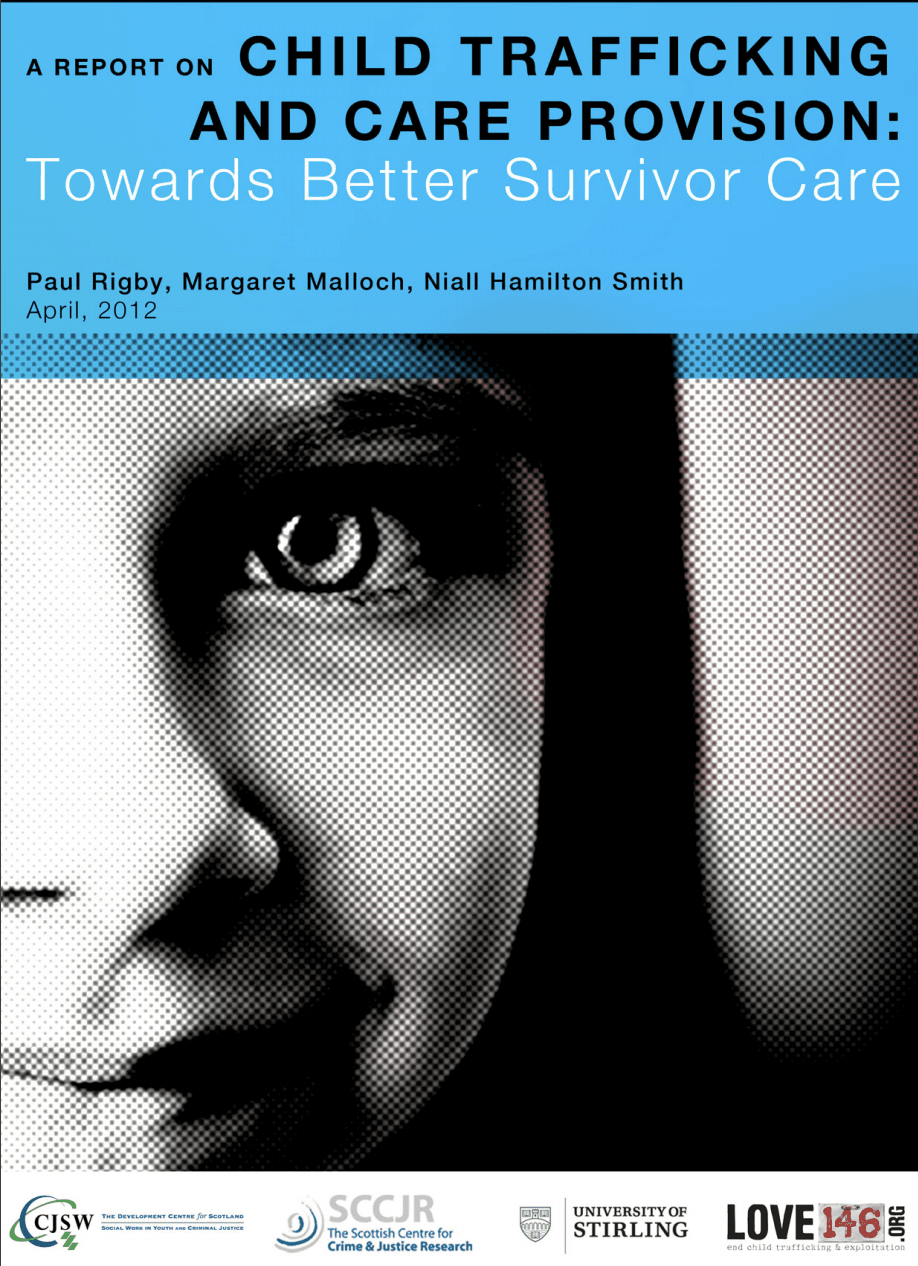 A Report on Child Trafficking and Care Provision: Towards Better Survivor Care
Executive Summary
Child trafficking in the UK has attracted increasing political, media, academic, policy and practice interest recently, with a developing literature base providing comment on the extent of the problem and possible responses under the UKs obligations to international law. Until recently, trafficking was perceived primarily as an immigration issue; a view which has not altogether dissipated, resulting in children being slotted into existing services for separated and asylum seeking children. Often children received no service, without or with limited assessment of continuing risk and needs.
The aim of this review is to examine the most effective models of care and support for children who arrive in the UK and are identified as trafficked. While the components of models of good practice may also apply to UK children who have been moved and exploited, the focus of this review is on non-UK nationals. The commercial and sexual exploitation of children within the UK is a serious concern; while models of good practice are developing in this area that have much to offer responses to trafficked children, the review maintains a focus on trafficking which requires the elements of both movement and exploitation to meet with international definitions. The review draws on the provisions of the Council of Europe Convention on Action against Trafficking in Human Beings and the EU Directive on Human Trafficking, highlighting international obligations in relation to the care and support of child victims.
Unlike other areas of child protection there has been a limited empirical evidence base that can inform policy and practice and provide guidance for models of practice and intervention in relation to child victims of human trafficking. This reflects the international situation where there remains limited understanding of antecedent factors that contribute to the victimisation of children, or services that aid rehabilitation of the victims.
Electronic database searches were conducted using a variety of terms associated with trafficking, child trafficking, and models of care for victims of trafficking; uncovering a limited number of peer reviewed papers or evaluation reports, mostly limited to qualitative and quantitative studies of the scope of trafficking. Information on the needs of trafficking victims and available services/models of care were limited to information contained in reports produced by international organisations, individual governments and NGOs working with victims of trafficking. Predominantly these were located internationally and often focused on provision of services in source countries rather than destination countries; which in the case of the UK is paradoxical as most separated and trafficked children remain in the UK under immigration control and awaiting decisions. Information on practices or strategies for responding to other vulnerable children's populations was also drawn upon to supplement the available material on trafficking.
The review identifies the significant gap in research and literature on the specific needs of victims of trafficking and service responses to this in the UK, where, in many respects, provision remains focused on immigration concerns with National Referral Mechanism (NRM) decision-making located outside child protection services. Supporting children in mainstream social services remains fundamental to meet their care needs, but with specific recognition of additional risk and needs related to the potential for continued trafficking and exploitation.
A model of specific practice issues relating to trafficking is highlighted; the wider safeguarding concerns focussing on care needs, education, health, housing and social support should be a focus of intervention for all looked after children, and incorporated into an individualised child's plan. The specific components include:
Safety and protection practice related to the risk of re-trafficking;
Safe and secure accommodation based on clear understanding of risks;
Legal and immigration support while recognising that some children may not want to remain in the UK;
Life story work to help children make sense of their physical and psychological journeys;
Trauma / mental health support but also consideration of the resilience of many children;
Peer support to ensure children do not consider themselves the only 'victims'.
While these components have been identified as potentially beneficial for trafficking victims, their efficacy, alone or combined with general intervention models, is not supported by a clear evidence base. The complexity of trafficking, and the absence of a clear understanding of children's needs, complicates evaluation; but without the contribution of an empirical evidence base for intervention in the UK, service delivery for a particularly vulnerable group of children will remain subject to the vagaries of a political and media discourse which often focuses on immigration rather than the needs of children
Read more here.