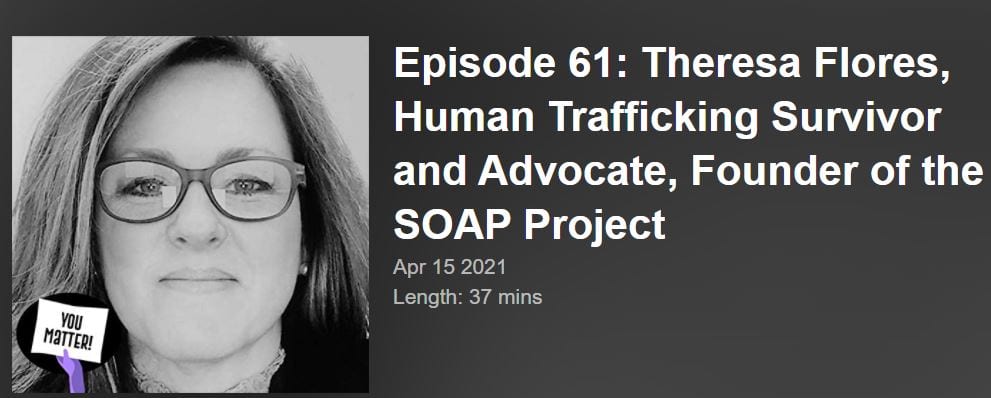 Theresa Flores, Human Trafficking Survivor and Advocate, Founder of the SOAP Project
In this episode, Karen speaks with Theresa Flores, a survivor and author who travels the United States to share her story of being trafficked and used as a sex slave as a teenager, all while living under her parents roof in an upper-middle class suburb of Detroit, Michigan.
Ms. Flores has been a licensed Social Worker for over thirty years. She received a Master's in Counseling Education from University of Dayton and a Bachelor's of Social Work from Ball State University.
Ms. Flores was appointed to the Ohio Attorney General's Human Trafficking Commission in 2009 and has testified before the Ohio House and Senate in supports of Human Trafficking Legislation. Her efforts were a major part of the success of these bills being passed into laws. The "Theresa Flores Law" was passed in Michigan that eliminates the statute of limitation for children who have been trafficked. Additionally, Ms. Flores was in the Oval Office to witness the signing of SESTA/FOSTA bill (Backpage.com legislation) into law along with other survivors, the creator of the documentary "I am Jane Doe" and US Senator Rob Portman.
Flores is a survivor of domestic child sex trafficking and was sold in an underground crime ring in an upper middle class suburb outside Detroit from the time she was 15-17 years old. Now, she is the Assistant Investigator with Global Centurion researching the mental and physical health problems of over 200 domestic trafficking survivors. The study entitled, "The Health Consequences of Human Trafficking" will provide best practices and systemic recommendations for health care providers. She founded The SOAP Project in 2001 and they have given away over a million bars of soap labeled with the National Human Trafficking Hotline number all across the states and assisted in rescuing many victims. She also is passionate about helping to restore survivors and provides them with a free weekend retreat each year as well as a monthly support group.
Listen here.