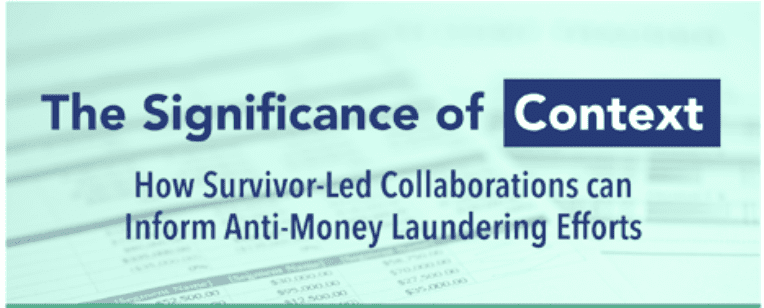 The Significance of Context: How Survivor-Led Collaborations can Inform Anti-Money Laundering Efforts
Financial institutions are in a unique position to detect, disrupt, and prevent the illegal profits generated by human trafficking. But just because it may be possible to detect potential trafficking through financial records does not mean it is easy. Trafficking is often still a cash-based enterprise, does not use a single common business model, and is adaptive, with traffickers evolving their strategies to meet changing environments. The details matter and effective anti-trafficking financial crime programs require a nuanced understanding of this complex subject matter.
As is true with all aspects of anti-trafficking work, centering the voices of those with lived experience of human trafficking can significantly increase identification of exploitation occurring across business sectors. Megan Lundstrom, co-founder and Director of Research at The Avery Center, is one such individual. For years, she wanted to utilize her own bank records from a two-year period during which she was sex trafficked to help antimoney laundering (AML) professionals better understand the context and patterns of the daily financial transactions of a sex trafficking operation. Recognizing Polaris's strong relationships in the financial services industry and its dedication to survivor-informed projects, Polaris convened partners from PayPal and Capital One to maximize the impact of this project.
Throughout the presentation of the bank statements provided by Megan, AML professionals gleaned impactful insights through dialogue with this single survivor about her lived experience. The goal of the presentation was to allow the financial institutions to consider how the new insights could be institutionalized and leveraged within their own detection programs. This collaborative effort also laid the groundwork for a vision to scale and diversify meaningful survivor participation in AML efforts to detect human trafficking
Read more here.