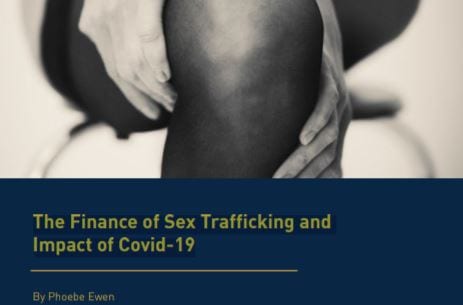 The Finance of Sex Trafficking and Impact of Covid-19
The Covid-19 Pandemic
The global outbreak of Covid-19 led to the shutdown of industries, shrinking economies, border closures, and national laws and curfews put in place to socially distance communities. As the world grapples with containing the virus, this article examines the effects of Covid-19 on a criminal world that often goes underreported: the world of modern slavery in the commercial sex industry.
This article examines how Covid-19 has impacted the lives of sex workers and how changing circumstances may make them even more vulnerable to exploitation into sex trafficking. It explores the perceptions and policies that keep sex workers from receiving the financial support needed to keep them safe at this time. It considers how sex work may be driven further underground, and the implications of this on the security of the workers involved. It also considers how the behaviour of clients may change as a result of the virus, examining the supply and demand drivers of online sexual exploitation of adults and children.
This article also outlines the fluidity of criminal nature, how criminals are adapting to changing circumstances and finding new ways to identify, groom, and exploit victims into sexual slavery. Finally, it analyses the implications that Covid-19 has had on the nature of money laundering and the related effects on the ability of financial institutions to operate as the "eyes and ears" in the fight against global sex trafficking.
Financial Desperation
One of the key drivers for modern slavery across all industries and exploitation types is financial desperation. Covid-19 has had a devastating impact on economies globally, with millions of people losing their jobs as a result.1 Small businesses and those heavily reliant on daily wages to support themselves and their families have been impacted particularly heavily by this crisis. People continue to need money to survive, and yet the required income is simply not available in many cases.
Click here to read full report.