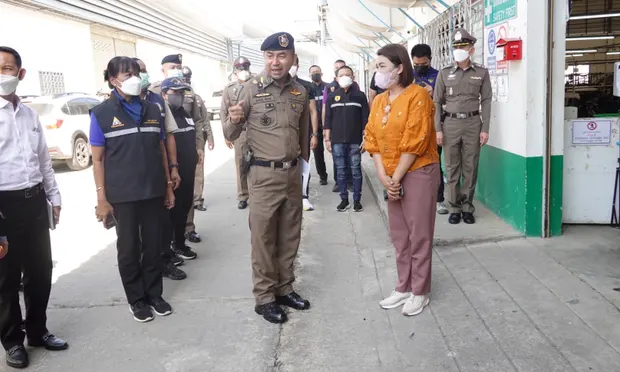 Thai police accused of 'sham' forced labour inquiry at former Tesco supplier
Thai police have been accused of conducting a "sham" investigation into potential forced labour at a garment factory formerly used by Tesco, after officials took one day to conclude no laws were broken.
The Guardian revealed last month that Burmese workers who produced F&F jeans for Tesco in Thailand reported being made to work 99-hour weeks for illegally low pay in terrible conditions.
Civil servants and police conducted interviews with 114 former workers at the VK Garment factory (VKG) on 28 December in Mae Sot to screen for forced labour.
A spokesperson for the department of labour protection and welfare said the team concluded later that evening "no forced labour or services [were] found". He added that "​​no victim under other laws was found" and that officials were unanimous in reaching that conclusion.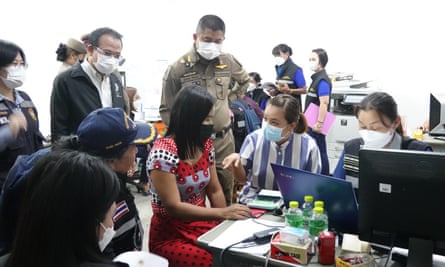 Workers told the Guardian the interviews were rushed and felt like a tick-box exercise to clear the factory of allegations. They took place simultaneously with 21 interview teams in an open-plan immigration building.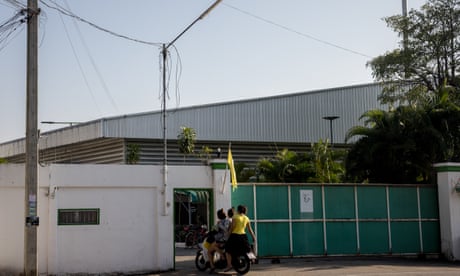 One former ironing worker, Ye Zaw Zo, said he watched as his answer about illegally low pay was deleted from an officer's screen. He said he told officers he had more to say but they refused to make a note of it. "It was such a waste of time," he said. "For me, this was a one-sided investigation."
He told the Guardian last month the factory lowered his pay and controlled his bank account. He was one of several workers who said they were cut off before they could give officers full answers to questions.
Civil society organisations who witnessed the interviews sent a dossier to officials on Wednesday outlining the ways they failed to properly investigate the allegations published in the Guardian. They say that more than 40 laws may have been broken, including those relating to forced labour, low pay and the withholding of documents.
Tesco faces a landmark lawsuit in the UK from 130 former VKG workers and a seven-year-old girl, who was raped in the factory compound while her mother worked late making F&F clothes. They are suing Tesco for negligence and unjust enrichment.
The workers made F&F jeans and other clothes for the Thai branch of Tesco's business between 2017 and 2020. Tesco had no role in the day-to-day running of the factory and said it would have ended its relationship with the supplier "immediately" if it had identified issues of the kind at the time.
Oliver Holland, a partner at Leigh Day, which is bringing the case, said: "The reports we have received from NGOs observing the Thai police interviews appear to show that the investigation was completely ineffective and that due process was not followed. Reports of workers having their answers to questions written down then deleted, being cut off from giving full answers, and officers refusing to take notes of their answers suggest that the investigation is purely for appearances, a complete sham with no desire to get to the truth of the conditions faced by our clients."
Holland said the reported failures of the police investigation illustrated "that it is almost impossible for Burmese garment workers to achieve access to justice in Thailand". He added that big businesses such as Tesco had a duty to "step up and compensate the workers for the harm they have suffered".
Officials say more interviews are planned, despite conclusions having already been released. One police source said they planned to interview another 22 former workers on 10 January.
In August 2020, 136 workers were dismissed from the factory,. They said that happened after they demanded the minimum wage. The same workers have also been seeking justice in the Thai labour court but it ruled in September that they were only entitled to severance pay and notice pay. An appeal was lodged in December reiterating their case for the payment of unpaid overtime, holidays and topping up of illegally low wages.
Somchai Homlaor, director of the Human Rights and Development Foundation, which has been supporting the workers, said they had endured undignified conditions "similar to slavery" with illegal rates of pay. "I would like to urge law enforcement to take legal action against the employers," he added.
A Tesco spokesperson said: "Protecting the rights of everyone working in our supply chain is absolutely essential to how we do business. In order to uphold our stringent human rights standards, we have a robust auditing process in place across our supply chain and the communities where we operate.
"We understand the Thai labour court has awarded compensation to those involved, and we would continue to urge the supplier to reimburse employees for any wages they are owed."
Sirikul Tatiyawongpaibul, the managing director of VKG, has previously said that the factory had not broken any laws. "We have provided safe working conditions to all employees," she said. "We are regularly audited by independent auditors who are not affiliated with the company to maintain good working conditions for our employees and as required by law."
Tatiyawongpaibul called previous Guardian reports "hearsay" and said the claims should be presented in court and could not be commented on, given the pending appeal in Thailand.