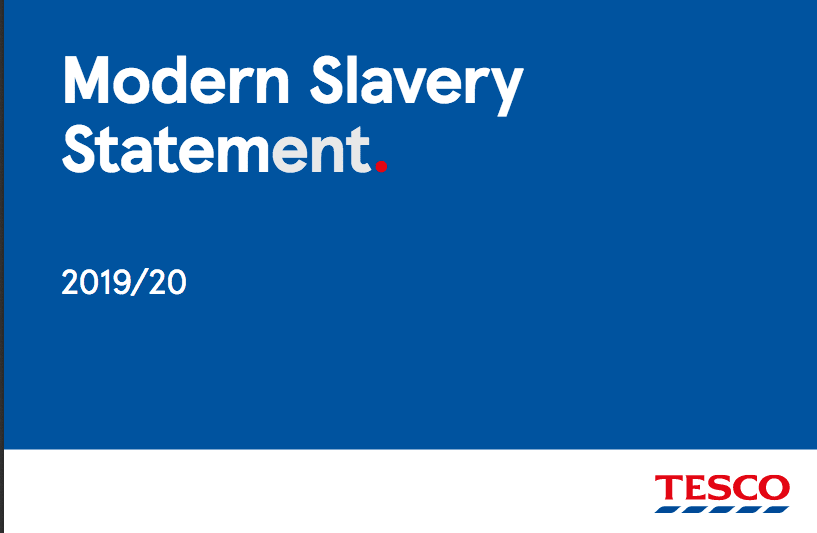 Tesco Modern Slavery Statement
The UK Modern Slavery Act 2015 (the 'Act') requires businesses to state the actions they have taken during the financial year to ensure modern slavery is not taking place in their operations and supply chains. Tesco is fully committed to playing our part in eradicating modern slavery. We firmly support transparency and collaboration to eliminate the risks of modern slavery.
This statement refers to the financial year ending 29 February 2020 and sets out the steps taken by Tesco UK Stores and other relevant UK subsidiaries1 to prevent modern slavery and human trafficking in our own operations and supply chains. Due to the nature of their businesses, Tesco Bank, Tesco Mobile, Dunnhumby and Booker publish separate Modern Slavery Statements.
Since we published our first statement in May 2017, we have gained greater insight into risk and trends relating to modern slavery that have enabled us to strengthen our approach. Over the past 12 months we have:
Equipped more of our colleagues and suppliers with the necessary training and tools to identify and take action to prevent the risk of modern slavery
•Enhanced our due diligence within our UK stores, distribution centres and offices in collaboration with our key service providers
•Undertaken a review of human rights risks in support of our Thai and Malaysian businesses
•Obtained greater visibility of where recruitment fees are currently being paid by workers in our supply chains, launching a new policy to address this.
In the year ahead we will continue to develop our approach to managing the risk of modern day slavery within our business and supply chains and ensure our strategy responds to changing risks
Read the full report here.