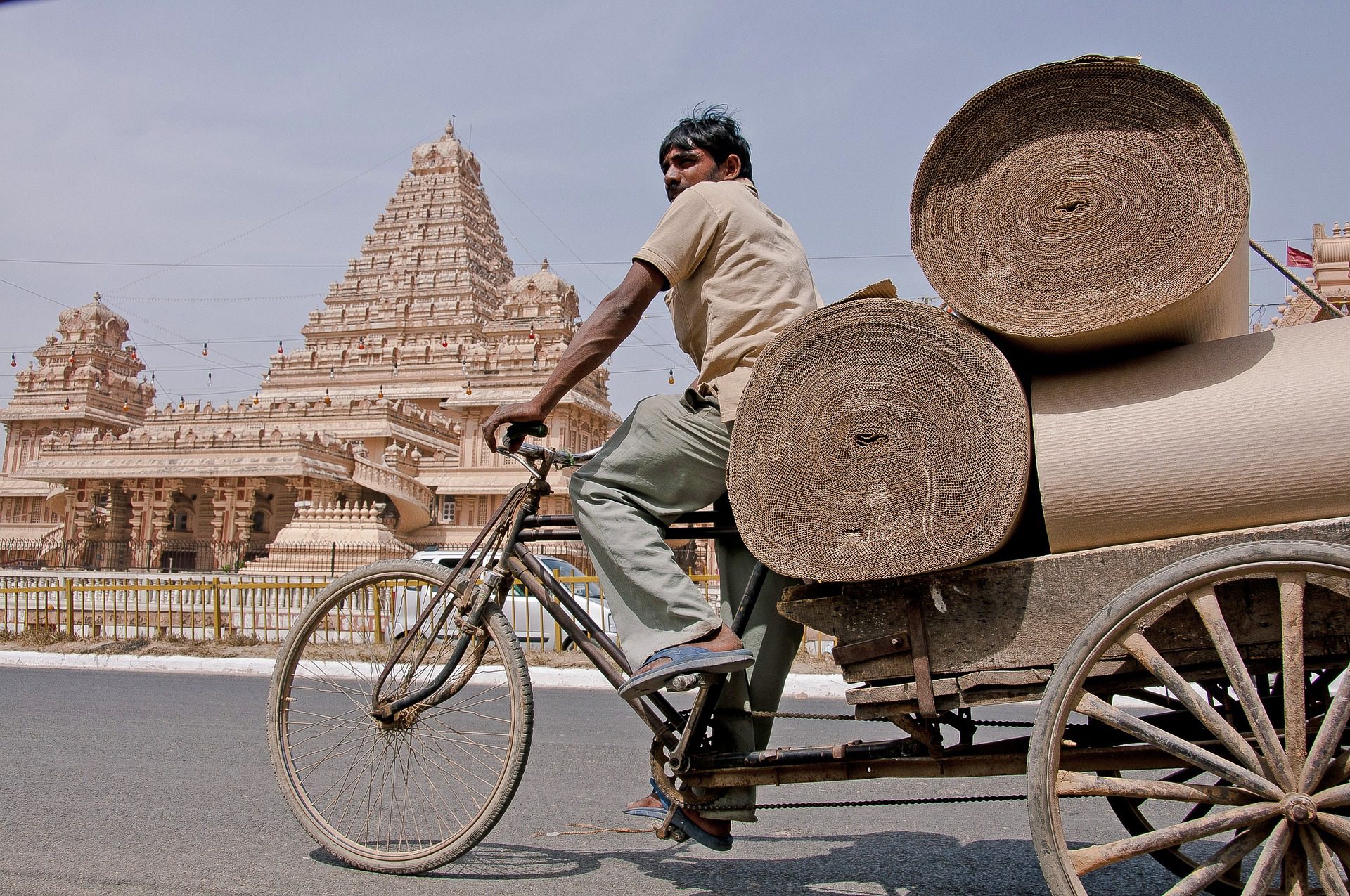 Financial Security Means Safer Migration: Reducing Vulnerabilities Among Migrant Workers in India's Construction Industry
In December 2020, an operator for the Jan Sahas helpline answered a call from a man claiming that his brother and six other workers were being held in inhumane conditions and against their will at a construction site in Faribadad. The man reported what his brother had told him- that since arriving, the migrants had received no pay for their work.
The Jan Sahas team responded immediately. They reached out to the local police and District Collector (DC) of Faridabad and an investigation was launched. Quickly after arriving at the site, the inspector was able to confirm the veracity of the claim: the workers had indeed been denied wages; none had even enough money to leave the site. An application to the DC filed on behalf of the migrants resulted in an order for restitution against the employers. They were forced to pay Rs. 1,16,340 (about $1,600 USD) in back wages to the workers they had defrauded and another Rs. 9000 (about $125 USD) to cover their transportation home. The network that Jan Sahas, together with GFEMS, set up to monitor and respond to cases of forced labor had worked. The man who had made that initial call to the helpline was reunited with his brother and the other migrants recovered what they had earned.
The network that Jan Sahas, together with GFEMS, set up to monitor and respond to cases of forced labor had worked. The man who had made that initial call to the helpline was reunited with his brother and the other migrants recovered what they had earned.
The helpline is an essential component of Jan Sahas' strategy to reduce forced labor in India's construction industry, but it is only one part of more comprehensive programming. While providing support to those encountering situations of forced labor, Jan Sahas is committed to changing the systems that create vulnerabilities in the first place. In partnership with GFEMS, Jan Sahas developed programming to assess risk factors for forced labor among India's migrant workers to better mitigate those risks; to raise awareness and ensure access to government entitlements to help migrants build a stronger safety net; and, in partnership with Pratham and Sambhav Foundation, to train employers on ethical labor practices to create safer and better work experiences. These collective efforts have made a difference in the lives of tens of thousands of migrants and their families. Many thousands more are less likely to experience forced labor or exploitation because of the efforts of Jan Sahas and our partners on the ground.
India's construction sector
Nearly 40% of India's population or 450 million people are internal migrants. (This reality was made clear to the world last year when news outlets broadcast the mass exodus that followed the state-issued lockdown.) India's construction industry is the country's second largest employer and attracts a large number of migrant workers each year. Approximately thirty to fifty million of India's construction workers are internal migrants.
While construction work offers an opportunity to earn additional income, especially during the agricultural off-season, evidence indicates that 10 percent or more of migrant construction workers – potentially five million people- could be in forced labor.  Various factors are contributing to this high rate.
Despite an unprecedented contraction of India's construction industry in the first half of 2020 in response to COVID-19, the sector has made a strong recovery (despite another recent outbreak), and remains one of the fastest growing construction markets in the world. This, combined with a severe shortage of skilled labor and an abundance of informal recruitment brokers and middlemen eager to fill this labor gap, has significantly enhanced migrant workers' vulnerability to exploitation.
Jan Sahas: Promoting safe migration and worker protection
Jan Sahas targeted the 450 kilometer migration corridor stretching from Bundelkhand to Delhi. Of the estimated two million migrants who travel this route annually, early prevalence estimations show a rate of forced labor between 7.5 and 10%.
Building a safety net to reduce forced labor risks
For many migrant workers who live in a perpetual state of transit, it is difficult to access government entitlements. Though many are simply unaware of what benefits they are entitled to, others lack the formal documents needed to access these benefits. To overcome both of these challenges, Jan Sahas implemented programming to raise awareness of social welfare entitlements among migrant workers and to help migrants navigate complex government structures and processes.
Before pursuing entitlements, Jan Sahas organized a series of awareness-raising community meetings to educate workers on existing benefit schemes and criteria for enrollment.  Despite early skepticism from workers who had participated in surveys before but never received promised benefits, the Jan Sahas team worked to gain worker trust and helped thousands register for entitlements including food rations, pensions, and those offered specifically to construction workers under India's Building and Other Construction Workers (BOCW).
Registering for entitlements can be cumbersome. In some localities, workers must present in-person at labor department offices to access benefits, which often means taking off work. BOCW cards require proof of work in the same location for 90 days, a requirement that many migrant workers are unable to meet. Others simply do not have the formal documentation needed for a successful application.
To help overcome some of these obstacles, Jan Sahas guided migrant workers through the application process, clarifying more technical language and assisting in the preparation or collection of required documents. During the project period, Jan Sahas helped over 27,000 workers and their families access direct cash or cash-equivalent benefits. While follow-up interviews with workers revealed that most would not have known about entitlements or how to access them without Jan Sahas' intervention, these entitlements provide a safety net for workers, allowing them greater agency to choose when and where they will work.
Jan Sahas helped over 27,000 workers and their families access direct cash or cash-equivalent benefits. Follow-up interviews with migrant workers revealed that most would not have known about entitlements or how to access them without Jan Sahas' intervention.
Beyond entitlements, awareness-raising campaigns introduced migrant workers to Jan Sahas' toll-free helpline. The helpline is an outlet for workers to file grievances, report instances of forced labor or inhumane treatment, seek redress for lost wages, and access legal support services. In an expression of gratitude for the establishment of a helpline, a worker in Delhi reported that he "lost between INR 10,000-15,000 ($134-200 USD) of wage payments before a helpline was operational."
Supporting Migrant Workers during COVID-19
When COVID-19 struck in spring 2020 and India entered lockdown, the response from Jan Sahas and other implementing partners was immediate. As the true impact of the pandemic began to show in job losses and rising unemployment, the Indian government increased entitlement allotments and issued new benefits to help mitigate the worst effects. Jan Sahas, with a tracking and communication system already in place, intensified its outreach efforts to ensure migrant workers, a group left even more vulnerable by the pandemic and subsequent shutdowns, could access needed support. A migrant from Faridabad whom Jan Sahas had helped register for government entitlements captured the dire reality for many migrant workers during COVID: "Without ration or cash transfers, we would not have survived the challenges of COVID-19."
In addition, Jan Sahas was able to utilize the existing programmatic framework to identify and provide food relief to over 1,000 of the most vulnerable migrant households.
Gathering data to assess risk factors and improve programming
Foundational to Jan Sahas' programming was the development and implementation of a longitudinal migration tracking (LMT) system. This system is designed to capture data on migrant workers to better understand risk factors for forced labor, paying particular attention to whether program interventions decreased the likelihood of exploitation.
To build a strong evidence base, Jan Sahas conducted extensive outreach at various departure points, including home villages and transit hubs, to register workers. Successfully registering over 89,000 migrant workers, surveyors then followed up at destination sites to assess the effectiveness of program interventions- specifically, access to entitlements and operation of a helpline- on reducing the incidence of forced labor. Follow-up communication with registered workers, combined with worker interviews, revealed that Jan Sahas' programming was making a difference. Workers who were helped to access social protection benefits reported additional income and savings while those accessing the helpline were able to recover unpaid wages, escape forced labor conditions, and generally, feel safer. Jan Sahas hopes this data will encourage greater investment in similar prevention efforts. When more is known about migrant workers and experiences and what factors increase risks of exploitation, targeted action can be taken to reduce and ultimately eradicate forced labor.
Engaging employers to reduce the risk of forced labor
While Jan Sahas supported migrants to build greater financial security and provided them an outlet to air grievances and pursue justice, other implementing partners focused on developing the capacity of micro-contractors. Micro-contractors are the primary employers of unskilled and semi-skilled construction workers, employing between 5 and 25 persons at a time. Pratham and Sambhav led an effort to train micro-contractors on ethical labor practices to reduce the risk of forced labor among vulnerable migrants. Workers employed by trained micro-contractors expressed a desire to stay on with these employers as they had taken steps to create safe and equitable work environments, including ensuring on-time wage payments, providing safety equipment for risky jobs, and helping meet essential needs such as food and accommodation at destination sites. Women working for trained micro-contractors noted especially the attention these employers paid to eliminating discriminatory gender practices in the workplace. Unlike other employers, program-trained micro-contractors paid women separately from their spouses, ensuring greater female economic agency.
Building local capacity to effect sustainable change
Jan Sahas' programming to address forced labor in India's construction industry has reached tens of thousands of workers. Some have received support to exit forced labor conditions, others have registered successfully for entitlements to reduce risks of exploitation, and still others have filed grievances to recoup lost wages.  Though this program may have formally concluded, Jan Sahas set up people and systems to carry its benefits forward. They successfully trained hundreds of social advocates or "barefoot lawyers" who will continue to share information on labor laws, rights, and entitlements with migrant workers and aid in benefit enrollments. Moreover, Jan Sahas continues to collaborate with key government actors at each stage of program implementation, including India's Department of Labor, and other stakeholder groups across civil society, philanthropy, and the private sector to sustainably end forced labor.  We are proud to be a part of this collaboration.
Jan Sahas is a community and survivor-centric nonprofit organization committed to ending sexual violence and forced labor. To learn more, please visit Jan Sahas.
This article and the project it references were funded by a grant from the U.S. Department of State. The opinions, findings and conclusions stated herein are those of the author and do not necessarily reflect those of the U.S. Department of State.