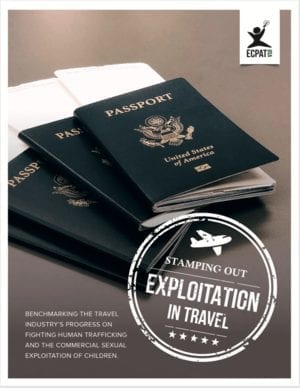 Stamping Out Exploitation in Travel
Benchmarking The Travel Industry's Progress on Fighting Human Trafficking and The Commercial Sexual Exploitation of Children
The private sector plays a major role in ensuring that profits do not come at the expense of children. Especially in the travel and hospitality industry, there is both a great responsibility and opportunity to ensure associates have the knowledge and resources to address human trafficking and the commercial sexual exploitation of children. Through things like trainings, policies and response procedures, members of the travel industry have taken concrete steps to protect children – but how do different sectors of the industry compare to each other and how can we measure whether or not any improvements have been made on this issue.
It is the goal of answering these two questions, and others, that served as the catalyst for our latest report Stamping Out Exploitation in Travel. The benchmarking report presents key findings and themes from a study of 70 companies in the travel industry on their initiatives to fight human trafficking and the commercial sexual exploitation of children. The report establishes a way to measure progress, identifies the baseline for their engagement, and highlights best practices to encourage cross-learning within the travel industry.
KEY FINDINGS
The travel industry's average score on their Stamping out Exploitation in Travel efforts is 38%. The score is based on a comprehensive analysis, by ECPAT-USA, of all policies and practices that prevent and respond to human trafficking and exploitation.

Companies that partner with ECPAT-USA and are members of The Code have an average score of 47%, which is 31% higher than non-Code members who average 16%.

The 8 industries of Stamping out Exploitation in Travel analyzed by ECPAT-USA were:

Associations

Aviation (Airlines, Airports)

Conferences & Meeting Management

Franchised Hospitality (Hotel Brands, Gaming/Casino)

Owned & Managed Hospitality (Hotel Management Companies, Single Property Hotels)

Sharing Economy (Rideshare, Home-share)

Tour Companies

Travel Management Companies

On average, the Aviation sector scored the highest, followed closely by Travel Management Companies.
The four categories of Stamping out Exploitation in Travel efforts analyzed by ECPAT-USA were:

Policies and Procedures

Implementation

Contracts

Transparency and Reporting

60% of companies are actively engaging with law enforcement, non-governmental organizations (NGOs), and governments on the issue.
Although great strides have also been made in recent years to train employees on human trafficking risks and how to respond, only one-third of companies surveyed provided training to their associates in the last twelve months, and less than half explained their training initiatives directly in policy or procedural documents.

Over 70% of companies have an anti-human trafficking policy that has been established, communicated to their associates and is publicly available.
Read the full report here.