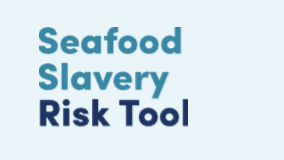 Seafood Slavery Risk Tool
In recent years significant use of forced labor and human trafficking have been exposed in the fishing industry. The Seafood Slavery Risk Tool, developed by Seafood Watch, Liberty Asia, and the Sustainable Fisheries Partnership rates the likelihood that forced labor, human trafficking, or hazardous child labor is occurring on fishing boats in a fishery. Ratings are not produced for countries. Evidence from credible media and authoritative institutions and civil society organizations is evaluated according to the Risk Tool's criteria to determine a profile fishery's rating. A fishery can be rated critical, high, moderate, or low risk. Read Methodology and FAQs for more information.
Risk Tool ratings are produced primarily for Seafood Watch's and SFP's business partners and Liberty Asia's financial sector partners to inform their due diligence. Users of the Risk Tool must still undertake comprehensive due diligence before making sourcing and investment decisions. Read What Businesses Can Do.