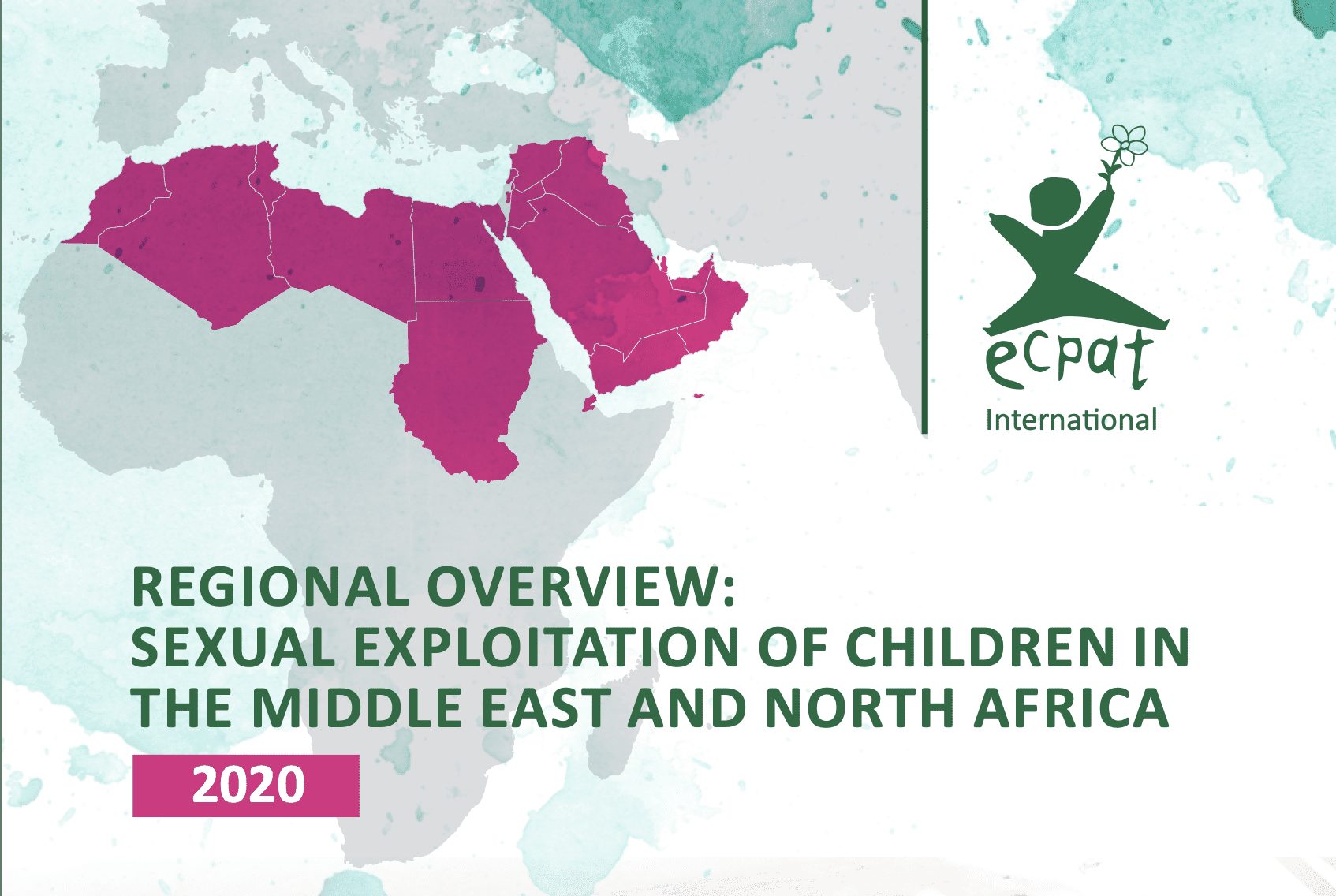 Regional Overview: Sexual Exploitation of Children in the Middle East and North Africa
The MENA region is home to heterogeneous countries ranging from wealthy oil-exporting countries in the Persian Gulf to some of the world's poorest and least developed countries such as Sudan and Yemen. As of 2018, the region has a population of 447.89 million, of which children account for 155.6 million. Despite declining fertility rates, the regional population is still expected to reach 1 billion by 2100, straining an already burdened infrastructure, housing, sanitation provisions, educational and healthcare services, and employment opportunities. According to an overview of the MENA by the World Bank, the region is facing multiple challenges that are affecting its overall economic growth. In addition to violence and the consequences of war in several countries (such as the risk of a whole generation of children in some countries missing school due to fragility, conflict and violence), the region suffers from slow- paced reforms, rising debt levels and high unemployment rates, particularly among youth and women.
In addition to the multiple political, economic and demographic challenges, the region is home to devastating levels of armed conflict in six countries: Iraq, Libya, State of Palestine, Sudan, Syria, and Yemen. The MENA has the highest concentration of humanitarian need in the world, with two ongoing current emergencies rated as "level 3 emergencies" in Syria and Yemen and many countries facing protracted difficulties. Advancing child rights and protection in areas of conflict and turmoil is strained by grave conflict- induced displacement (within and across borders), lack of adequate funding, fragmented and strained protection systems, and limited professional capacity. According to the United Nations Office for the Coordination of Humanitarian Affairs (OCHA), as of June 2019, a total of US$244 million was raised to fund humanitarian needs in Yemen (US$113.8 million), the Syrian crisis in Syria, Lebanon, Jordan and Turkey (US$72.8 million), Iraq (US$45.3 million) and the State of Palestine (US$12.4 million).
Addressing the sexual exploitation of children falls within the scope of child rights and protection activities and with welfare systems stretched beyond breaking in many places, this means the issue receives little prioritization within these countries. From a legal standpoint, all governments in the region have ratified the United Nations Convention on the Rights of the Child (UNCRC), and most have officially ratified its Optional Protocol on the Sale of Children, Child Prostitution and Child Pornography (OPSC). However, current domestic legislation in many MENA countries does not fully reflect these conventions as is the intention of such international laws. In fact, several countries have provisions in domestic legislation that are contradictory to that of international standards they have ratified, such as criminalizing children who are victims of sexual exploitation. Furthermore, countries that took measures to change their penal codes to implement provisions against the sexual exploitation of children, such as Morocco, Kuwait and Oman, are slow to implement these changes. In reviewing the definition of sexual exploitation of children (SEC) in the national legislations of countries in the region, ECPAT International notes that countries across the MENA carry multiple different definitions of SEC, and many tend to be general and not specific for each different manifestation of this crime.