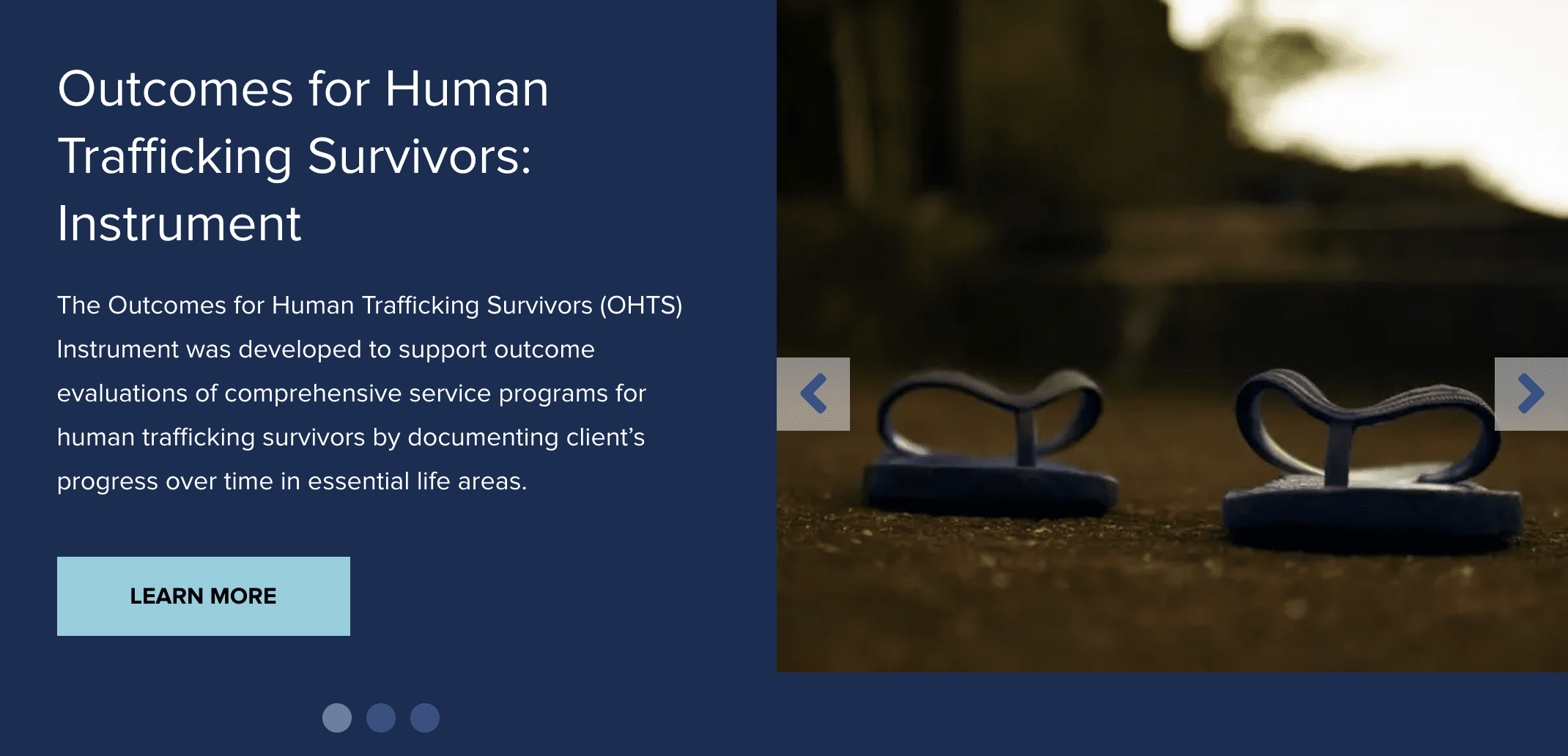 Measuring Outcomes for Survivors of Human Trafficking
Project Highlight
Measuring Outcomes for Survivors of Human Trafficking
Many programs offer comprehensive services to victims and survivors of human trafficking. However, better information is needed about how program participation changes clients' lives. RTI has developed the Outcomes for Human Trafficking Survivors (OHTS) evaluation instrument, incorporating input from practitioners, survivors, and researchers at each step in the process. Designed to be completed by service providers about the clients they serve, the instrument measures client status in four key areas: safety, well-being, social connectedness, and self-sufficiency.
The user-friendly instrument, accompanied by an instrument user guide and instrument development brief, are publicly available at no cost. The OHTS research team is excited to share these resources with the hope of improving case manager service provision for victims of human trafficking, and ultimately outcomes for human trafficking survivors.
Download the instrument here.
Access to OHTS User Guide here.
OHTS Development Brief
Background
Providers know firsthand that service programs can transform the lives of survivors of human trafficking. However, the field lacks systematic information about service program outcomes. Specifically, little information exists about the extent of change and the areas in which change occurs as a result of program participation. The Outcomes for Human Trafficking Survivors (OHTS) Instrument was developed to help human trafficking service programs evaluate how their services change lives. Defining outcomes in human trafficking service programs is often challenging because "success" means much more than clients exiting trafficking situations—it means clients rebuilding their lives. Success will therefore look different for each individual, and pathways to success will vary depending on characteristics such as age, citizenship, and trafficking experiences. Measuring outcomes can also be difficult for programs due to organizational capacity, time limitations, client language differences, literacy challenges, and the need to be trauma sensitive and minimize burden for clients. Yet human trafficking service programs need information about survivor outcomes to demonstrate program impact.
Read the entire OHTS Development Brief here.
Watch the research webinar with the creators of OHTS here.