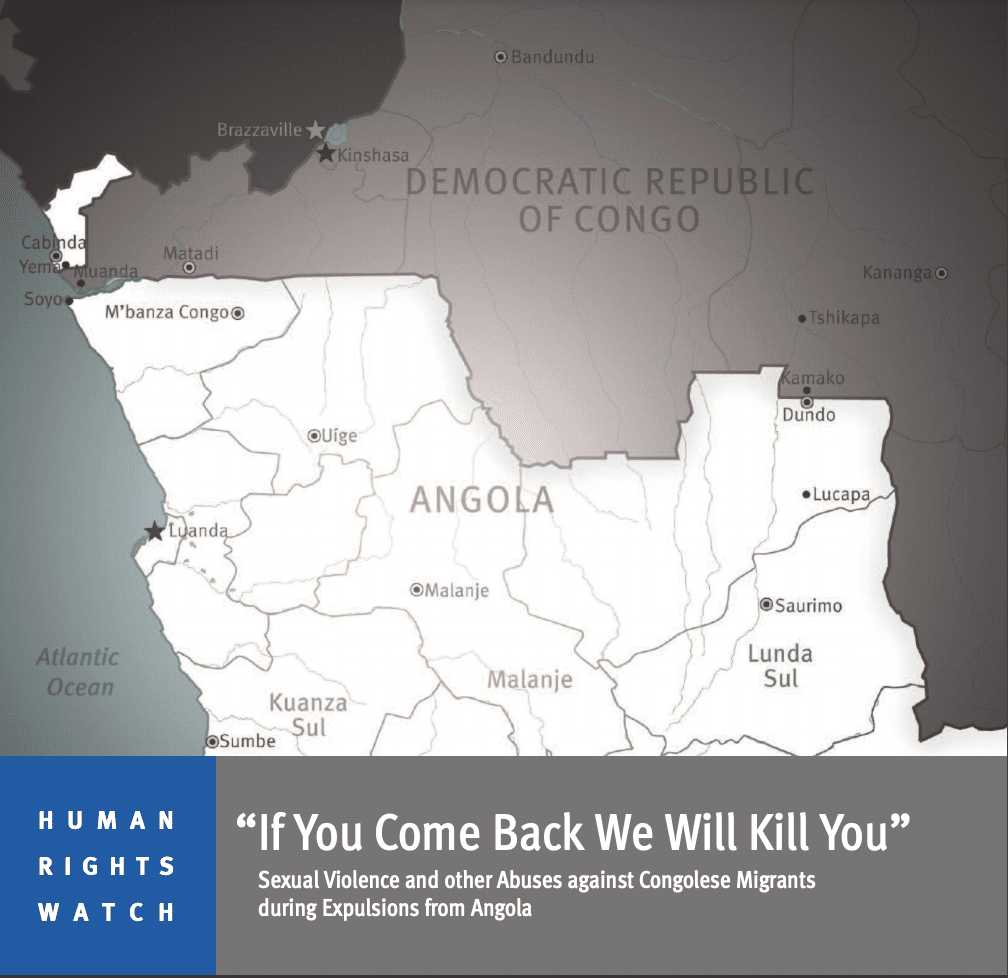 "If You Come Back We Will Kill You" Sexual Violence and other Abuses against Congolese Migrants during Expulsions from Angola
Summary
Immigration officials threatened us: 'You don't have anything to say here. If you complain we will kill you.' —30-year-old Congolese man, expelled from Angola in May 2011

In prison, they beat me a lot because they requested me for sex and I refused. They were police agents, immigration officials with different uniforms in black, blue, light green. They came in groups of three and picked the young women. They beat those who refused with ropes and batons. —19-year-old Congolese woman, expelled from Angola on June 2, 2011
Since 2003, the Angolan authorities have carried out a sustained effort of expelling migrants, most of whom are citizens of the Democratic Republic of the Congo (DRC), under the justification of protecting national security from a "silent invasion." The annual expulsions of tens of thousands of migrants have been gradually extended in scope from the diamond areas in Angola's east to the border areas in the north, such as the northern Zaire province and the enclave of Cabinda, as well as to informal markets and urban residential areas in those regions and elsewhere. Expulsions have been carried out in a coordinated effort that involves most branches of the Angolan security forces and increasingly, temporary detention facilities are being used exclusively for migrants.
This report documents abuses against these immigrants, based on research conducted by Human Rights Watch during visits to the DRC in 2011, and during previous visits to Angola in 2009. Women and girls have been victims of sexual abuse including gang-rape, and of sexual exploitation. Their children have been forced to witness sexual abuse in custody. Human Rights Watch also found that beatings, torture and degrading and inhumane treatment of migrants were common practices during roundups, transportation to detention facilities and in custody. In addition, Human Rights Watch found that migrants continued to be rounded up and arrested arbitrarily and denied due process by effectively being denied the right to challenge their deportation.
Human Rights Watch is particularly concerned that the most serious abuses that were reported by expelled migrants, including sexual violence, torture and inhumane treatment, took place in detention facilities that are under the supervision of Angola's Interior Ministry, and are being routinely committed by a broad range of Angolan security forces, including agents of the Rapid Intervention Police (PIR), the border police (GPF), prison guards, as well as Angolan Armed Forces (FAA) and immigration officials (SME).
Though Human Rights Watch found no evidence that Angolan officials were ordered by their superiors to commit such serious crimes, the victims' testimony indicates a high degree of complicity among the different Angolan security services involved in expulsion operations. These security officials routinely abused their authority and powers, particularly to sexually exploit migrant women and girls in their custody, and there is lack of effective oversight to prevent such abuses from taking place. Information gathered through interviews with former detainees also suggests that the deprivation of essential items in custody, including food, water, and sanitation facilities, even if not deliberate, increases the vulnerability of migrants, particularly women and girls, to sexual abuse and exploitation, and exposes female inmates to health risks, such as HIV and other sexually transmitted infections.
Sexual violence, torture, and degrading and inhumane treatment are serious violations of international human rights. Women and girls who are victims of sexual abuse suffer serious physical as well as psychological trauma, along with their children who are forced to witness sexual abuse. In addition, sexual violence victims in the DRC are often socially stigmatized and abandoned by their husbands, while the authorities do not provide adequate access to health care.
Since 2004 United Nations agencies and special rapporteurs, international and local nongovernmental organizations, and the African Commission on Human and Peoples' Rights have presented credible allegations of serious human rights violations during mass expulsions of irregular migrants from Angola, including torture and inhumane treatment, theft, and sexual violence.
Yet, the Angolan government has not carried out any thorough, credible, and impartial investigations into past allegations of serious abuse of migrants by its security forces during expulsions from Angola, has continued to deny the veracity of the allegations, and failed to prosecute alleged perpetrators.
Following the visit of UN special representative on sexual violence in conflict, Margot Wallström, to border areas of Angola and the DRC in early 2011, the Angolan government said it would step up efforts to prevent serious abuses during expulsions of migrants, by implementing a zero-tolerance policy among its security forces against sexual abuse, and increase cooperation with UN agencies to monitor expulsions and train relevant security forces. The Angolan government has also started building new detention facilities for migrants, so-called "detention centers for illegal migrants" in several parts of the country.
Human Rights Watch acknowledges the Angolan government's recent commitments to increase effective protection of the rights of migrants from abuse, particularly the building of new detention facilities, which opens a window of opportunity to improve detention conditions and implement an effective oversight. However, the failure of the Angolan authorities to credibly investigate past abuses and prosecute perpetrators particularly of sexual violence against women ensures that justice for the victims remains the exception and impunity for perpetrators the rule.
The Angolan government should also investigate allegations of cross-border trafficking of women and girls, including sexual abuse and trafficking for forced prostitution, and prosecute perpetrators.
Read more here.