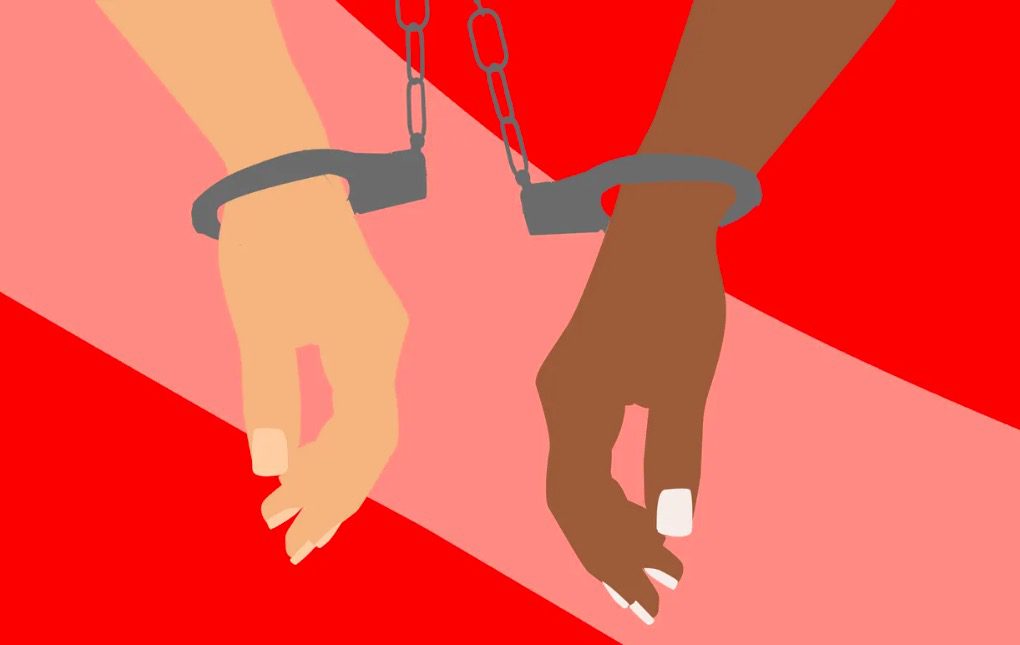 'I worked from 6am to midnight and wasn't allowed to leave. It was like a prison': One woman's story of modern slavery in the UK
Maria* starkly remembers the moment she escaped her employer, bringing her six years of modern slavery and exploitation to an end.
It was at the closed window of the London flat where she'd been held prisoner, for months, by the family she worked for, that she saw a dog across the road, picked up and carried, lovingly, by its owner.
"That dog was treated better than I was," she tells GLAMOUR now, aged 36* and barely able to stop the tears. "I had to find a way out."
Like Maria, almost 50 million people worldwide are forced into modern slavery, exploited into work or marriage for the personal or commercial gain of others, according to new figures released this month. Horrifyingly, the toll is only getting worse, with the Global Estimates of Modern Slavery statistics revealing 10 million more victims than just five years ago.
The distressing rise exposes how 27.8 million people – more than half of the 49.6 million total, the remainder forced into marriage – are working in slave-like conditions on any given day. Over 11 million of them are women and girls, many in domestic work.
Maria was trafficked to the UK in 2015. A mother to two young children and the family's only breadwinner, she had first moved from her native Philippines, to the United Arab Emirates, six years earlier. Facilitated by an agency, she began a two-year-contract as a housekeeper, sending money to her children back home where jobs were scarce. When living conditions in the Philippines didn't improve, she extended her contract with the family for another two years despite dire conditions from the start that left her feeling trapped and helpless.
"It was like a prison," she says. "I worked from 6am til past midnight every day. I only went outside only to hang out washing or supervise their four children and ate the family's leftovers for dinner. I had no cash, no access to my passport. I slept on a thin mattress on the floor while they lived in luxury and was allowed to speak to my children once a month on the family's phone." Her employers vastly underpaid her, placing the equivalent of around £7-a-day in a bank account at home; Maria had nothing to live off.
"I wasn't allowed to leave the compound unless it was with them and I had no days off. They shouted at me constantly. Everything was an order.
"I had four hours' sleep a night and struggled to close my eyes, thinking of my own children back home. I endured it all so that they could eat and survive. I felt I had no other option. I was helpless."
Modern slavery is often a hidden crime, taking place in private economies and, in the case of domestic service, inside private homes. Exploitative employers prey on people like Maria who feel they have nowhere else to turn to feed their families.
No region of the world is spared. In fact, Europe and Central Asia have one of the highest ratios in the world, with 4.4 people per every thousand in the population working in forced conditions. The Arab States – including the one Maria was trafficked through – have the worst record, according to the Global Estimates.
Maria was so desperate for the work that, after returning to the Philippines following four years with her employer, she agreed to go back to them, unable to get work back home or afford the agency fees that would find her a new job. During that final stretch, the family flew her with them to London for six months. She had no say or agency in the matter and felt unprotected by visa officials who should have explained her rights.
"My employer filled out all my visa forms and took me to the British Embassy – only to give my thumb print and sign my name. No one told me what my employment conditions and working rights would be in the UK."
Once here, she never stepped outside. "In London, the family never allowed me to leave the flat or enjoy the park. I never experienced going on a bus. I never even held a £1 coin. I was a prisoner."
It was the mental impact that was hardest: "They spoke to me with no respect. They shouted at me, the children hit me. All I thought of was my kids."
Before she left for the UK, a friend who worked in the household had given Maria a secret phone as a lifeline. After staring into the London streets and seeing that dog, enveloped in its owner's love, she waited until the family were out and called another friend, a Filipino native working in London, for help.
Maria remembers: "I left early in the morning, before my employer was awake, with one bag holding a change of clothes and underwear, and met my friend at a McDonald's near the local tube station. I was very emotional and very scared; scared of how I would earn money, scared to roam the streets of London or bump into them or their relatives, but I was ready to be free."
Maria's friend had told her of Kalayaan, a British charity for migrant domestic workers, and she took her straight there for advice.
Modern slavery is a crime in the UK, punishable by up to ten years in prison (and a life sentence if kidnap is involved) but Maria chose not to press charges, afraid and overwhelmed by the police process when she was so vulnerable.
A Kalayaan case worker assessed her and referred her to the government's National Referral Mechanism (NRM), used to identify potential victims of trafficking and modern slavery. An initial decision allows victims to enter the mechanism and access interim support (Maria was moved to a safe house and given £35-a-week to live on, via the Salvation Army) based on Kalayaan's evidence. But waits for conclusive grounds (CG) – a final Home Office decision on whether, on the balance of probabilities, a person was a victim of modern slavery – are currently up to 2.5 years on average, and have been up to four years with backlogs, the charity reports. Depending on when their visa expired, many survivors are not guaranteed the right to work in the meantime nor do they automatically earn a longer term right to remain in the UK.
Kalayaan referred Maria to a specialist anti-trafficking lawyer – paid for via legal aid – who pursued an asylum case in tandem, allowing her to finally re-start her life in the UK. She was also referred to a charity which helps refugees with family reunion applications and was able to bring her husband and children here, in 2019. After initial struggles finding work, because of her precarious status, Maria got a full time job through a placement scheme for modern slavery survivors.
Rebecca Hirst, of Kalayaan, explains: "For our clients, who are already survivors of modern slavery, going through the NRM can feel like being left in limbo. Those who do not have the right to work but are supporting families abroad are often vulnerable to re-entering exploitative work conditions. There is support available but it is within a restrictive system."
Maria breaks, periodically, to fight back more tears as she reflects on her years in slavery. "Life is okay now," she says. "I am working and my husband is too. My family is together.
"Despite all the hardship and suffering I went through, I need people to know that they can ask for help. That even in the most awful circumstances, there is hope."
Contact Kalayaan on info@kalayaan.org.uk or 0207 243 2942 or the Modern Slavery Helpline on 08000 121 700, all confidentially.
*Some identifying details have been changed.