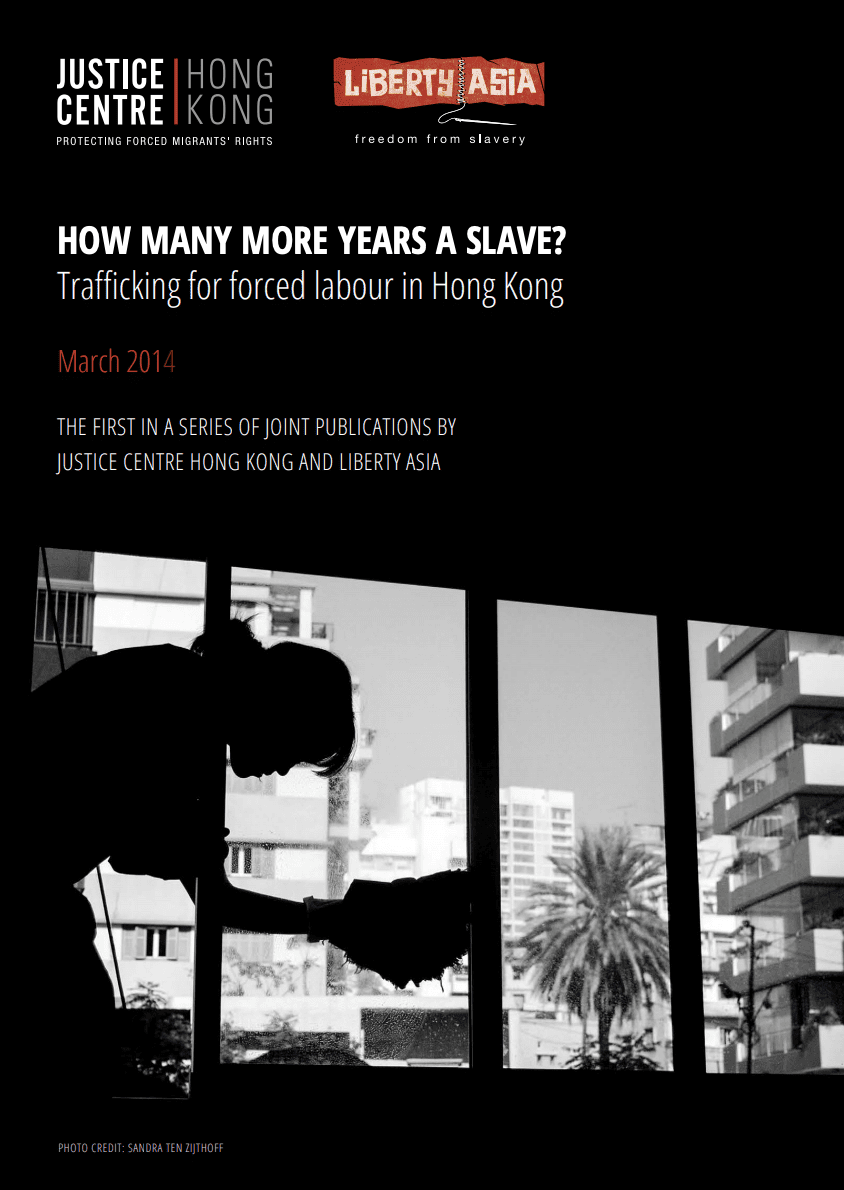 How Many More Years a Slave? Trafficking for forced labour in Hong Kong
Forced labour, modern slavery, debt bondage and human trafficking are all terms that have recently made their way into headlines in Hong Kong. These have often been in the context of multiple accounts of alleged abuse of foreign domestic helpers, such as the much-publicised cases of Erwiana Sulistyaningsih and Kartika Puspitasari in the past year.
There are currently 11.7 million people in forced labour conditions in the Asia-Pacific region. As an important regional hub and both a destination and transit territory for human trafficking, Hong Kong is failing to fully comply with the minimum standards for the elimination of trafficking.
Current legislation merely prohibits human trafficking "for the purpose of prostitution", but not for forced labour or other forms of trafficking, which has been criticised in the US State Department's Trafficking in Persons Report, as well as by UN bodies and several human rights organisations.
This briefing – the first of a joint series examining modern day slavery in Hong Kong and offering policy solutions – will provide clarity about the distinguishing features and overlaps between forced labour and human trafficking, with reference to international standards.
It will go on to identify the gaps in existing legislation, which is currently failing to provide redress in cases of trafficking for forced labour and to prevent further abuses, is neglecting to prosecute traffickers and is not offering adequate protection to victims of trafficking for forced labour in the HKSAR territory.
The briefing calls on the Hong Kong Government to: (1) develop a broader definition of human trafficking which encompasses all forms of human trafficking as set out in the UN Trafficking Protocol (2) create a national plan of action to combat human trafficking (3) adopt a comprehensive anti-human trafficking law and (4) offer more robust labour protections against forced labour.
Doing so is crucial to prevent further human rights abuses at a time when Hong Kong is looking at other emerging markets for sources of labour. At this critical juncture, the Hong Kong Government has an opportunity and the resources to redouble its efforts to combat modern forms of slavery and serve as a model in the Asia-Pacific region.
Read more here.