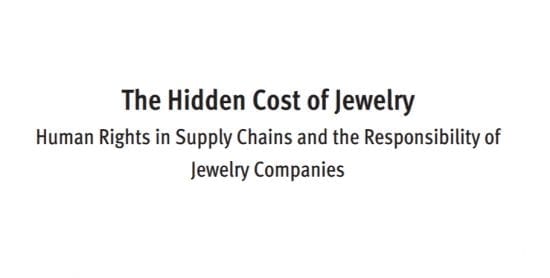 The Hidden Cost of Jewelry: Human Rights in Supply Chains and the Responsibility of Jewelry Companies
In this report, Human Rights Watch scrutinizes steps taken by key actors within the jewelry industry to ensure that rights are respected in their gold and diamond supply chains. The report focuses on the policies and practices of 13 major jewelry brands, selected to include some of the industry's largest and best-known jewelry and watch companies and to reflect different geographic markets: Boodles (United Kingdom), Bulgari (Italy), Cartier (France), Chopard (Switzerland), Christ (Germany), Harry Winston (United States), Kalyan (India), Pandora (Denmark), Rolex (Switzerland), Signet (United States-based parent company of Kay Jewelers and Zales in the US, Ernest Jones and H. Samuel in the UK, and other jewelers), Tanishq (India), Tribhovandas Bhimji Zaveri Ltd. (TBZ Ltd.)(India), and Tiffany and Co. (US). Collectively, these 13 companies are estimated to generate over $30 billion in annual revenue.
For millions of workers, gold and diamond mining is an important source of income. But the conditions under which gold and diamonds are mined can be brutal. Children have been injured and killed when working in small-scale gold or diamond mining pits. Indigenous peoples and other local residents near mines have been forcibly displaced. In war, civilians have suffered enormously as abusive armed groups have enriched themselves by exploiting gold and diamonds. Mines have polluted waterways and soil with toxic chemicals, harming the health and livelihoods of whole communities.