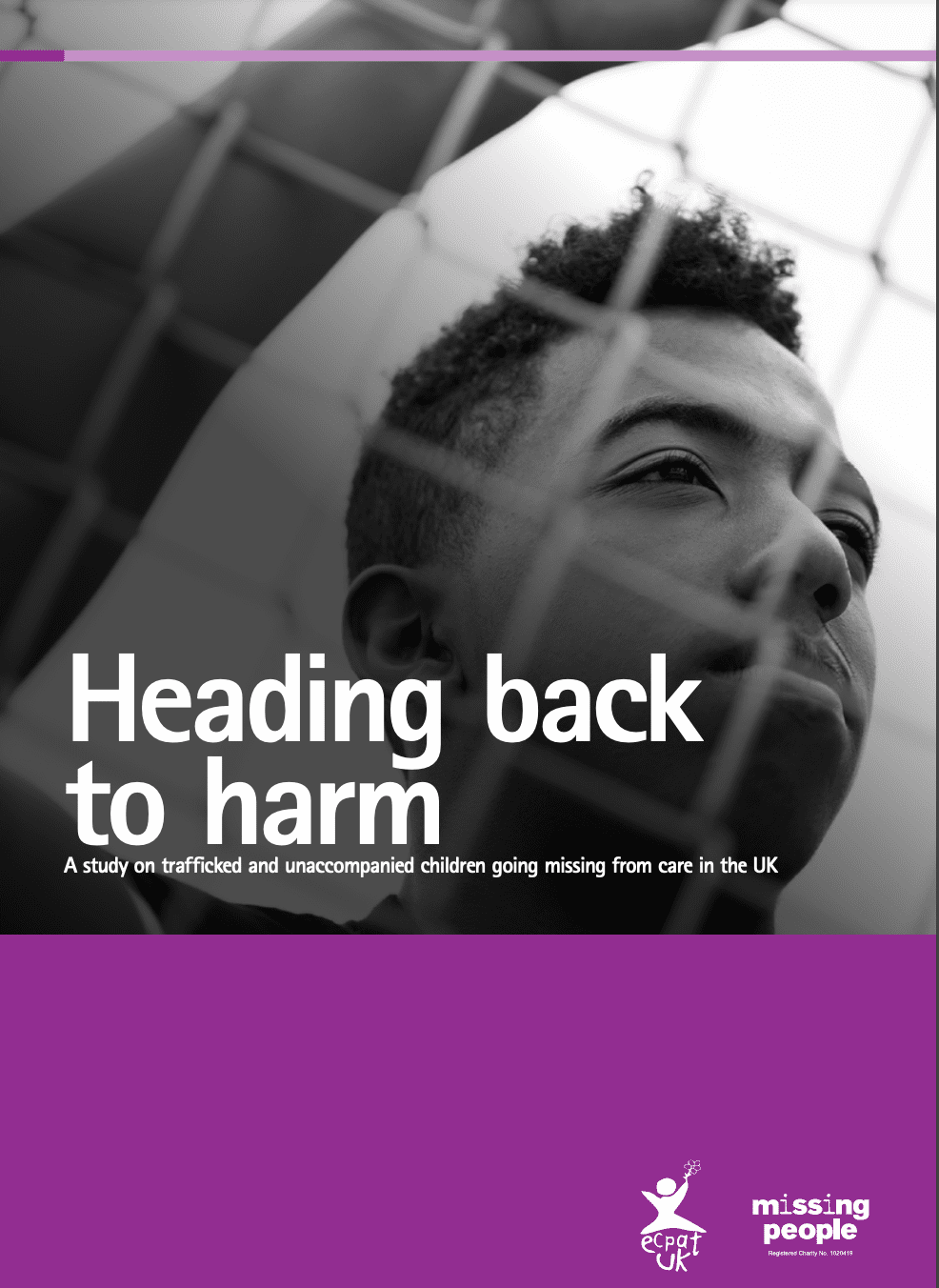 Heading back to harm: A study on trafficked and unaccompanied children going missing from care in the UK
Research context Child victims of trafficking are at high risk of going missing.16 Despite this, concerns have been raised about a lack of awareness and recognition of child trafficking among practitioners.17 The European police agency, Europol, recently warned that there are as many as 10,000 'missing' or unaccounted for unaccompanied children in the European Union, which has drawn attention to those under 18 who are known to be 'particularly vulnerable'18 to trafficking and exploitation. The vulnerability of unaccompanied children from abroad who are in the UK is often increased by a lack of knowledge or integration into their new environment, and by being subject to child protection, immigration and law enforcement responses.19 This research attempts to quantify the number of unaccompanied asylum-seeking children and children who may be trafficked in the UK care system, as well as the number who go missing from care.
Through this year-long study, ECPAT UK and Missing People have discovered that an alarmingly high number of both unaccompanied asylumseeking children and children who may have been trafficked go missing from care. Many have not been found. Local authorities with responsibility for the care of these children are frequently not able to report how many unaccompanied and trafficked children are in their care, and many failed to identify any child trafficking victims.
Poor data collection and recording at a local level is deeply concerning and suggests that the UK's wider child protection response to child victims of trafficking, in particular, is inadequate. We have found that there is much more that could be done to keep these children 'visible' in the system, to prevent them from going missing and to respond effectively in order to keep them safe from further harm.
Heading back to harm reveals that, from September 2014 to September 2015, 28% of trafficked children (167 children) in care and 13% of unaccompanied children (593 children) in care went missing at least once. Of these, 207 missing trafficked or unaccompanied children had not been found.
This research has identified a worrying lack of consistency in the way in which local authorities identify and record risk of trafficking and exploitation. Identification of trafficking is also a challenge in the UK at local level, despite the creation in 2009 of a National Referral Mechanism (NRM) to identify victims. Therefore, the true number of trafficked and unaccompanied children going missing is likely to be far higher than our findings suggest.
Read more here.