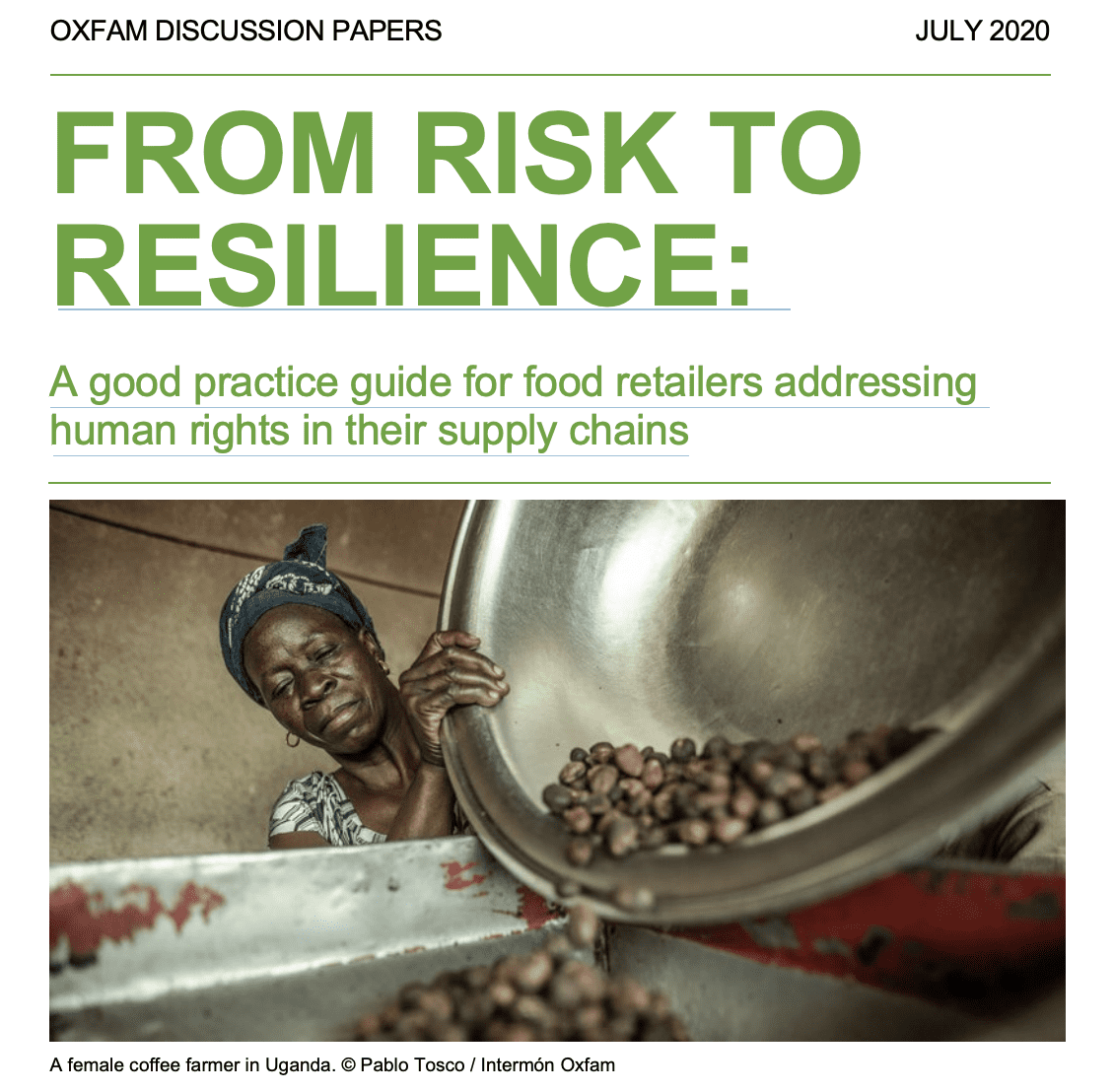 From Risk to Resilience: A good practice guide for food retailers addressing human rights in their supply chains
Executive Summary
The COVID-19 pandemic has exposed the vulnerability at the heart of global food value chains. While the novel coronavirus that ignited the current global crisis is new, the underlying issues plaguing agricultural supply chains are not. This paper offers timely insights on emerging good practices to address exploitation in global food supply chains, based on 26 key informant interviews, and analysis of Oxfam's latest Supermarkets Scorecard.
We have found that food retailers in many countries are taking important steps towards fulfilling their duty to respect human rights, in line with the UN Guiding Principles on Business and Human Rights (UNGPs). For example:
Human rights policies are becoming stronger;
Several retailers have committed to undertake and publish Human Rights Impact Assessments;
Initiatives to address recruitment fees are gathering momentum;
Some suppliers recognizing the value of trade unions and collective bargaining;
Investors are paying more attention to the Social pillar in Environmental, Social and Governance issues (ESG);
Increased transparency of supply chains is fast becoming the new normal; and
It is becoming more common for companies to make public commitments to living wages, living incomes and gender strategies.
But overall, we find that the sector as a whole is yet to truly tackle the deep structural change needed to end the endemic exploitation of small-scale food producers and workers upstream in food supply chains. Reducing risks and improving resilience in supply chains requires a fundamental shift in how companies respect human rights. All food retailers must go beyond even these examples of emerging good practice and embrace changes to their core business models. This must include:
Embedding human rights in all levels of corporate decision-making;
Adopting a comprehensive HRDD approach, with a proactive gender lens and integrate this into core business practices. For food retailers, this means ensuring that suppliers win business based on their own good practices, prices reflect the cost of sustainable production and a fair share of value demonstrably reaches the women and men producing food products.
Greater engagement on ESG issues with investors; and
Greater engagement on public policy issues with regard to human and labour rights.
The COVID-19 pandemic offers an opportunity for the food retail sector to move from gradual adoption of good practices towards this more fundamental transformation that is needed to ensure respect for the human and labour rights of small-scale farmers and workers in food supply chains. This is a moment to influence the outcome rather than wait to see what happens. This could mark the moment in which we as a global community of stakeholders decide to do things differently, to protect those vulnerable men and women on whom, at the end of the day, we most rely – the world's food workers.
Read more here.