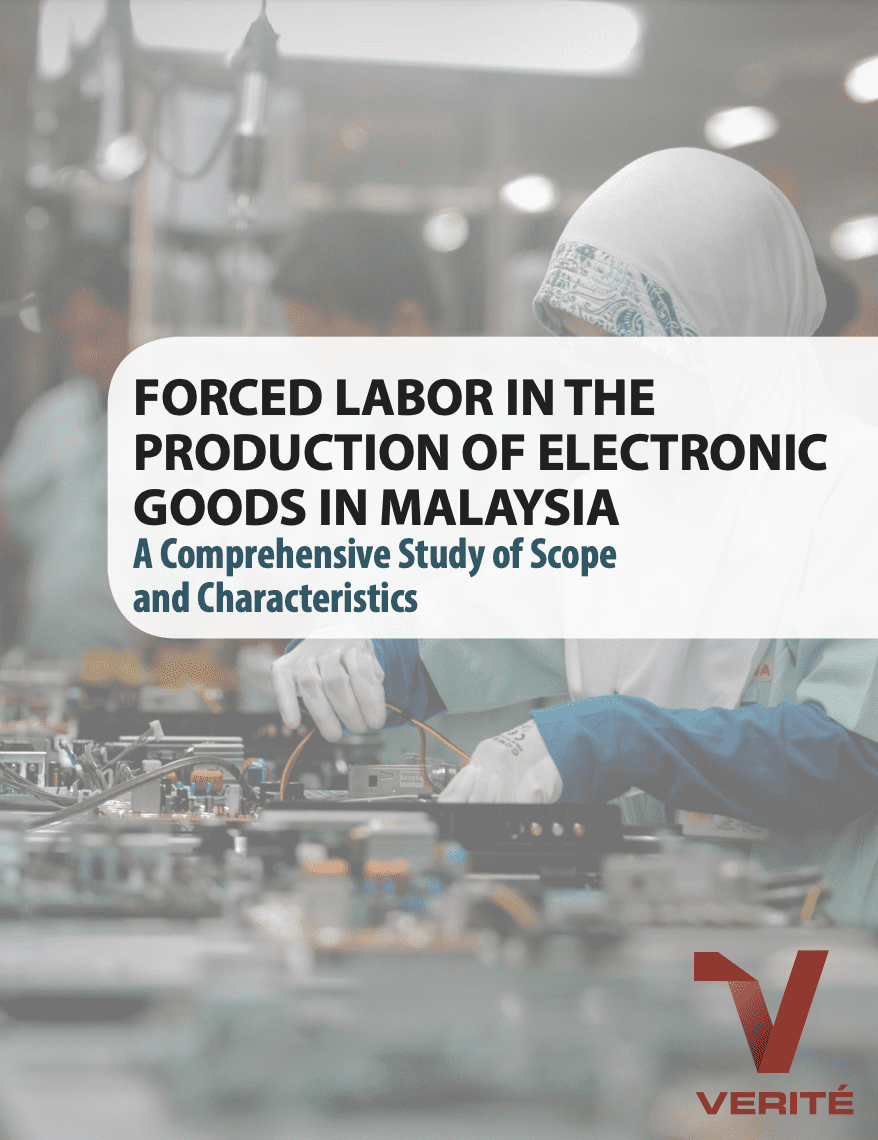 Forced Labor in the Production of Electronic Goods in Malaysia
Executive Summary
Introduction
Malaysia's electronics sector workforce includes hundreds of thousands of foreign migrant workers who come to Malaysia on the promise of a good salary and steady work – an opportunity to make a better life for themselves and their families. But many are subject to high recruitment fees, personal debt, complicated recruitment processes, lack of transparency about their eventual working conditions, and inadequate legal protections. Unscrupulous behavior on the part of employers or third-party employment agents1 can exacerbate vulnerability to exploitation, but the system in which foreign workers are recruited, placed and managed is complex enough to create vulnerability even in the absence of willful intent to exploit.
The conditions faced by foreign electronics workers in Malaysia have the potential to result in forced labor. In 2012, Verité received funding from the US Department of Labor to conduct a study to determine whether such forced labor does, in fact, exist in the production of electronic goods in Malaysia.
The Study
Verité conducted a combination of desk and field research, employing a mixed methods approach to field data collection. A total of 501 electronics workers were interviewed using a quantitative survey form by a team of twelve researchers. The sample included foreign workers from seven countries, as well as Malaysian nationals. A set of longer, semi-structured interviews were also conducted, to supplement the quantitative data. These interviews were used to explore particular aspects of vulnerability to forced labor, and to profile how various risk factors can combine to trap workers in their jobs. Regional and global stakeholders from civil society, government and business were also consulted.
Interpretation of the data was guided by the International Labor Organization's survey guidelines to estimate forced labor. Throughout the process of applying the ILO framework, Verité erred consistently on the side of caution, choosing to define forced labor narrowly to ensure that positive findings were always based on solid, unambiguous evidence – even when this meant leaving additional evidence aside that might also have contributed to a forced labor determination. For this and other reasons discussed throughout the report, the positive findings of forced labor reported below are very likely lower than the actual rates of forced labor in the Malaysian electronics industry and should be viewed as a minimum estimate.
Read more here.