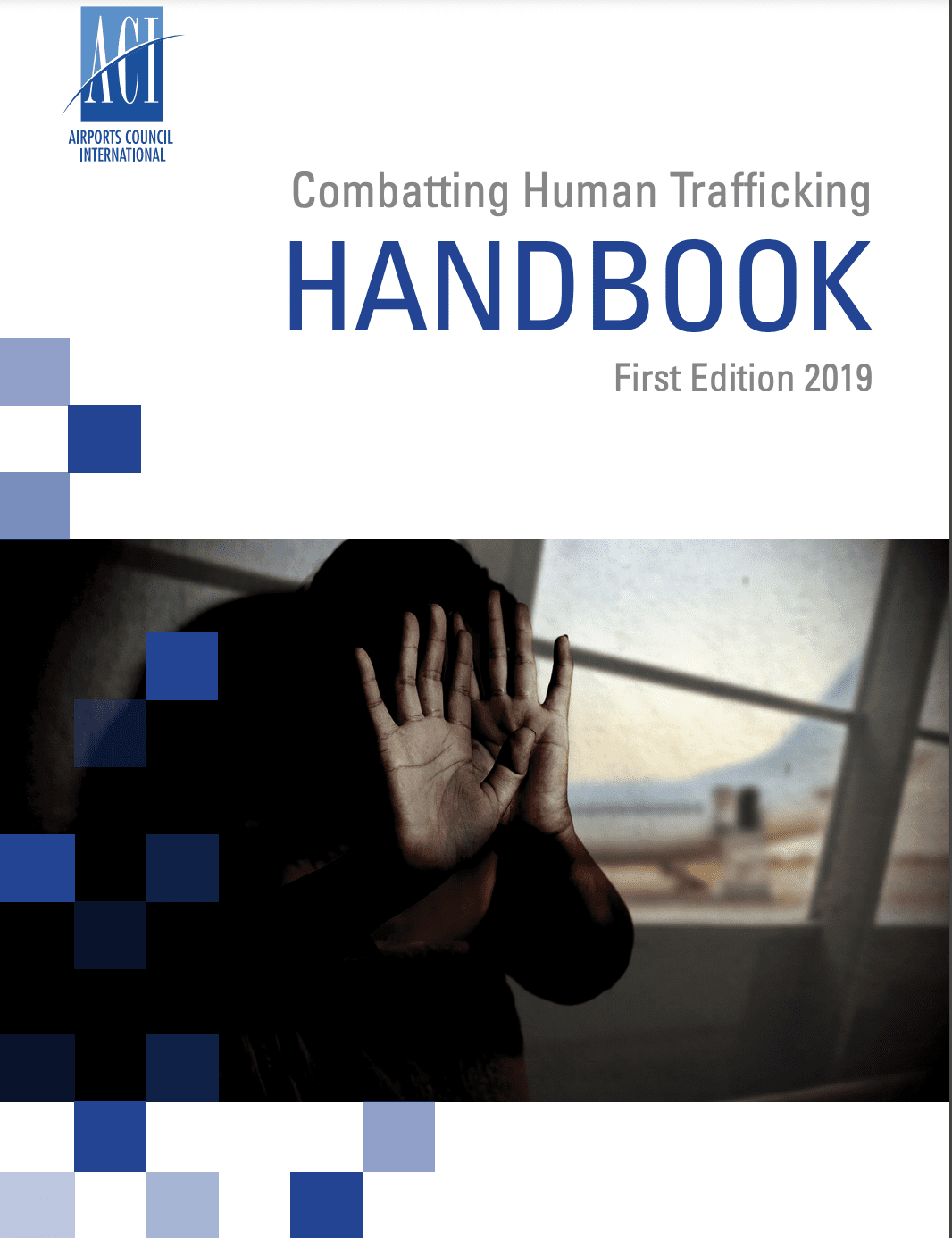 Combatting Human Trafficking Handbook First Edition (2019)
Human trafficking is a form of modern-day slavery. It involves recruitment, transportation, harbouring and/or exercising control, direction or influence over the movements of a person in order to exploit that person.
This handbook draws on the experience of airports that have already taken action against human trafficking and provides guidance to airports on the options that may be available to them to assist. It is intended to provide clarity on the role of airports in combatting human trafficking. It contains materials and advice to assist airports, irrespective of their size or geography, to help them play their part in the fight against human trafficking to the extent possible. It promotes a comprehensive approach that involves coordination with airlines and lawenforcement agencies such as border-protection and customs agents.
1.1 What is Human Trafficking?
To distinguish human trafficking from human smuggling, it is important to understand the definitions of the two terms. Trafficking involves the coercion of persons transported into prostitution, domestic servitude or forced labour, usually following recruitment with false promises of paid work.
Smuggling, in contrast, is the facilitation, transportation, or illegal entry of a person across an international border, generally with the consent of the person being smuggled. The person being smuggled has often paid a large sum of money to the smuggler.
The victims of human trafficking, who are mostly women and children, are deprived of their normal lives and are compelled to provide their labour or sexual services through a variety of coercive practices, all for the direct profit of the perpetrators of the trafficking. Exploitation often occurs through intimidation, force, sexual assault or threats of violence to the victims or their families.
The extent of the problem is difficult to assess, due to its hidden criminal nature. It is also challenging to extract trafficking data from statistics concerning illegal migration and smuggling. Victims do not report abuse for reasons such as threats of physical violence or fear of being prosecuted for criminal offences they are forced to commit. While it is impossible to know the full scope and impact of this problem at the international level, we do know that women and children are the primary victims— overwhelmingly so for sexual exploitation, but also for forced labour.
Because human trafficking is often difficult to identify, there are no exact statistics on its extent. The International Labour Organization (ILO) estimates that in 2016 24.9 million people were victims of forced labour1 .
To learn more about human trafficking in different countries, download the United Nations Office on Drugs and Crime (UNODC) Global Report on Trafficking in Persons 2018.
1.2 Types of Human Trafficking Activities
There are many reasons for human trafficking. It is usually a transnational crime that involves one or more international boundaries, which makes it difficult to identify and prosecute. The end purposes of human trafficking include:
Bonded Labour/Debt Bondage – This is the most common form of slavery and involves individuals who are compelled to work in order to repay a debt and are unable to leave until the debt is repaid. Often entire families have to work to pay off the debt taken by a family member. Sometimes the debt can be passed down generations and children are held in debt bondage because of a loan their parents took decades ago.
Forced Labour – People are forced to work through violence or intimidation, often for no pay. Victims are treated as property and are usually exploited to create a product for profit. Many people in this situation find themselves trapped, often in a foreign country with no documentation.
Child Slavery – Child slavery occurs when a child's labour is exploited for someone else's gain. It can include child trafficking, child soldiers, child marriage and child domestic slavery (forced labour).
Forced Marriage – This involves women and children who are forced to marry men without their consent or against their will.

41,000 girls are forced into marriage every day. Some are as young as 8 and 9 years old.
70,000 young girls die in labour every year because their bodies aren't ready for childbirth2 .

Sexual Exploitation – This involves women, men or children who are forced into the commercial sex industry (or held for personal gratification) and are held against their will by force, fraud or coercion.
Forced Begging or Criminality – Victims are forced into a criminal activity by their dependence on the trafficker for money, food and lodging, or through intimidation.
Organ/Egg harvesting – This involves trafficking in persons for the explicit purpose of organ removal.
1.3 The Role of Airports
Numerous organizations, governments and charities have made much effort to raise awareness about human trafficking. Many governments are actively tackling the issue through the development of counter-trafficking policies and responses, as well as providing protection and assistance to victims of trafficking. However, positive action from many stakeholders, including industry and the general public, is needed in order to identify and help victims.
Human trafficking is a global problem. Since air transport is frequently used as a method of transport by traffickers, airlines and airports are ideally positioned to assist the effort to defeat human trafficking—both through training their own staff in recognizing and dealing with trafficking situations and through raising awareness by providing information to the public.
As gateways, airports try to take the best possible care of everyone who passes through their gates. The following are areas of activity in which airports can take an active role: • Training – Staff awareness can be raised by including a short session on human trafficking during security awareness training. Staff members can be made aware of the indicators to look for and how to report a suspected case of trafficking.
 Public Awareness – Airports provide an ideal environment to raise public awareness. Options might be video presentations, exhibits, hand-outs or PA announcements.
Community Engagement – Airports can engage with their local communities and schools to raise the awareness of students and parents about the dangers of human trafficking, and to help teach them how to deal with suspected traffickers approaching them or their friends.
Information for Victims – Information can be strategically placed to enable victims to get help as they move through the airport—for example, inside toilet booths and at locations where interactions with authority occur.
Engagement with Agencies – By working with local law-enforcement and immigration authorities, airports can help to ensure that good communication channels exist for notification of potential trafficking activity and that appropriate action is taken when a potential victim is identified. Technology can also be leveraged; for example behaviour-detection technology to monitor movements and/or recognize the faces of passengers who arrive frequently, systems to provide immediate reporting mechanisms between stakeholders and the analysis of passenger data by immigration authorities.
Engagement with Airlines – By having open communication channels, airports and airlines can notify each other if there is an incident of concern. This may enable more time for appropriate observation and response.
Corporate Responsibility – This involves the airport tackling slavery and human trafficking risk in its supply chain, based on a risk assessment of suppliers and third parties, and by implementing strong procurement policies and procedures.
Advocacy and Other Local Entities – By coordinating with local advocacy groups and other entities such as foreign consulates to raise awareness, implement detection and assistance programmes, and advocate for laws to support prosecution.
1.4 Regulatory Environment
The primary tool needed for effective prosecution of trafficking cases is a comprehensive antitrafficking law that clearly defines the crime consistent with international law—specifying the acts, means and ends. Such laws set the framework for all national anti-trafficking efforts. They give authority to law-enforcement initiatives and provide clarity to justicesector officials so that the officials can use the provisions during the investigation and prosecution of suspected trafficking crimes3 .
As it relates to prosecution and law enforcement, a strong anti-trafficking law includes:
The criminalization of all forms of trafficking in persons.
A clear definition of human trafficking that describes the acts, means and ends, as distinct from related crimes—such as migrant smuggling, prostitution, kidnapping, organ trafficking, or illegal adoption.
Penalties of imprisonment for the commission of trafficking crimes which are commensurate with the penalties for other serious crimes, such as rape or kidnapping.
A mandate setting forth clear roles and responsibilities for relevant government agencies or ministries, including responsibilities with respect to inter-ministerial coordination of antitrafficking policies.
Strong, comprehensive anti-trafficking laws signal governments' commitment not to tolerate human trafficking and give law-enforcement agencies and prosecutors the tools needed to secure convictions and justice for victims.
In addition to protecting victims from retribution or re-victimization, an effective criminal-justice response brings traffickers to justice both to punish them for their crimes and to deter others. Yet, in many countries, governments struggle to hold perpetrators of human trafficking criminally accountable and, even when convictions are obtained, such governments sometimes impose suspended sentences, fines, or administrative penalties in place of prison sentences.
As noted above, a strong anti-trafficking response should recognize the serious nature of trafficking in human beings and impose punishments commensurate with those prescribed for other serious crimes in a given country, such as rape and kidnapping. In addition to offering justice to victims of exploitation, strict penalties can serve as a stronger deterrent for would-be traffickers.
1.5 Potential Difficulties
The role that airports and airlines can play in antitrafficking efforts is limited somewhat by local law-enforcement agencies' willingness to act and the local laws applicable. It is not the role of airports to act as police authorities and they do not have jurisdiction to take action against suspected traffickers.
Airports can, however, raise awareness among their staff members and the public, and help lobby nationally and locally for appropriate measures to be put in place. Where possible, airports can also support the activities of governments, charities and non-governmental organizations that are involved in preventing human trafficking.
Airports can also wield significant lobbying power to encourage countries to take action. By drawing attention to the issue and working with governments to determine appropriate responses when trafficking is suspected, airports can help to implement more robust controls. A useful resource for understanding different approaches to the problem of human trafficking by different nations is the US Department of State's annual 'Trafficking in Persons: Country Narratives' report on different countries' strategies .
1.6 Collaboration with Border and LawEnforcement Agencies
It is critical that airports work with border agencies and local law-enforcement agencies. Because airports have no law-enforcement capabilities they cannot take action themselves—but they can play a key role in assisting other agencies to detect and disrupt potential occurrences of human trafficking.
Demarcation of responsibilities between agencies and other stakeholders should be clearly defined, as should reporting procedures to be followed. These procedures should be written down and reviewed periodically.
Agencies should understand that airport personnel (and the public) may not always correctly identify cases of human trafficking, but they can provide a valuable resource in assisting the authorities.
Read more here.