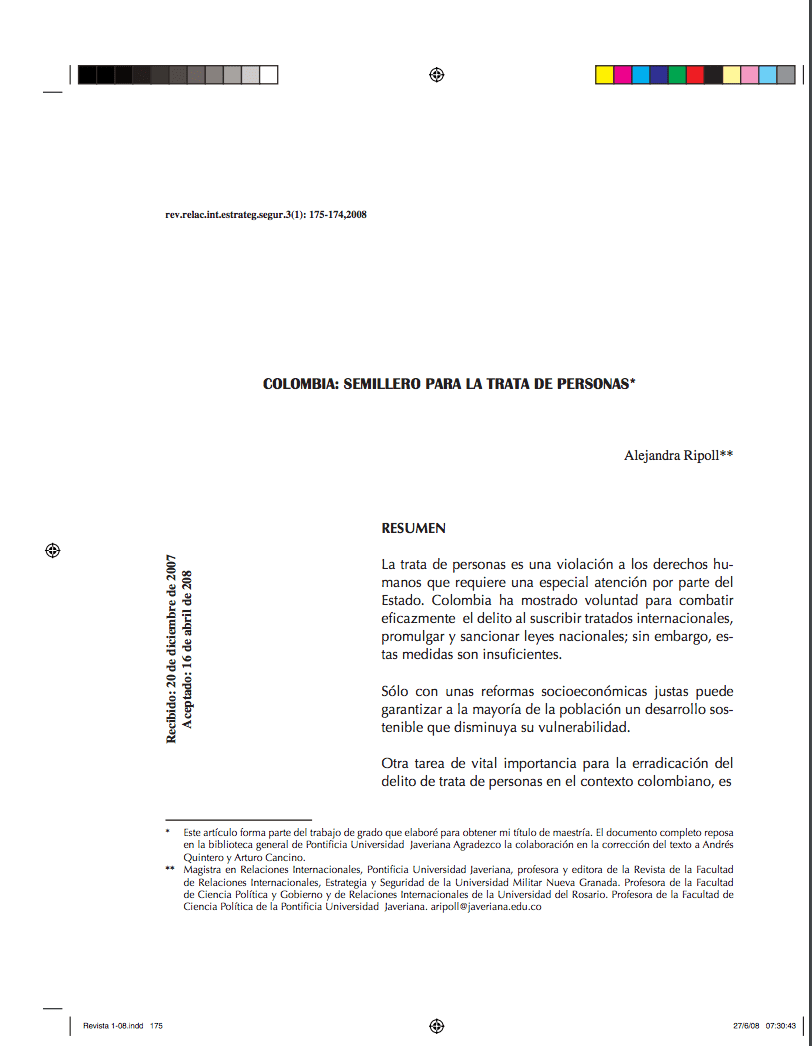 Colombia: semillero para la trata de personas
La trata de personas es una violación a los derechos humanos que requiere una especial atención por parte del Estado. Colombia ha mostrado voluntad para combatir eficazmente el delito al suscribir tratados internacionales, promulgar y sancionar leyes nacionales; sin embargo, estas medidas son insuficientes. Sólo con unas reformas socioeconómicas justas puede garantizar a la mayoría de la población un desarrollo sostenible que disminuya su vulnerabilidad. Otra tarea de vital importancia para la erradicación del delito de trata de personas en el contexto colombiano, es ajustar el sistema de justicia. En la mayoría de los casos los tratantes no son descubiertos, lo que dificulta el sometimiento de éstos a la ley. Entonces, los hacedores de política, organizaciones públicas y privadas del ámbito nacional tendrán que asumir nuevas actividades frente a los desafíos que presenta el combate de la trata de personas para el Estado colombiano en correspondencia con una estrategia común que privilegie los derechos humanos.
Human trafficking is a human rights violation that requires special attention in part of the state. Colombia has shown a willingness to effectively combat crime by signing international treaties, passing and sanctioning international laws; however, these means are not enough. Only with fair socioeconomic reforms can the majority of the population be guaranteed sustainable development, which reduces their vulnerability. Other work of vital importance for the eradication of the crime of human trafficking in Columbia is reforming the justice system. In the majority of cases the traffickers are not discovered, which makes it difficult to comply to the law. So, lawmakers, public and private organizations at the national level have to try new tactics to combat human trafficking in Colombia in accordance with a common strategy that promotes human rights.