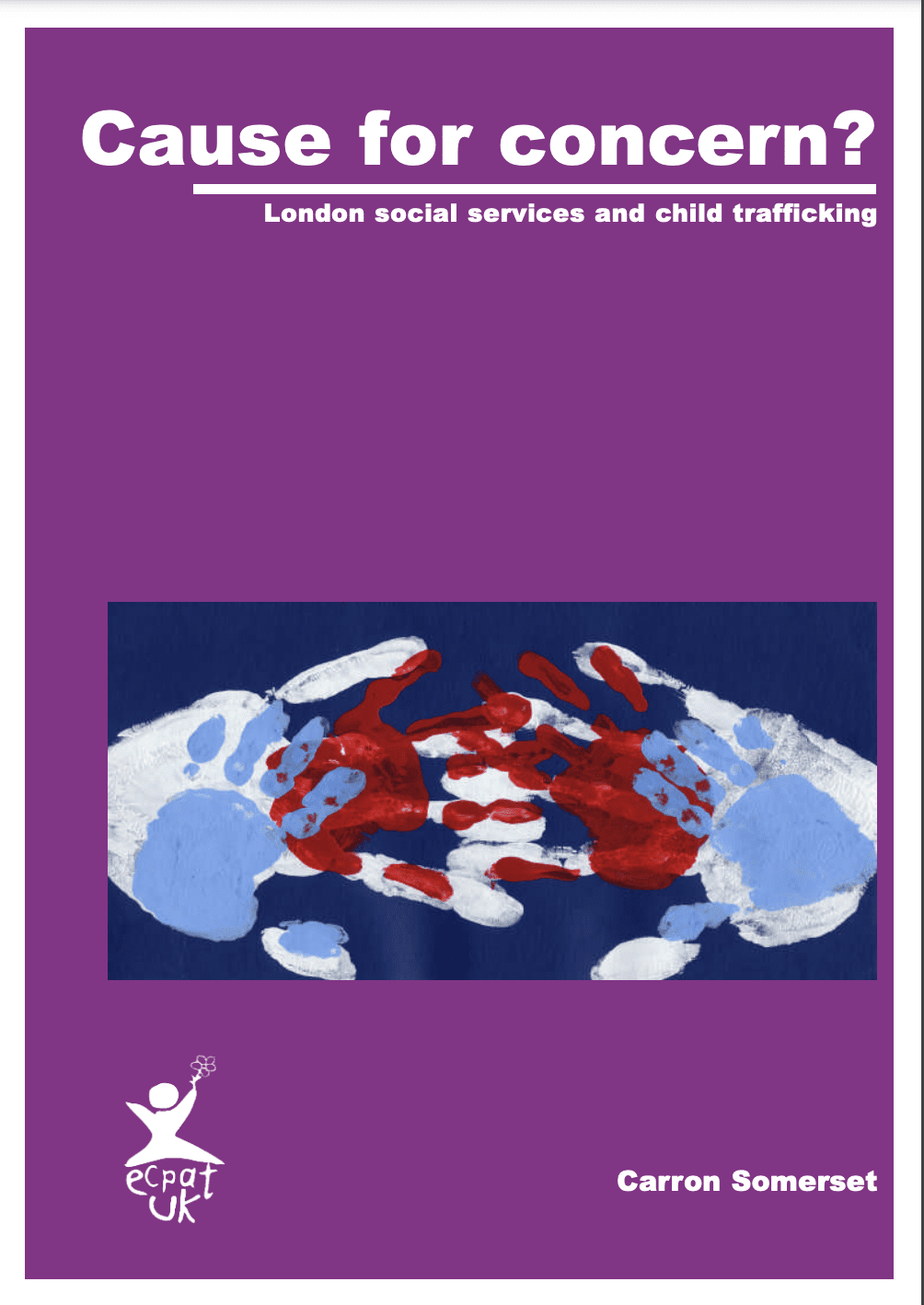 Cause for Concern? London social services and child trafficking
Introduction
In January 2003, ECPAT UK started research to measure the level of awareness within London social services on the issue of child1 trafficking. Although this may appear a simple aim, from anecdotal evidence there appeared to be a lack of knowledge within social services about the extent of child trafficking in the UK (United Kingdom), who these children are, why they are being trafficked, and who by. Whilst this research does not answer all these questions in detail, it does give a clearer picture of the way in which social services (the lead agency responsible for child care) within London is responding to trafficked victims. Furthermore, this research hopes to provide those working with children with more detailed information on the phenomenon of trafficking; ways to identify children in exploitive situations; and possible ways they can work to try and prevent children being trafficked.
Aim
The research aim was to measure the level of awareness of child trafficking amongst London social services, to find out whether they had come across any cases of trafficking, and how they had dealt with the cases.
As the researcher aimed to complete the research within a year, it does not claim to reveal the whole picture of child trafficking in London social services, but provides an overview and snapshot of the situation.
ECPAT UK started this research project in early 2003 to ascertain whether social services were coming into contact with trafficked children. It was decided that the research would focus on London social services, due to previous research and press reports citing London as at least the first point of call for traffickers, if not the only point of call.
Methodology
From January to December 2003, contact was made, via telephone, email and fax, with various teams within each borough's social services department. The team contacted depended on the way the borough's social services were set up. Contact was made with Unaccompanied Minor Teams, Asylum Teams, Referral/ Initial/ Duty and Assessment Teams, Under 16 Teams, Child Protection Teams and Children in Need Teams.
The number of times a social services was contacted depended on the amount of information they had. If there was information related to trafficking, then further enquiries were made with at least one other team within the borough. This resulted in contact being made by the researcher with one or two teams within the individual social services, and different staff within those teams.
Additionally, in 15 cases, personal contact was made with the team or team managers at a later date. These meetings were generally held during a team meeting, and consisted of an informal talk, given by the researcher, on child trafficking, and then a question and answer session. During this session, extra information was taken from social workers, on individual cases. In one case, direct contact was made four times with one social services, but in the main contact was only made once, with follow up contact via the phone when necessary.
As a follow up to the phone call, copies of ECPAT UK's 2001 report, 'What the Professionals Know' were sent out to all respondents, to help with raising awareness, as were 'reporting of cases' forms. These forms were developed by ECPAT UK and Anti-Slavery International in 2002, and have been circulated to anyone who may come into contact with trafficked children. The form (see annex), is used to gather data about individual cases (no names are required on the forms), and gain a better understanding of the various complexities of trafficking.
Interviews
Initial contact, and on some occasions the only contact, was made through telephone calls, which were conducted as informal semi-structured interviews. The same initial questions were asked, but the rest of the conversation and questions depended on the answers of the social workers2 . The length of the interview depended entirely upon the response of the social worker.
Problems encountered
The main problem in gathering information was making contact with the correct team and then the most appropriate person within the team. In a high number of instances the researcher was passed around various teams and individuals until the correct person was identified. Additionally, phone calls and emails were rarely returned, even when the researcher was asked to email with information about the project. However, the response from Unaccompanied Minor Teams and Asylum Teams in finding the correct person was generally better compared to the Children and Family Teams or Child Protection Teams.
In 2002, ECPAT UK devised 'reporting of cases' forms, to gather detailed and personal, information on individual trafficking cases. At the start of this research, it was envisaged that any completed forms would contribute to a better understanding of the situation in London. However, only a minimal number of forms were completed and returned by London social services, resulting in very little information from this data gathering exercise.
Who responded?
Information was gained from 68 individuals3 or teams within 33 boroughs. In nearly all cases, it was the Child Asylum Teams that the researcher was referred to. Near the end of the research, more attention was placed on finding out about non-asylum seeking children, and Children in Need teams and Child Protection officers were contacted. However, in general, this produced very few results.
The disclosure of trafficking cases by social workers
One of the aims of this research was to find out whether London social services had cases of children who had been trafficked. Finding out about cases is not as straight forward as asking 'have you had cases of trafficking'. This question often elicited the response of 'no', yet as the interview progressed the cases discussed were cases of trafficking without the interviewee realising. This could be due to a number of reasons. The first may be that the social worker had not connected the framework of trafficking to individual cases. For example, one social worker stated that they had had no cases of children being trafficked, but they did have children who had been taken away from 'family' settings because they were being used as domestic workers and nannies, and were not allowed out. This was not seen as a 'trafficking' case, as the situation was very informal, rather than a more 'structured' setting of prostitution. This was also the situation in regards to the case of Roma children involved in street theft. Because of the nature of social work, individual assessments of children had not identified any major problems, yet when the larger picture was developed, it became apparent that many children were victims of a large organised crime network.
Another reason that trafficking cases were not identified could be that the social worker was not willing to talk about cases, as they did not know who the researcher was. In these instances, the researcher was asked to write to someone else within the same social service requesting permission for access to cases. In at least one case no response was given from the social services even though it had been affirmed that the social services had cases. Additionally, cases were not mentioned at the start of the conversation because the social worker had been caught off guard, and had not had the opportunity to look through individual cases. In these instances, there were often triggers in the conversation that reminded the social worker of particular cases, but this may mean that other cases were not mentioned. It must also be noted that on at least one occasion, information had to be withheld from the researcher because of ongoing investigations by the police. Although the response from the individual boroughs was in general good, it is believed that there are many more cases that were not mentioned to the researcher. One reason for believing this is that in at least three cases, individual social workers stated that another borough they have contact with, or used to work in, had had a number of cases. Yet, when the borough mentioned was interviewed, the same results were not found.
Although the research did not aim to document all cases of child trafficking in the London social services, it is difficult to compile statistics that genuinely reflect the size of the problem. What can be concluded, is that the number of cases is only a proportion of the reality.
Read more here.