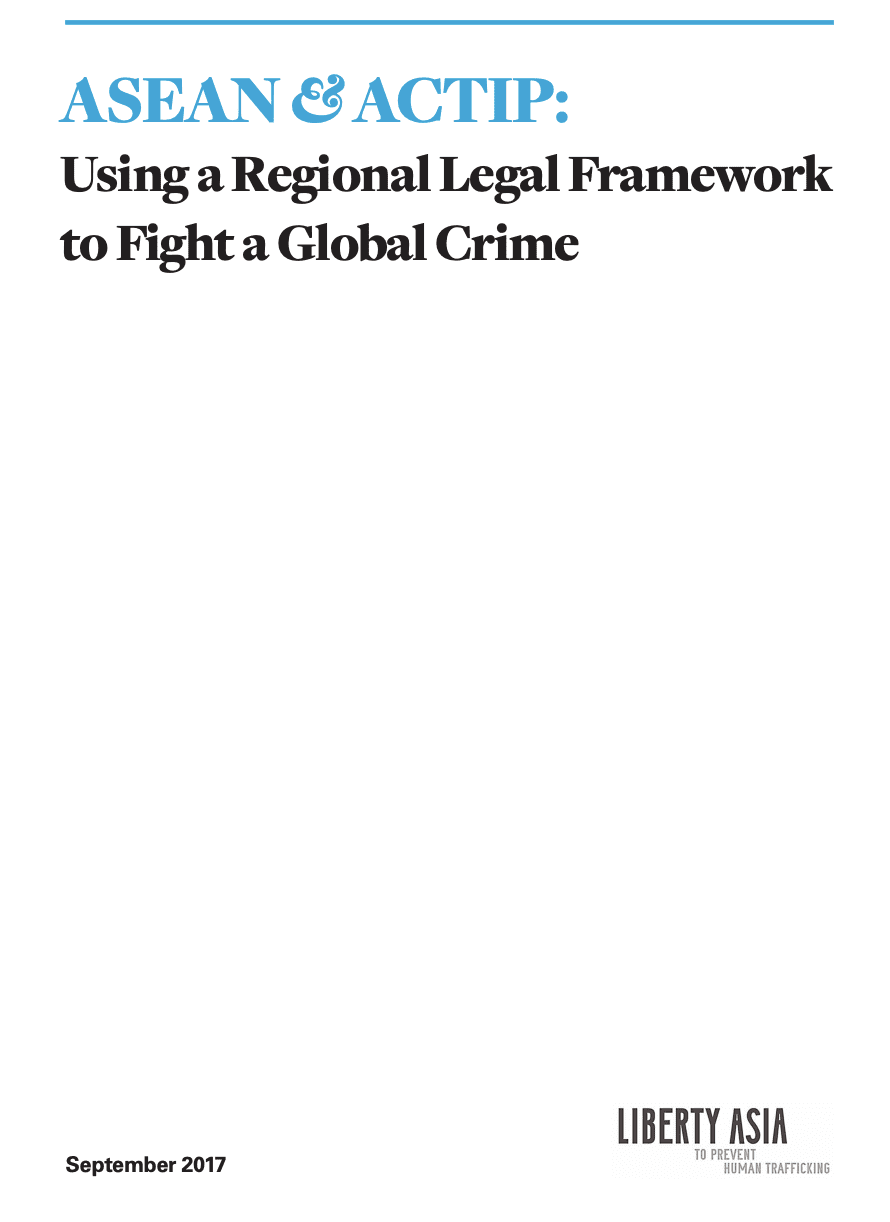 ASEAN & ACTIP: Using a Regional Legal Framework to Fight a Global Crime
Executive Summary
The comparison between each ASEAN member's domestic laws and ACTIP, and the European Convention and ACTIP are found in the body of this report. However, the following summarises the key findings and recommendations for ASEAN members and for ACTIP generally:
(1) Ratify and Implement ACTIP ACTIP provides a good framework for ASEAN Member States to use as a basis for clarifying and strengthening aspects of their existing domestic legislation. All ASEAN Member States now have specific anti-trafficking legislation in addition to relevant provisions in their respective Criminal/Penal Codes. It is important that each ASEAN Member State who has not already ratified ACTIP to ratify ACTIP and to take steps towards implementing and enforcing ACTIP, particularly where there are gaps between ACTIP and domestic law.
(2) Amend and update existing domestic law to better protect victims In many ASEAN Member States, existing domestic law should be amended to better ensure the protection of trafficking victims, in particular with regard to non-criminalization of victims for unlawful acts directly related to the acts of human trafficking. Malaysia, Philippines and Thailand are the only ASEAN Members that currently have non-punishment clauses in their anti-trafficking legislations. In other areas of victim protection, the breadth of the legislative responses to victim care and support varies. For example, Cambodian legislation does not contain express provisions on victim support, while Indonesian legislation provides extensive care and support according to detailed procedures and guidelines. Thai legislation further expands on the special needs of the victim and provides for sex, age, nationality, race and culture of the victim to be taken into account.
ASEAN Member States should review their national legal frameworks to ensure that victims of trafficking have a right to access remedies as well as a right to information about available remedies, a right to legal assistance in pursuing such remedies and in case of foreign victims, a right to remain and work in the country of destination for the duration of legal proceedings for compensation or other remedies. In addition, victim protection in many countries is conditional upon victim's cooperation. Member States should determine the extent to which measures of protection and assistance are made conditional on victim's cooperation with authorities and ensure that victim cooperation is not directly or indirectly tied to immediate assistance and support.
(3) Harmonize victim identification in the region Recognition by one country of a victim status determination made by another Member State is essential to ensure that the rights of victims are protected throughout the process and to avoid or reduce further re-victimization and re-trafficking of victims. A standardized victim identification across the ASEAN region is ideal but difficult to achieve. At this stage, Member States should respect and recognize the identification of victims of trafficking made by the competent authorities of the receiving member state. This can be done by amending the laws and/or bilateral agreements to provide for the mutual recognition of other Member States' victim identification procedures as required under the ACTIP. The Agreement between Lao PDR and Vietnam on Identification Criteria serves as a good example where two countries have agreed to base their victim identification on evidence and materials provided by one another and the screening results conducted by each country's frontline officers.
(4) Use national funds for victim compensation Certain victim rights such as compensation are not addressed in domestic legislation of many ASEAN Member States. For example, compensation is not provided for under Malaysia local law. In Myanmar, the victim will not be compensated if the offender is not brought to trial, or not found guilty, or there are no proceeds from sale of seized trafficking assets. Singapore and Thailand, for example, specifically allow victims to claim for compensation through legal proceedings. Although many ASEAN Member States have established some kind of national fund related to trafficking (either through government contributions or confiscation of illegal proceeds), domestic laws are unclear whether these funds can be applied beyond victim assistance, programs that prevent and suppress human trafficking, rehabilitation, reintegration and financing the cost of repatriation to cover victim compensation as well. At this point, it appears that no member state is applying its national fund towards victim compensation.
ASEAN Member States should review their national legal frameworks to ensure that the victims' right to remedies including compensation for unpaid wages and payment for general and special damages such as lost earnings are explicitly provided for and have been implemented in a way that in practice victims of trafficking can actually exercise their rights. ASEAN Member States should also consider establishing a national fund that would enable victims to access compensation for injuries and damages and ensure such fund is being applied appropriately towards victim compensation given that a national fund can be applied towards a myriad of things beyond victim compensation. Seizure and confiscation of assets should also be used to contribute towards such fund.
(5) Set out details of the repatriation process Repatriation is a logistically and legally complicated process for both victims and the countries involved. It is important to detail the process for repatriation, from the moment prior to the victims' return home until after their reintegration into society. This plays an essential role in the prevention of trafficking as the economic and political conditions of the home country, and the victims' social values, attitudes and ways of thinking after suffering trafficking and slavery trauma, can all contribute to the risk of re-trafficking. Special provisions for child victims, similar to those contained in the European Convention, should also be made where child victims may not be able to return to their home country, i.e., if there is indication, following a risk and security assessment, that returning home would not be in the best interest of the child.
(6) Ensure strong legislation in respect of the seizure of proceeds and property used in trafficking offences Anti-trafficking legislation is often silent on the confiscation and seizure of proceeds and property derived from the crime of human trafficking. For example, Cambodia, Myanmar, Thailand and Vietnam do not have the necessary legislative measures under existing anti-trafficking legislation for the identification, tracing, freezing and/ or confiscation of proceeds of crime used in the trafficking in persons. Member States can also use anti-money laundering laws to trace and confiscate proceeds of crime. Thailand, for example, has recently used anti-money laundering laws to seize proceeds of crime from human trafficking of the Rohingya people belonging to a human trafficking syndicate8. Such money should also be considered for use in compensating victims, particularly given that no ASEAN Member State currently has state compensation funds which can be applied towards financial compensation of victims.
(7) Establish an ASEAN monitoring and enforcement body/tribunal The lack of mechanism to enforce the ACTIP provisions may make it difficult to achieve the goals of ACTIP in practice. A body equivalent to the European Court of Human Rights ("ECHR") does not exist for ASEAN Member States. Therefore, in order that the ideals of ACTIP can be properly enforced, the agreement and establishment of an ASEAN monitoring body to oversee cooperative efforts of various law enforcement agencies, and/or an ASEAN tribunal able to specifically act in trafficking cases or disputes, would help to ensure countries can be held accountable for compliance with ACTIP. In order not to erode any national sovereignty of ASEAN Member States, such body would not have to be legally binding on Member States, but could instead be consultative and advisory in nature. Such a body could also be composed of a representative from each ASEAN Member or be composed of a few members who rotate on a regular basis.
(8) Ensure adequate training Limited skill in handling cases of trafficking and a lack of awareness about trafficking and its associated problems are major factors hindering the effective and swift investigation of cases, initial victim assistance and continued post-trafficking support for victims. Victim identification training can also support capacity building of those in a position to improve the accuracy of victim identification as well as to contribute to a more consistent approach to identification throughout the ASEAN region. Particularly with the introduction of ACTIP, adequate training of police, prosecutors, judicial officers, medical professionals and relevant government departments on the laws and procedures in their respective lines of work must be provided to ensure victims have access to justice and are afforded proper care and respect.
(9) Strengthen corporate criminal liability The issue of corporate liability has not yet been specifically addressed in the legislation of a number of ASEAN Member States. In the area of corporate liability, for example, one of the reasons for such high numbers of people trafficked or in forced labor in Asia is that many ASEAN countries are at the bottom of a lot of the world's supply chains. Yet few countries in the region have adequate laws to address corporate responsibility for human trafficking, including in their supply chains.9 Thailand, for example, recognizes corporate liability but has had only one successful conviction under its anti-trafficking law against a company in a forced labour case. Given the prevalence of human trafficking in supply chains in Southeast Asia, Member States should review their national legal frameworks to ensure that legislation adequately addresses the issue of corporate liability and provide for criminal and civil sanctions on corporations and certain individuals within companies for trafficking, even if trafficking comes through a lack of control or supervision.
(10) Continue evaluating ACTIP, especially in respect of the differences with the European Convention ACTIP could be more comprehensive in its scope. A comparison with the European Convention illustrates the areas in which the European Convention provides more extensive coverage, in areas such as corporate liability, enforcement, victim protection and victim identification.
Read more here.