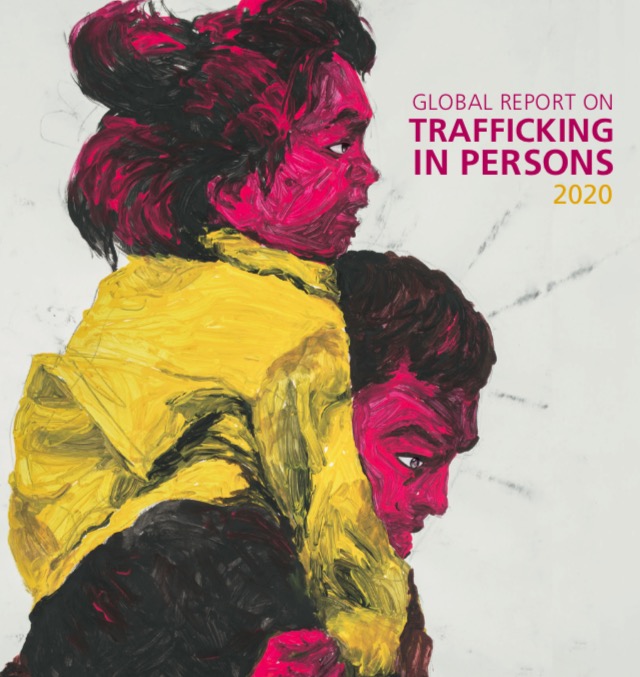 Global Report on Trafficking in Persons UNODC
This is the fifth global report by the United Nations Office on Drugs and Crime (UNODC), mandated by the General Assembly through the 2010 Global Plan of Action to Combat Trafficking in Persons.
The report comes at a time when global suffering has vastly increased vulnerabilities to trafficking. Extreme poverty is expected to rise for the first time in decades, with the continuing COVID-19 crisis casting a long shadow over our societies and economies. With many millions more women, men and children in every part of the world out of school, out of work, without social support and facing diminished prospects, targeted action is urgently needed to stop crimes like trafficking in persons from adding to the pandemic's toll.
In order to act, we need to understand better the factors that facilitate human trafficking. It is in this spirit that I present to you the Global Report on Trafficking in Persons 2020.
The report draws on data from 148 countries and explores issues of particular relevance in the current crisis, including the impact of socio-economic factors, drivers of child trafficking and trafficking for forced labour, and traffickers' use of the internet.
Although found in every country and every region, trafficking in persons remains a hidden crime, with perpetrators operating in the dark corners of the internet and the underbelly of the global economy to entrap victims for sexual exploitation, forced labour, domestic servitude and other forms of exploitation.
For every 10 victims detected globally, five are adult women and two are girls. Migrants account for a significant share of the detected victims in most regions. Traffickers prey upon the marginalized and impoverished. Cases examined by UNODC found that at least half involved victims who were targeted because of economic need.
Children living in extremely poor households are especially vulnerable, and countries in West Africa, South Asia and Central America and the Caribbean report
much higher shares of detected child victims. Globally, one in every three victims detected is a child, but in low income countries, children account for half of the victims detected, most of them trafficked for forced labour.
By bringing visibility to this crime, and shedding light on trafficking patterns and flows, this report can assist governments, parliaments and stakeholders in developing solutions capable of addressing root causes and risk factors, prosecuting offenders, protecting the vulnerable and better supporting victims.
UNODC has been systematically collecting and analysing data on trafficking in persons for more than a decade. During this time, an increasing number of countries have criminalized trafficking in line with the Trafficking in Persons Protocol under the United Nations Convention Against Transnational Organized Crime.
More traffickers are being brought to justice every year – globally, the number of people convicted per 100,000 population has nearly tripled since 2003, when the protocol entered into force. Having anti-trafficking legislation in place and investing in national capacities and international cooperation strengthens responses.
We cannot allow the pandemic recession to reverse this progress or put more women, men and children in danger of being trafficked.
Even as the crisis puts resources under pressure, law enforcement and social protection responses must address trafficking risks. Countering trafficking effectively also requires tackling related forms of transnational organized crime, as well as cybercrime and corruption.
As the Trafficking in Persons Protocol highlights, to prevent trafficking governments need to address poverty, underdevelopment and a lack of equal opportunity, and raise awareness. That means investing in people – in education and jobs, as part of systemic solutions pursued in solidarity, with support to developing countries most of all. An inclusive recovery must create opportunities and give hope to young people and the disadvantaged, and tackle the structural inequalities that leave women as well as children and marginalized groups vulnerable to human trafficking.
Systemic solutions also rely on broad, cross-border partnerships between governments, with the support of international and regional organizations. Civil society and private sector cooperation are also crucial – businesses and tech companies represent essential partners in addressing supply chain integrity to stop trafficking for forced labour and other forms of exploitation, and in countering recruitment and exploitation via the internet.
We also need more sharing of information and intelligence, and more research. Over the past decade, we have seen the number of child victims go up. Victims trafficked domestically, without crossing international borders, are being increasingly detected. Trafficking patterns and flows change and shift – possibly now more than ever in a world upended by the pandemic. But the picture is also changing because we understand more, and see more. Better training of service providers, police
and healthcare workers leads to greater detection and enhanced support. Educating the public raises awareness and fosters a sense of responsibility – as bystanders, consumers and concerned citizens, we all have a part to play in preventing and countering human trafficking.
With this in mind, I urge governments and all partners to make use of the Global Report on Trafficking in Persons 2020 – and of the integrated technical assistance UNODC provided to 83 countries last year alone through its programs and field network – to include protection and trafficking prevention as part of pandemic response and recovery efforts, and leave no one behind.
Ghada Waly Executive Director United Nations Office on Drugs and Crime