Pope Francis and Human Trafficking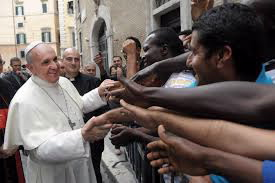 This week, Pope Francis will be visiting the United States and touring Washington D.C., Philadelphia, and New York City. During his time here Pope Francis will be addressing Congress and the United Nations General Assembly. There has been much speculation about what the Pope will say in these remarks and during this trip. Despite the uncertainty about his exact remarks, one thing is for sure: this Pope has dedicated more attention to the discussion of human trafficking than any other Pope or world religious leader before him.
While he is in the United States, Pope Francis will address the issue of environmental degradation and climate change in part due to his recent environment-themed encyclical entitled Laudato Si, or "Care for Our Common Home". The Pope has used the release of Laudato Si as an opportunity to speak about human trafficking and its symbiotic relationship with environmental destruction. In July 2015 he convened at the Vatican a conference with mayors from around the world to discuss environmental challenges and how disruptions in climate were contributing to a humanitarian crisis in migration and modern slavery. In the conference the Pope noted that the United Nations must take a very strong position on climate change with a particular focus on the trafficking of human beings as a problem that has been created by climate change.
With the Syrian refugee crisis intensifying and the continued detention of Central American refugee families in the United States, the Pope is sure to speak about migration and the need for a humane migration policy and response. He will likely also speak about human trafficking and the dangers of migrants' journeys as he did when he visited Lampedusa in 2013, recounting a conversation he had with a migrant that had been trafficked and suffered greatly. With these two issues, climate change and migration, the Pope has been an advocate for greater awareness about human trafficking.
As the United States readies itself for Pope Francis, the contributions that the Pope has made to increase the visibility of human trafficking internationally and within the United States are clear. In the first days after Francis became Pope, he sent a hand written note to the Chancellor of the Pontifical Academy of Sciences and Social Sciences, the Vatican body largely responsible for addressing human trafficking. The note stated "I think it would be good to examine human trafficking and modern slavery. Organ trafficking could be examined in connection with human trafficking. Many thanks, Francis." From there, Pope Francis has made human trafficking a priority issue in his Papacy. In his first publication Evangelii Gaudium, Pope Francis urged people to examine their complicity in human trafficking. Pope Francis has also described trafficking as an open wound on the body of contemporary society and a crime against humanity.
In 2014, the Pope created, in partnership with leaders of other major religions, the Global Freedom Network, an organization that seeks to eradicate slavery and human trafficking. Through the Global Freedom Network, the Pope and Anglican, Muslim, Hindu, Buddhist, Jewish, and Orthodox leaders signed a Joint Declaration of Religious Leaders against Modern Slavery on World Day for the Abolition of Slavery. In 2015, the Pope began his own anti trafficking initiative, #EndSlavery, an effort to study and work with world leaders to prevent modern day slavery and human trafficking.
As the Pope begins his tour of the United States, the world watches. Regardless of whether he speaks out against human trafficking on American soil, this Pope will continue to combat human trafficking on a global scale.
Ashley Feasley is the Director of Advocacy at the Catholic Legal Immigration Network.
Photo Credit: Jesuit Relief Services