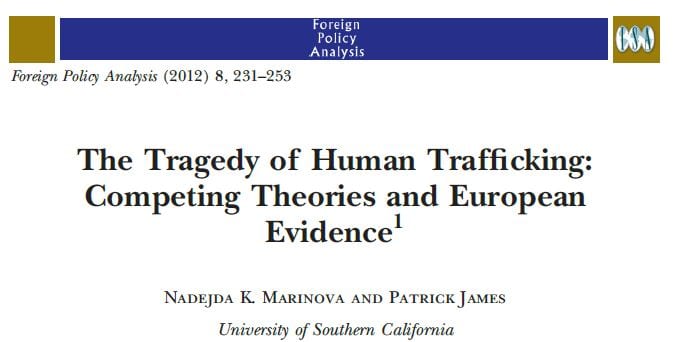 The Tragedy of Human Trafficking: Competing Theories and European Evidence
This paper explores an issue that is both domestic and international: whether legalization of prostitution leads to an increase in human trafficking. For both theory and public policy, this is an important query to answer, with implications beyond the cases in question. The principal domains of investigation are Germany, Sweden, and the Netherlands. These states subscribe to UN, EU, Council of Europe and OSCE agreements and are located in the same geographic region, yet have adopted opposite approaches to prostitution. The Netherlands and Germany legalized prostitution in 2000 and 2002, respectively. Sweden outlawed it in 1999 and imposed criminal penalties for the purchase of illicit sex. The preceding characteristics make these states ideal for a comparative exercise in the context of competing perspectives on human trafficking and legalized prostitution. We find that legalization leads to an increase
in trafficking. The dynamics of trafficking are also associated with numerous factors, among which the most critical are government efforts specifically targeting the activity in the field of law enforcement. Implications for theory and public policy are offered, along with ideas about future research.
Click here to read full article.