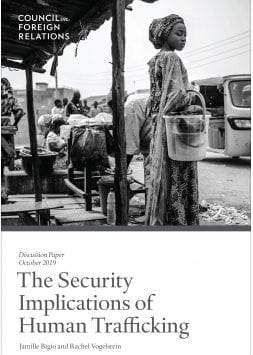 The Security Implications of Human Trafficking
Human trafficking is a gross violation of human rights that affects populations across regional, ethnic, and religious lines. It encompasses a range of illicit activity, including sexual exploitation, forced labor, organ removal, and forcible recruitment into an armed group or military service. In 2016 alone, the United Nations detected close to twenty-five thousand victims of human trafficking, though this figure hides many unreported cases. Seventy-two percent of them were women and girls. Globally, an estimated 40.3 million people in 2016 were entrapped in modern slavery—exploitative situations they could not leave or refuse due to coercion, deception, threats, or violence.
But human trafficking is not only an affront to human rights and dignity—it is also a criminal and security concern. Human trafficking can fuel conflict by enabling armed and extremist groups to raise revenue and expand their power and military capabilities. Human trafficking can also drive displacement and destabilize communities, thereby exacerbating conflict and undermining development. When committed by security forces and peacekeepers, human trafficking undercuts the ability of international institutions to carry out their missions of promoting peace and stability.
Read the full article here.