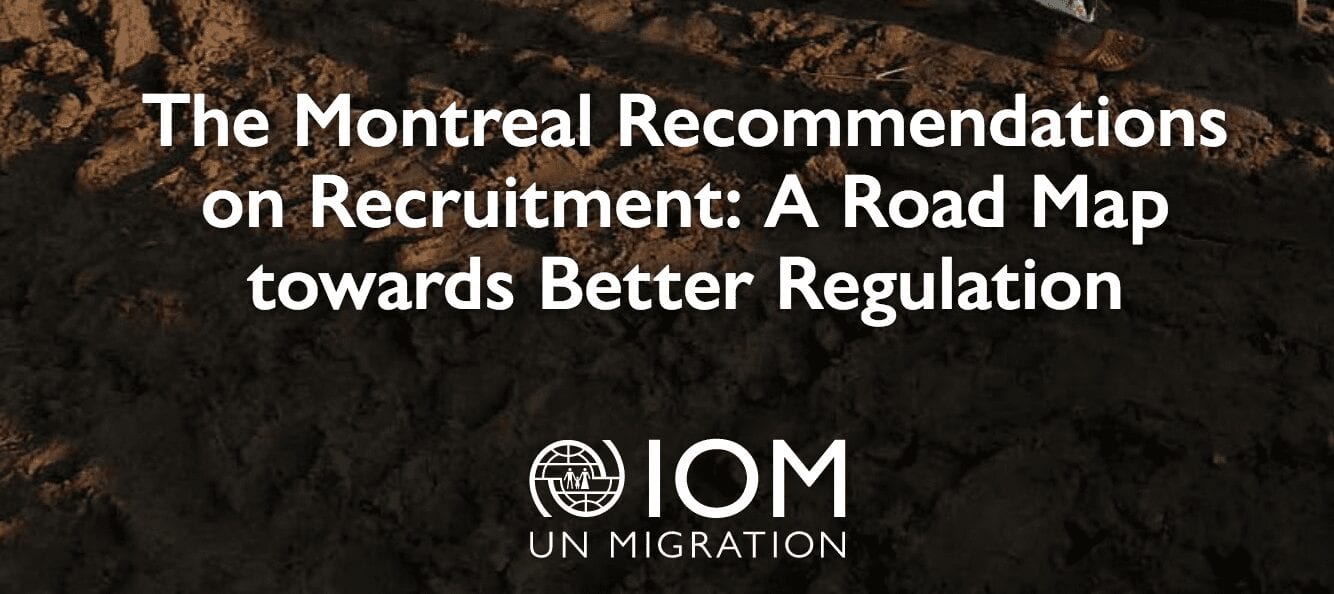 The Montreal Recommendations on Recruitment: A Road Map towards Better Regulation
Regulators have a responsibility to establish and effectively enforce the legal and policy framework under which labour recruiters and employers operate and guarantee their compliance. With the aim of improving the inter-jurisdictional regulation of international labour recruitment, 100 regulators from more than 30 countries gathered at the Global Conference on the Regulation of International Recruitment, in Montreal, Canada, in June 2019. The International Organization for Migration (IOM) co-hosted this conference in partnership with the Government of Canada and the Gouvernement du Québec, the Swiss Agency for Development and Cooperation and the Department of State's Bureau of Population, Refugees, and Migration of the United States. The event brought together senior policymakers, leading experts and practitioners from ministries of Labour, Foreign Affairs and Immigration, supported by experts from international and regional organizations, including IOM, International Labour Organization (ILO) and Organization for Security and Cooperation in Europe (OSCE). Through two days of presentations, round-table discussions and break-out sessions, participants articulated recommendations to improve the regulation of international recruitment in nine principal areas:(1) Protecting migrant workers;(2) Recruitment fees;(3) Registration and licensing;(4) Administration, inspections and enforcement;(5) Ratings, rewards and rankings;(6) Access to grievance mechanisms and dispute resolution;(7) Bilateral, regional and multilateral mechanisms;(8) Migrant welfare and assistance; and (9) Maintaining the momentum on regulation.The 55 recommendations, reproduced below with accompanying commentary, are consistent with international human rights and labour standards, the ILO General Principles and Operational Guidelines for Fair Recruitment1 and the multi-stakeholder standard established by the International Recruitment Integrity System (IRIS). They provide diverse, practical guidance to governments to enable more effective regulation of international recruitment and protection of migrant workers.
Read the full report here.