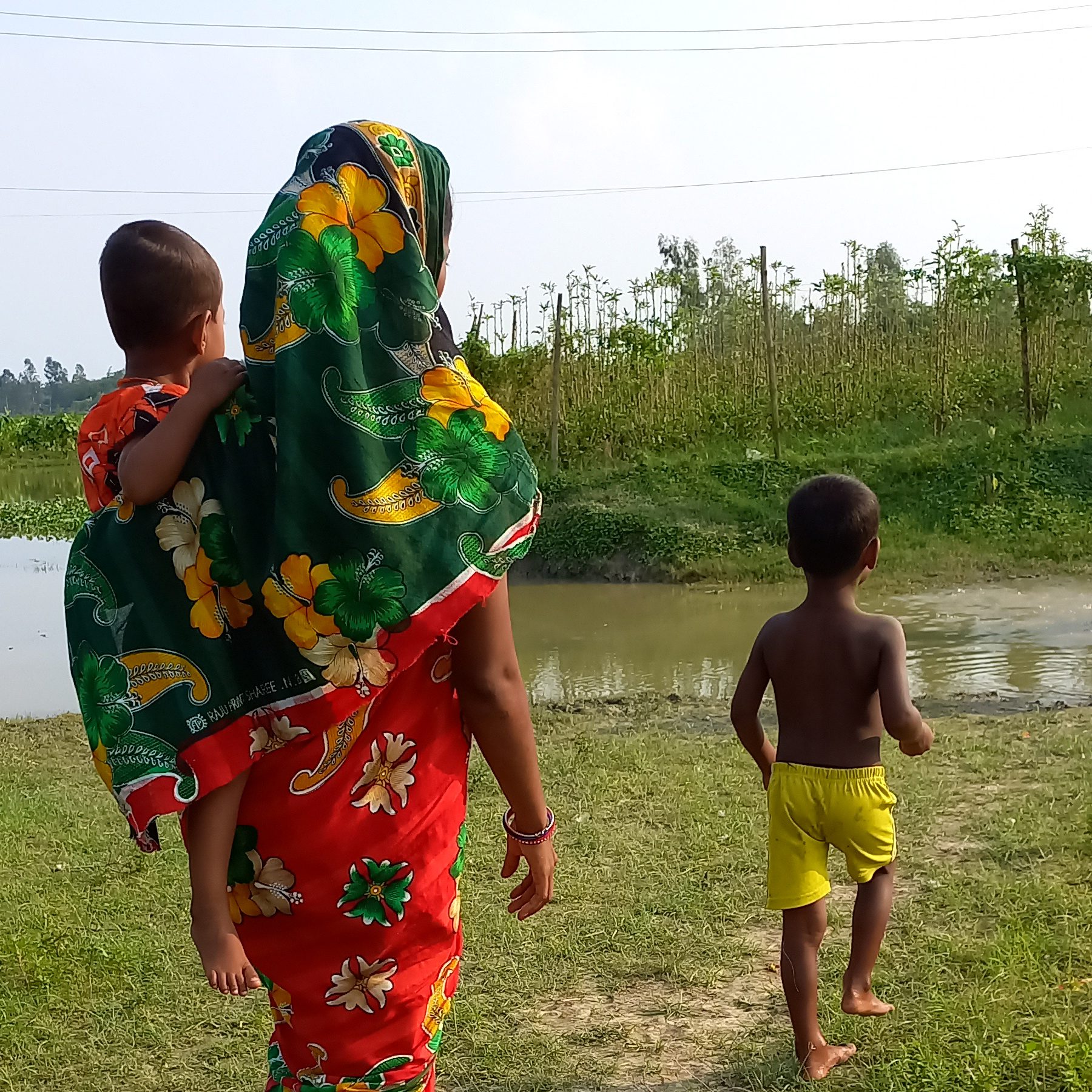 In the Sundarban, climate change has an unlikely effect — on child sex-trafficking
Multiple UN agencies such as UNICEF and the UN Development Programme have warned that climate change will increase exploitation of minors, including trafficking. This fear is already reality in the Sundarban. The Fuller Project and The Wire have interviewed a dozen child trafficking survivors, as well as over a dozen activists, lawyers, environmental experts and government officials, who describe how repeated natural disasters and environmental changes have created a highly vulnerable population that is increasingly at risk of participating in or becoming victims of trafficking.
Like Afza, many face a challenging reintegration into a collapsing society where they remain vulnerable to exploitation, often in the form of child marriage or re-trafficking. Eight of the 12 trafficking survivors The Fuller Project and The Wire spoke with were impregnated as minors.
For several climate experts The Fuller Project and The Wire spoke with, the experiences of these girls highlight critical gaps in climate policy, which they say falls far short of meeting the scale of the needs and focuses far too much on flagship infrastructure projects that fail to address the root causes of trafficking or the complexities of the social upheaval taking place in climate vulnerable regions such as the Sundarban.
"When the climate is affected, it immediately creates ripple effects. The minors are on the fringes," said Barun Kanjilal, a health economist who has spent the past 10 years conducting research in the Sundarban.
'A new kind of slavery'
Like the other survivors, Afza requested to be identified by a pseudonym. Her voice was resigned yet steady as she recalled an all-too-brief childhood. She grew up in Lebukhali village in a mud home repeatedly destroyed by floods. Around the time she should have been entering primary school, she was sent off instead to become a domestic worker in Kolkata by her family, who were struggling to make ends meet.
One day in 2013, she met a neighbour from her village while boarding a train from Kolkata to Lebukhali to visit family. He kidnapped her by spiking her drink. Afza would end up spending months in a brothel in Pune, about 1,650 km away on the other side of the subcontinent. She was only 12 years old at the time.
When police found her during a raid and brought her to a child care home, she discovered she was four months pregnant.
Nervously toying with a plastic orange necklace around her daughter's neck, she snaps back to the present. "When my husband sees me crying he says 'Let's go and get him back if you know where he is.' I ask him, 'How will I ever know where to find my son?'"
Afza and her family lost their home to Cyclone Amphan in 2020, along with thousands of others. Her in-laws provided her family of four with a makeshift space, but following a feud, they now insist her family vacates that space.
Most days, Afza worries about the lack of livelihood opportunities, the dwindling rations, and a canal that floods her home when it rains. Her husband worked in Andhra Pradesh's paddy fields but returned home during last year's lockdown. In the Sundarban, there is barely any work: the crops suffered too much damage in the past year. In this pressure cooker economic environment, it's becoming more and more common for increasingly desperate people to consider trafficking their neighbours and even family members.
The number of girls recorded missing in West Bengal have climbed up steadily in recent years, from 5,986 in 2016 to 6,640 in 2020. While there is no breakdown of the data specific to the Sundarban, the two districts that encompass the Indian side of the forest account for 32% of cases involving sexual offenses such as trafficking – despite being home to less than 20% of the state's population.
Anti-trafficking activists and climate experts told The Fuller Project and The Wire that the official figures capture only a fraction of the scale of the trafficking in the region because most cases never get registered with the police. Families can be hesitant to file a case in the first place due to the stigma, and when they do, police often refuse to register them due to pressure from well-connected traffickers.
The Sundarban districts of South 24 Parganas and North 24 Parganas were the hardest hit by both Cyclone Amphan in 2020 and Cyclone Yaas in 2021. West Bengal Chief Minister Mamata Banerjee said the impact of Amphan, which cost the state an estimated Rs 98,100 crore, was worse than that of COVID-19. The tropical storm turned into a devastating super-cyclone while passing over the Bay of Bengal, where the water was 2º C above normal as a result of human-induced climate change.
Amphan and Yaas hit a population still reeling from the effects of Cyclone Aila in 2009. A World Bank survey five years after Aila found that only 6% of the population had fully recovered from its economic impact. Human trafficking in the Sundarban is not a new phenomenon, but the impact of Aila made it dramatically worse.
Kanjilal, the health economist, said that Aila transformed a mainly self-sufficient agricultural society into a market-based one, but without the tools needed to survive the change.
"Climate change is paving the way for a new kind of slavery," Kanjilal said. "A huge population is still living on the river banks. These people have the potential to become climate refugees whose rights go completely missing."
'No time to fight for justice'
The National Crime Records Bureau shows a conviction rate of 1.9% in trafficking cases in West Bengal.
Activists and survivors accuse police of failing to register underage marriage cases properly or provide adequate support for survivors. Several local officers who spoke to The Fuller Project and The Wire on condition of anonymity dismissed trafficking complaints, claiming marriages between underage girls and adult men are usually genuine love matches.
Kalyan Mukhopadhyay, the deputy inspector general of the Criminal Investigation Department of West Bengal, said these cases were more likely to be registered incorrectly because survivors' families are typically not literate. (The law under which a case is registered depends significantly on the statement in the first information report, or FIR.)
A verdict in favour of the survivor rarely means their troubles are over: a National Human Rights Commission report from 2020 found that survivors had to wait two to four years on average to receive compensation.
Several climate activists and experts told The Fuller Project and The Wire that the experiences of these girls illustrate the need to treat trafficking in the Sundarban as a climate change issue, and not simply as an anti-trafficking issue. And this means pushing for measures like climate reparations which address the loss  and damage due to climate change that are the root causes driving the rise in trafficking, not simply measures that address the symptoms, such as more effective police action and court compensation.
"These things are seen in isolation — the link is barely seen. Trafficking and migration are not understood in context," said Subashree Raptan, an activist with Goranbose Gram Bikash Kendra, an anti-trafficking organisation in the Sundarban. "Climate change leads to migration leads to trafficking leads to child protection and women protection issues. This chain is missing when it comes to policies."
Saleemul Huq, director of the International Centre for Climate Change and Development, said while the West Bengal state and Indian government have an obligation to take steps to improve child protection in the Sundarban, their actions can't be sufficient given the scale of the loss and damage suffered by rainforest residents as a result of the climate crisis, a phenomenon that is expected to get much worse and further exacerbate the trafficking problem.
The government's capacity to respond is already strained by the current scale of the crisis: the state's total compensation fund already falls far short of the amounts judges award.
While he still urges action at the local level, Huq, the lead author on the chapter on adaptation for multiple Intergovernmental Panel on Climate Change (IPCC) reports, says rich countries that have been the primary driver of human-induced climate change are leaving poor countries to deal with the fallout almost entirely by themselves.
He noted that the COP26 climate talks last November saw representatives from underdeveloped countries repeatedly raising the issue of "loss and damage", the phrase used in climate dialogues to refer to the concept of climate reparations, it faced pushback from representatives of wealthier countries, particularly from the European Union, Australia and the US.
"It's an issue of climate justice, or rather, climate injustice," Huq said. "Climate change is now happening, causing loss and damage. People are losing property, people are losing family members. If you monetise those losses, somebody is paying, but it's poor people paying from their pockets. This includes paying on the social side, through loss of education, or daughters going to trafficking."
"The global community does owe support, has promised that support, but has not delivered it," he added, referring to a pledge by developed countries at the UN Climate Change Conference in Copenhagen in 2009 to provide $100 billion in climate aid to underdeveloped countries by 2020. The UN noted in December 2020 that this pledge will not be fully met despite the amount barely registering compared to the $11 trillion advanced economies were able to deploy to address the COVID-19 pandemic.
Huq described the amount on offer as meeting less than 5% of the need, noting that rural families in Bangladesh already spend $2 billion a year to repair or prevent climate-related damage.
"We tend to be bedazzled by the large figures spoken about at the global level, this $100 billion, but it's actually quite trivial," Huq said. "This is the global community at the best of times, so we shouldn't have too much expectation of them. Black Americans have been waiting for reparations for over a hundred years, so don't hold your breath."
Rina, a 30-year-old who was trafficked and impregnated at age 14, told The Fuller Project and The Wire that it was futile to look for salvation in local courts when the environment itself had turned on her.
"There is no time to fight for justice," she says. "Where will I find the relevant papers? We lost everything in the cyclones. There is barely a space that we call a house."