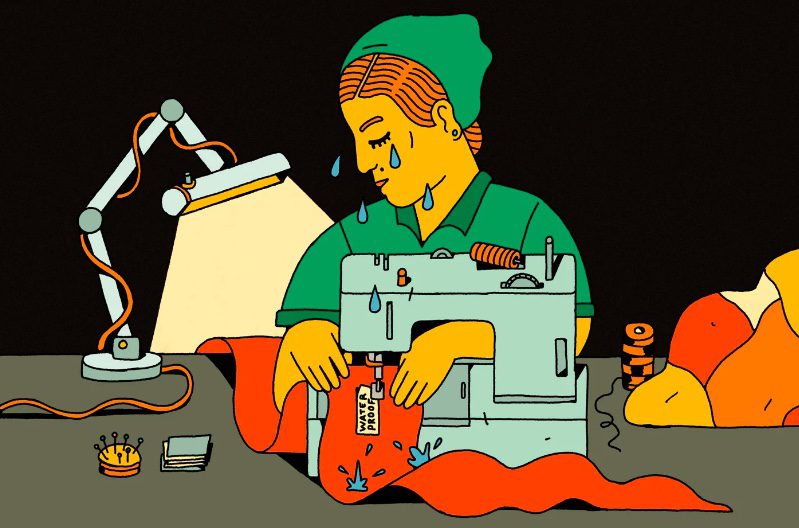 Sustainable clothing brand Patagonia manufactures in the same factories as fast-fashion; textile workers are being exploited
Clothing brand Patagonia seems to be doing everything right: for its employees, for the people who make the clothes and for the environment. The company's image – they say they're in business to save our home planet – is very different from fast-fashion brands like asos, Primark and Nike. But Patagonia's clothes are manufactured in exactly the same factories and under the same deplorable conditions.
When Yvon Chouinard started creating climbing equipment in his parents' backyard in Burbank, California, he used steel. Soon he earned a reputation for making the 'best' climbing equipment in America. But every time a climber slammed one of those steel pegs into a rock, the gap got a little bigger and eventually unusable. Chouinard realised he was making money by destroying the rocks and therefore also the sport. And so he switched to aluminium blocks, which did not damage the rocks.
The change was expensive and risky for the young company, but the moral dilemma was reason enough for Chouinard to implement the change. And to be very outspoken about it. It was a success: within a year, 40 per cent of the US climbing community stopped using steel.
Chouinard applied this experience when he started the outdoor brand Patagonia in 1973. He wanted to make only high-quality clothing that would last. And limit the impact on the environment as much as possible. In 1996, the brand switched to 100 percent organic cotton, only to increasingly replace it with recycled materials. But the responsibility that Chouinard attributed to the company extended further.
In 1985 he decided to give one percent of sales to environmental organisations every year. In 2011, Patagonia placed a full-page ad in the New York Times calling on consumers to 'not buy this jacket' in order to draw attention to the problematic nature of overconsumption in the clothing industry.
In addition, the clothing had to be manufactured fairly: in 2012, the top of the company made paying living wages to everyone who makes Patagonia products a 'priority'. In 2020, Patagonia launched a campaign encouraging consumers to demand more from clothing brands: 'Demand recycled. Demand organic. Demand Fair Trade,' Patagonia urged its viewers.
In 2022, the then 84-year-old Chouinard caused worldwide astonishment, when he gave away 98 per cent of his shares to a newly formed NGO, the Holdfast Collective, which is 'committed in its fight against the environmental crisis and protecting nature.' Henceforth, the company's profits would no longer flow to himself or his children but to the climate. 'Earth is now our only shareholder,' Chouinard said. Billionaire gives company away to climate, newspapers like The New York Times, The Washington Post and The Guardian reported.
This construction saved the NGO an estimated 700 million dollars that Chouinard would have had to pay in tax if he had sold the company and donated the proceeds to the same NGO. But according to Chouinard, this option allowed him to do something else: protect Patagonia's values. Because he did not give the voting shares to Holdfast Collective but to a family trust. This allows his family to continue determining the company's direction.
The company's turnover – its European headquarters are in Amsterdam − grew by more than 50 per cent that year to about 1.5 billion dollars, according to news agency Reuters.
The actions earned Patagonia an image as being the ultimate sustainable frontrunner. In April, Time Magazine named Chouinard one of the world's 100 most influential people. 'Patagonia is a company people look up to in awe,' the magazine wrote.
The complete opposite of Patagonia is a company like Primark. The Irish retail chain is known for selling on-trend low-quality clothes at low prices. Its revenue model is based on mass: high volumes with low margins.
Primark continuously creates new garment collections designed to be worn only a few times, after which they fall apart. The company uses advertising, clearance sales and influencers to urge consumers to keep buying as much as possible.
Media regularly report on the subsequent consequences. One, in particular, is that the people who make the clothes suffer from high production pressure at low cost. 'Primark supplier accused of locking up factory workers in Myanmar protests,' The Guardian headline read in 2021. That same year, The Clean Clothes Campaign NGO wrote: 'Primark uses pandemic to put further pressure on factory workers in manufacturing countries.'
Patagonia and Primark seem like two extremes on the slow versus fast-fashion spectrum. Yet the brands have something in common. Some of their clothing is manufactured in the exact same factory.
'No difference'
That factory is called Regal Image and is located in Sri Lanka. To be precise, in the Free Trade Zone of Katunayake, less than two kilometres from the international airport. The industrial estate is guarded 24/7 by Sri Lankan police. Access is only possible with a special pass.
In the factory hall, there are long tables with pieces of white fabric on them. An employee walks past with sea-green paint and a stencil forming the letters 'asics'. Further along, a machine prints a grey logo on a purple tank top for Decathlon.
'So far, we don't really notice any difference between working with Patagonia and working with Primark or Decathlon,' says Kevin Fernando. Fernando is the manager at the factory, which dyes, prints or embroiders logos and prints on fabrics. Regal Image was recently approved as a supplier to Patagonia, a process that took nine months. Fernando shows the designs for the 2024 summer collection. Light blue fabric features 'Patagonia' in pink letters, and a rainbow is printed on orange fabric.
'Like most clothing companies, we do not make our products, nor do we own any of the factories that do,' Patagonia writes on its website about the decision to outsource the manufacturing process. 'We design, test, market and sell Patagonia gear. These are our areas of strength. We pay other companies […] to produce fabrics and do the actual cutting and sewing.'
'No control over working conditions'
Patagonia promises to only partner with factories that are 'like-minded' and who share their 'philosophy.' Patagonia has found sixty-one suitable factories: two in the US, one in Portugal and the remainder in 12 different low-wage countries. The bulk of the products are made in Vietnam and Sri Lanka.
At least two-thirds of the factories that manufacture Patagonia clothing also work for clothing brands that, according to the consumer website Good on You, have little or no sustainability policies in place (Patagonia itself is touted by Good on You as sustainable). This is evident from an analysis by Follow the Money based on data from Open Supply Hub, which aims to make supply chains in the clothing industry more transparent.
One day people make clothing for Patagonia, and the next day, they make items for brands such as GAP, Levi Strauss, Calvin Klein, Hugo Boss, Tommy Hilfiger, Nike, Amer Sports, Asics, US department store chain Target, e-commerce platform Amazon, supermarket Aldi and fast-fashion icons ASOS, Boohoo, H&M and Zara.
'How is this possible?' visual culture professor Anneke Smelik responds. Smelik researches sustainable fashion at Radboud University. 'I know Patagonia as the most sustainable brand out there. I expected them to manufacture in small factories close to home. This means they have absolutely no control over working conditions.'
Sixteen-hour workdays
Eligibility to manufacture Patagonia products requires a supplier to meet a list of sustainability criteria. Those criteria are set out in a code of conduct for suppliers. For example, child labour, forced labour, or physical, sexual or verbal harassment are not allowed. All national laws must be respected. Suppliers must respect workers' right to freedom of association, may not force workers to work overtime and must ensure healthy working conditions. Working weeks of more than 60 hours or more than six days in a row is not acceptable to Patagonia.
Patagonia checks whether a factory complies with these standards through independent auditor visits at least once a year, says the brand after being questioned by Follow the Money. Checks are also carried out by the Fair Labor Association (FLA) and FairTrade: two NGOs that provide Patagonia's manufacturing process and clothing with a sustainability label.
A part of those audits is public. Since 2016, the FLA has published assessments of seven Patagonia factories, including three in Vietnam, three in Sri Lanka and one in China. During those inspections, auditors found dozens of violations, varying greatly in severity.
For instance, almost 2000 employees at a factory in Vietnam were paid less for their overtime than what they should have received and employees' ages were not recorded (thus child labour cannot be ruled out). Another check found out that applicants had to provide their menstrual date. Employees told the interviewers they were not allowed to become pregnant in the first six months of their employment. Less serious violations dealt with issues such as working without protective equipment, blocked emergency exits, or a lack of policies on harassment or discrimination.
One problem crops up in every report. Textile workers in factories manufacturing clothes for Patagonia work far longer hours than legally permitted: up to 17 hours a day and more than 80 hours a week, well beyond what is permissible according to Patagonia's code of conduct.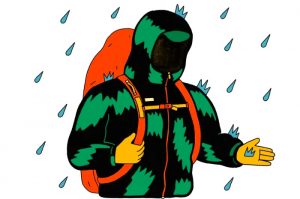 'Long working hours with insufficient breaks often lead to health problems,' the Clean Clothes Campaign recently wrote about this issue. 'Managers pressure employees to work 10- to 12-hour and sometimes even 16- to 18-hour days. The number of hours increases as the deadline approaches. Those who protest are simply fired. Moreover, workers depend on overtime to supplement their low wages.'
At the Regal Image factory in Sri Lanka, manager Fernando assures that his employees work a maximum of five days a week and 10 hours a day. But during the tour, a line manager starts talking about the duration of his shift: from eight in the morning to a quarter to 10 in the evening – almost 14 hours. 'It's busy,' says Fernando, casually.
'This is what the fast-fashion model does,' says Smelik. 'Brands want their products to be in store within a few weeks. So when a factory receives an order from such a brand, the production targets and overtime skyrocket.'
'They talk to us like we are animals'
The office of Stand Up Lanka, a union led by Ashila Niroshine Dandeniya, is located just outside the Free-Trade Zone. She started working in a MAS factory, part of MAS Holdings that is a supplier to Patagonia, in 2003. Her colleagues elected her to represent them as a member of the factory's employees council. But when she addressed the matter of wages, she was fired. She challenged her dismissal, got compensation, and discovered that there were laws in place to protect people like her.
Now, almost 20 years later, she knows Sri Lankan labour law like the back of her hand. Her office is a hexagon with five windows, all open. Textile workers from nearby factories approach her via these windows to greet her or ask for help.
When a transman walks past, she says, 'He applied to MAS Shadowline [one of Patagonia's suppliers, ed] a month ago. They said they didn't want him because he is transgender. He can't get work anywhere. And he cannot go back to his village because he is Muslim. His family will shoot him.'
When about six women wearing yellow MAS polos come and ask for a food parcel, Dandeniya shakes her head. 'We don't have enough. Since the country's economic crisis, some families barely eat two meals a day. How am I supposed to choose who can eat and who can't?'
That evening, she introduces Priya (31). Priya has been working for MAS Shadowline for almost two years, sewing the side seams on leggings or T-shirts. She makes many clothes for yoga brand Lululemon and for Lacoste (famous through the crocodile logo), but sometimes also for Patagonia.
'The worst part is the scolding,' she says in her home a few streets away: a room of about 12 square metres. It contains a double bed, a small kitchenette and a wardrobe. Despite the fan on the wall, it is sweltering hot inside. She shares a toilet and a shower with others.
Textile workers use drugs to work faster. Sometimes also against the hunger
'My supervisor's manager is a terrible man. He touches everyone in a bad way, and if you say you don't want that, you have a problem. He yells at me if I have to go to the bank or the doctor. "Then who will do the work? Who will meet the target?" And he's not the only one. They talk to us like we are animals.'
When asked about her production targets, she breathes a deep sigh. 'The other day, Lululemon placed a huge order, and now everyone is stressed. On the first day, we had to make seventy items per hour, but on the second day, it was suddenly a hundred. Otherwise, we won't make the delivery date.' During the working day, she does not drink water so that she does not waste time going to the toilet. Despite this, she seldom meets the target. And that means: no bonus.
Without that bonus, Priya earns 32,000 rupees a month (97 euros). Her room costs 7,000 rupees (21 euros), and a meal 300 rupees (1 euro). She has no money left for other things.
'Since the crisis, we are increasingly hearing stories from our members of textile workers using drugs,' says Dandeniya. 'Also in MAS factories that Patagonia works with. They use it to work faster. Sometimes also against the hunger.'
Chamila Thushari, union leader of Dabindu Collective, confirms the story. 'They use Ice (Crystal Meth) or Babul.' She points to her collar and to the sole of her shoe. 'This is how they smuggle it in. The management knows this happens but allows it. All they care about is production targets are being met.'
An employee of a third union, GTZ-GSEU, confirms that drug use among textile workers in the Free Trade Zone is a problem.
Patagonia says these claims are 'new' to them and 'serious', but says, without evidence, it cannot comment.
A living wage
That Patagonia, known for being sustainable, has its clothes manufactured in the same factories as other much less sustainable brands is seen as an advantage by the company. 'Patagonia has a powerful brand voice, but we are a quite small player in the apparel sector. Therefore, we are always looking for ways to scale our impact and to elevate the industry standards across the board, bringing other apparel retailers along on the journey with us. So, continuing to engage in shared production facilities is crucial to this work.'
Patagonia wants all people who make clothes to earn a decent wage. In 2015, the company promised that within 10 years, all employees in its supply chain would be earning a living wage that would be enough to live on. That is, enough for food, water, housing, education, healthcare, transport and other essential needs.
With 18 months to go, only 40 per cent of its factories pay a living wage, according to Patagonia. They would not reveal the factories concerned. Suppliers reportedly 'have the right to maintain their factories' wage data confidential'.
Patagonia spends millions on green initiatives. Why can't they pay the people who make their clothes properly?
To determine a living wage, Patagonia uses the Anker Research Institute's calculation method. According to that method, you can live decently in urban Sri Lanka if you earn a minimum of 83,231 Sri Lankan rupees (263 euro) a month. Priya's salary does not even cover half that. And at the recently approved Regal Image print factory, the basic wage is even lower: 21,000 rupees (66 euro), says Fernando.
Thulsi Narayanasamy is frustrated by Patagonia's approach to sustainability. She is director of advocacy at the Worker Rights Consortium, an independent non-profit organization that monitors and investigates labor conditions in the global apparel and textile industry. 'Patagonia spends millions on green initiatives. Why can't they pay the people who make their clothes properly?'
Patagonia says it 'has no authority over how much textile workers get paid, as they are in no way, shape or form the employer of these workers.' Narayanasamy, however, is convinced Patagonia can pay a living wage, if the brand would want to. 'They could bring production in-house or pay more to suppliers that's ringfenced for wages high enough to achieve a living income. It's so well established that brand's pricing practices directly impact wage levels, it's a fallacy to deny this.'
'I think we should ask ourselves: why don't clothing brands have their own factories?' She asks the question, then answers it. 'Brands don't want to be responsible for the people who produce their clothes. All brands benefit from that, including Patagonia.