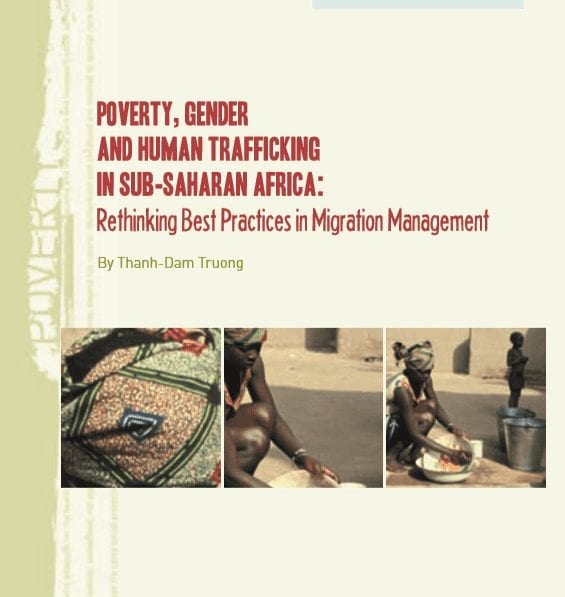 Poverty, Gender and Human Trafficking in Sub-Saharan Africa: Rethinking Best Practices in Migration Management
Preface
by Pierre Sané, Assistant Director-General for Social and Human Sciences Sector
UNESCO's ethical and intellectual mandate and its role in standard setting and policy promotion, places it in a key position to contribute to achieving the first of the United Nations' Millennium Development Goals (MDGs), that of eradicating poverty, especially extreme poverty and hunger. 'Poverty, Gender and Human Trafficking: Rethinking Best Practices in Migration Management' is the first publication of the UNESCO Poverty series. This series intends to provide food for thought in understanding poverty as a human rights issue and in proposing paths for action through scientific research on contemporary issues. Human trafficking, often qualified as the 'modern day slavery', is caused by human rights violations embodied in poverty while it also contributes to increased deprivation. In other words, poverty is one of the main factors leading people, especially women and children to fall preys to the traffickers. In turn, human trafficking locks up the trafficked persons in poverty through exploitation. This vicious circle 'poverty – human trafficking – poverty' denies individuals the basic right to education and information, the right to health, the right to decent work, the right to security and justice. 'Poverty, Gender and Human Trafficking: Rethinking Best Practices in Migration Management' tries to unpack the interconnectedness between human trafficking and poverty in Sub-Saharan Africa, based on a critical analysis of migration processes in relation to human rights abuse. I hope that it can be used as a tool for all those who fight against this injustice to re-think the existing interventions and advocate for sustainable change by tackling trafficking at its roots. Poverty and human trafficking will only cease when they are dequately addressed as two intermingled issues, which nurture each other and plunge vulnerable persons into deep deprivation and exploitation.
Foreword
by Paul de Guchteneire and Saori Terada
As we are commemorating the bicentenary of the official abolition of slavery, millions of men, women and children across the world are still subjected to slave-like living and working conditions. Trafficking in human beings is the fastest growing means by which people are forced into exploitative migration and modern-day slavery. Despite growing international mobilization, effective policies tackling the scourge at its roots remain scarce. Human trafficking is a sensitive topic, frequently associated with irregular migration, prostitution or child labour. It is consequently often approached in a highly ideological or political way. By contrast, UNESCO has chosen to develop the concept of Best Practices in the fight against human trafficking, to encourage a more results-oriented approach to this sensitive issue. Best Practices provide a much-needed link between research and policy-making by inspiring decision-makers with successful initiatives and model projects that can make an innovative and sustainable contribution to actually solving problems in society. In 'Poverty, Gender and Human Trafficking: Rethinking Best Practices in Migration Management', Thanh Dam Truong analyses how international organizations and NGOs intervene based on their understanding of trafficking and what they view as 'best' ways to fight it. Indeed, practices in migration management carry a certain value system shaped among other things, by the agenda of those who implement them. There is thus a need for a more holistic approach and cooperative actions among agencies to multiply Best Practices to address human trafficking and its inner complexities. We hope that this study is a first step in this direction.
Abstract
Many aspects of human trafficking remain poorly understood even though it is now a priority issue for many governments. Information available about the magnitude of the problem is limited.  While the existing body of knowledge about human trafficking serves for raising public consciousness about the issue it is still not rigorous enough to lend support to comprehensive programmes for action which addresses the different dimensions of the problem. Knowledge about the intersection between migration and trafficking has not yet brought about any consensus on the underlying forces and their implications for the wellbeing of children and women. The diversity of forms of human mobility in the contemporary context of global linkages requires an analytical approach which can explain why the needs of the constituents of social structures (gender, class, generation and ethnicity) and human agency have converged to produce what is known as human trafficking. Without adequate explanation policy tends to shift stance and direction. A gender critique of Structural Adjustment Programmes (SAPs) is given to show how the absence of consensus on the relation between economic growth and poverty renders choices in collective action more vulnerable to error. The obliteration of the care domain is one main error that has exacerbated pressure on livelihood systems – including the pressure to migrate – and the transmission of its negative effects on the weak members of households. The Report points out how practices of migration management can benefit from a more holistic approach – one which addresses a broad set of overlapping livelihood systems. A selected number of practices by organisations participating in this research is presented – giving their profiles, strengths and weaknesses, the way they understand trafficking, and the replicability of their practices.  Practitioners share awareness about the significance of bridging and synchronizing the three levels of intervention: prevention, prosecution and protection. Preventive measures can benefit from research on migration management that connects issues of human mobility with capital mobility in a sector-specific analytical approach. A reorientation of capital mobility towards social ends may possibly contribute to stability and well-considered migration policy frameworks. Collective action for the protection of human rights must rely on a consortium of experts who cooperate with each other to maintain a working level of effectiveness. A plurality of foci of authoritative knowledge offers diverse and potentially richer interpretation as well as fuller representation; and cross-cultural learning can improve the chance of finding innovative practices which reflect the acceptance of pluralism and diversity.