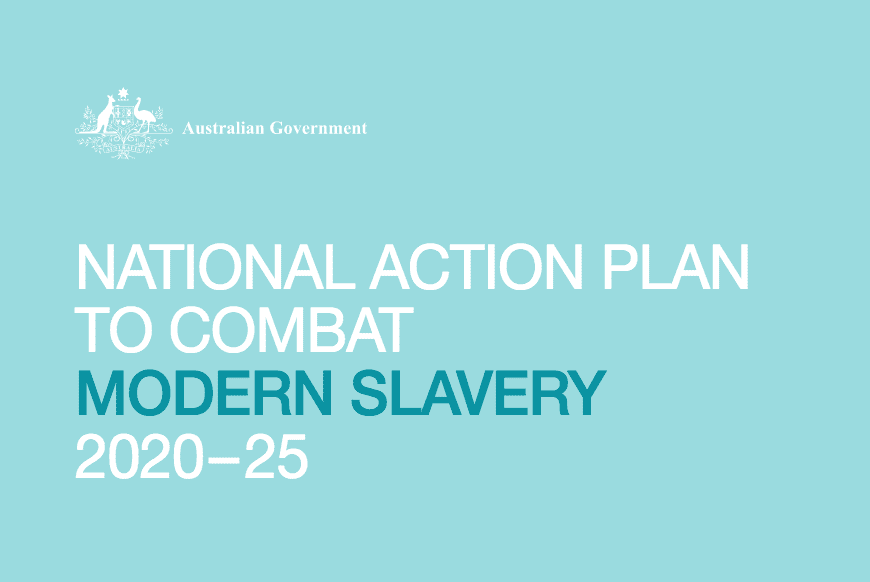 National Action Plan To Combat Modern Slavery 2020–25
We are pleased to present Australia's National Action Plan to Combat Modern Slavery 2020–25. The National Action Plan sets the strategic direction of our work to combat modern slavery in Australia over the next five years.
Modern slavery is a devastating crime that exploits the most vulnerable in our communities. It is a crime that sees women, men and children deprived of their freedom and robbed of their rights. Modern slavery also taints the global supply chains of the goods and services we purchase everyday.
The United Nations estimates that over 40 million people are trapped in modern slavery, including 16 million in private sector supply chains. Australia is not immune. There were an estimated 1,900 victims and survivors of modern slavery between 2015 and 2017 alone, with 83 per cent being women and girls.
Modern slavery has no place in our society. This is why we have been relentless in our opposition to these grave violations of human rights through implementing a strong program of initiatives to combat modern slavery in Australia and abroad.
While we have made significant progress, there is still more work to be done. Under this National Action Plan, we will implement a strategic program of initiatives to prevent, disrupt, investigate and prosecute modern slavery crimes. We will support and protect victims and survivors, and further our understanding of modern slavery through enhanced research and data collection. We will do this in partnership with international partners, civil society, business, unions, academia and governments both in Australia and abroad. Modern slavery crimes concern us all and everyone has a role in addressing them.
This National Action Plan will build on our successes to date and lay the foundations for a future where no one is a victim of modern slavery and the human rights of all are protected and valued equally.
Read more here.