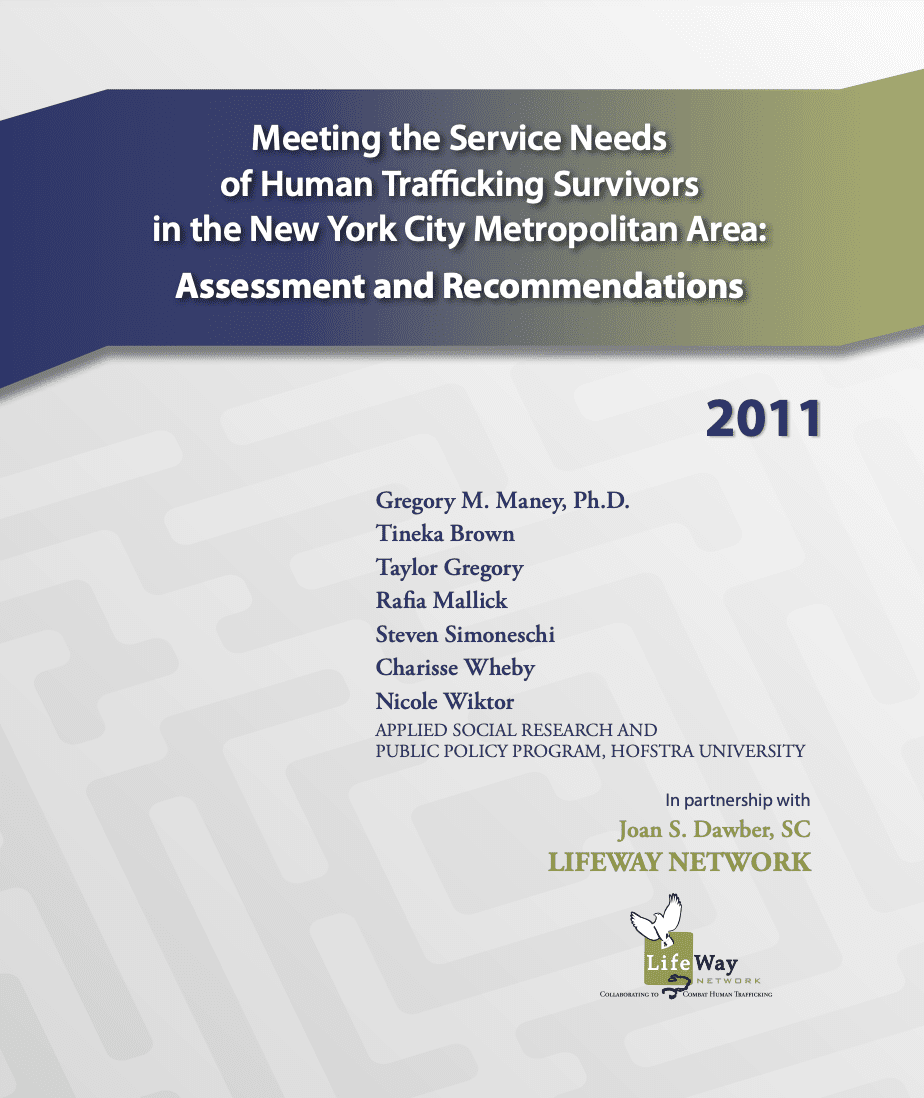 Meeting the Service Needs of Human Trafficking Survivors in the New York City Metropolitan Area: Assessment and Recommendations
Executive Summary
Human trafficking is a modern form of slavery prevalent domestically and abroad, including in the New York City metropolitan area.1 Accompanied with the violations of human rights, trafficking is an affront to the personal dignity of its victims. Furthermore, trafficking is in violation of both domestic and international law. Survivors require a variety of health, legal, and social services after they are identified in order to transition successfully to life outside of trafficking. A failure to provide for these service needs increases the likelihood of several negative biographical consequences, including being re-trafficked, physical complications, psychological complications, social isolation, substance abuse, unemployment, poverty, and suicide.
Between May and December of 2010, LifeWay Network and the Department of Sociology at Hofstra University conducted a survey of area private service providers along with in-depth interviews with representatives from funding and coordinating agencies (both public and private), service providers (both public and private), and law enforcement agencies.2 The study aims to shed light on a variety of issues associated with trafficking; in particular the need for and availability of social services. We also set out to ascertain challenges in identifying survivors and connecting survivors to service providers.
Based upon data from our survey, we estimate that private service providers in the New York City metropolitan area have interacted with at least 11,268 survivors between 2000 and 2010. Our estimate considerably exceeds previously released official estimates for reasons discussed in the full report. It is important to note the likelihood that some trafficking victims have not interacted with private service providers, further underscoring that a large population exists locally.
After case assessment of trafficking survivors, private service providers have determined that there is a great need for long-term housing. Unfortunately major gaps exist in meeting this need. Our survey data indicates that a greater number of survivors would benefit more from either long-term housing (86.6%) or transitional housing (74.5%) than from emergency housing (64.9%). Unfortunately, the survey data indicate that despite the need, safe, affordable long-term housing is virtually non-existent, with only 3.9% of clients needing long-term housing actually receiving it. The majority of service providers responding to our survey assessed both the duration and suitability of emergency housing (the main form of housing currently available) as somewhat or highly unsatisfactory. Both survey respondents and key informants that we interviewed stated that trafficking survivors needed the sustained provision of multiple services by highly trained staff in a closed, secure environment.
A gap also exists in meeting several other service needs. While demand for a handful of the 30 services assessed was largely met, 11 of the services fall below a 20% rate of serviced demand. In particular, high rates of demand for the following services were largely unmet: medical care, telephone services, formal/general education, and volunteer programs for survivors. Furthermore, respondents indicated that sub-groups of survivors are frequently underserved, including male survivors, transgender survivors, domesticborn survivors, survivors under the age of 18, and female labor trafficking survivors. The reasons for these exclusions range from restrictive rules of eligibility to service providers indicating an inability to serve certain sub-populations.
Based upon these findings coupled with our review of the relevant literature, we make 20 recommendations to funding and coordinating agencies (both public and private), service providers (both public and private), and law enforcement agencies for ways to increase the identification of trafficked persons, to fill gaps in service provision, and to further cooperation between law enforcement agencies and service providers:
Increasing the Identification of Trafficked Persons
Expand trainings targeting: (1) leadership in law enforcement agencies that do not view trafficking as a local problem; and (2) less recently graduated patrol officers and precinct officers.
Expand trainings for the staff of agencies currently providing services to survivors and the staff of agencies that have the potential to provide services but have yet to knowingly interact with survivors (especially domestic violencefocused providers and health care providers).
Increase outreach efforts utilizing communications technologies most likely to be available to victims; in particular publicity through radio programs, television programs, newspapers, and magazines. We further recommend contacting media outlets using languages most frequently spoken by survivors.
Utilize advocates to distribute literature in locations identified as experiencing trafficking.
Extensively publicize one hotline that focuses solely upon trafficking victims
Filling Gaps in Service Provision
Prioritize the creation of long-term, safe housing programs that offer a comprehensive set of services to survivors.
 Create new and in-depth service programs that assist survivors with medical care, telephones, formal/general education, and volunteer programs for survivors.
Increase the provision of foster care or permanent placement to survivors under the age of 18. Develop family counseling and parenting classes for survivors with children.
Increase the provision of services to male survivors, transgender survivors, domestic-born survivors, survivors under 18 years of age, and female labor trafficking survivors. 1
Increase the number of bilingual staff and English language courses to facilitate communication with ESL survivors.
Develop strong case management systems that include a comprehensive initial assessment, awareness of referral opportunities, and a commitment to working with survivors to gain access to available services.
Develop and maintain a detailed, centralized, and shared database of actual and potential service providers in the New York City metropolitan area.
Furthering Cooperation between Law Enforcement Agencies and Service Providers
Ensure that both the New York State Interagency Taskforce on Trafficking and the New York City Anti-Trafficking Taskforce are inclusive of NGOs and have regular attendance by all members;
Schedule ongoing meet-and-greets to connect providers with law enforcement agencies to expand stakeholder networks and to build trust.
Expand and, where applicable, redefine Victim Assistance positions at law enforcement agencies to ensure that: (a) interviews with survivors are conducted in a respectful manner, and (b) survivors are immediately provided with safe housing in non-incarceration settings, medical care, and other services determined to be urgently needed.
Advocate for statutory changes (where needed) to enable judges to waive grand juries in cases of human trafficking.
Fund new staff positions at service providers to serve as liaisons to law enforcement agencies during days and times that law enforcement are most likely to encounter victims;
Develop joint intake protocols articulated through memoranda of understanding, whereby law enforcement and service agency representatives work together to ensure that the survivor's immediate needs are met and rights are respected while assisting law enforcement to the fullest extent possible in taking action against traffickers.
Expand trainings of law enforcement officials focusing upon: (a) protocols regarding the questioning of possible trafficking victims; (b) the immediate service needs of survivors; and (c) resources available to meet those needs, including safe emergency housing.
Expand trainings of current and potential service providers focusing upon: (a) understanding criminal investigative procedures and judicial proceedings as they pertain to trafficking cases; (b) cross-cultural competence, and (c) the legal needs of survivors.
Read more here.