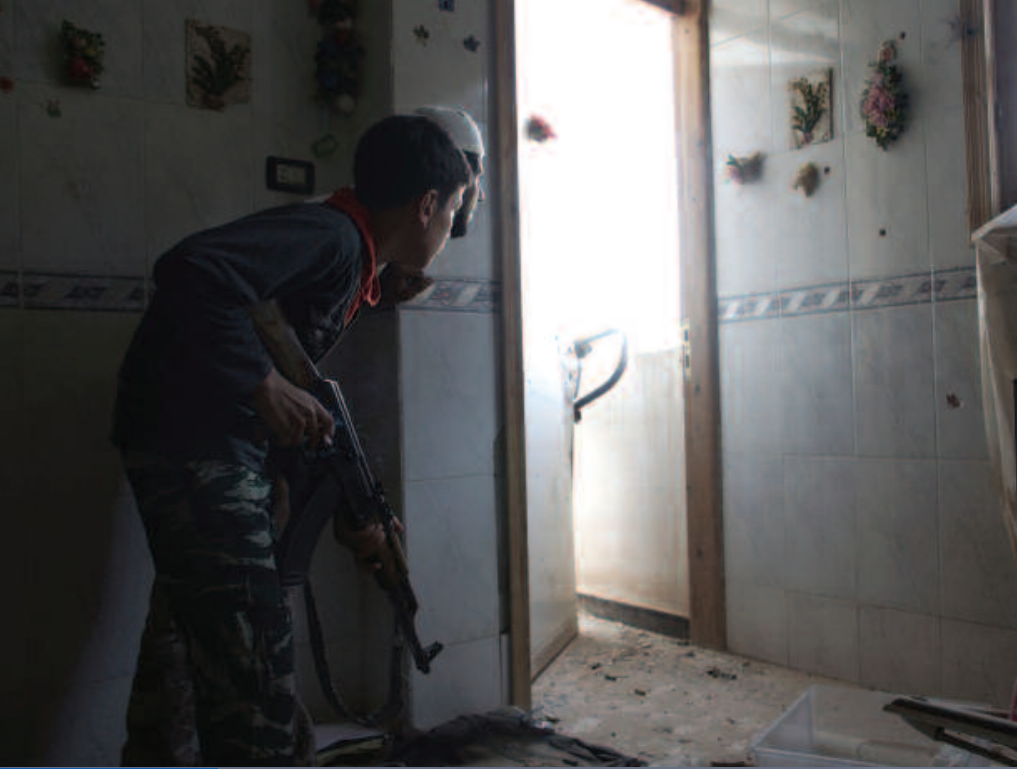 Maybe We Live and Maybe We Die" Recruitment and Use of Children by Armed Groups in Syria
Since Syria's armed conflict began in late 2011, there have been numerous serious violations of international law. Syrian government armed forces have been primarily responsible for these violations. But armed groups fighting the government have also committed many serious abuses—including recruiting and using children under 18 in combat and in direct support roles.
Human Rights Watch first documented this practice in November 2012, finding that boys as young as 14 assisted in support roles for the "Free Syrian Army," an umbrella term for multiple armed groups fighting against Syrian government troops. Since then, the number of armed groups in Syria has proliferated to include extremist Islamist groups such as Jabhat al-Nusra and the Islamic State of Iraq and Sham (ISIS) that, local residents and former child fighters say, have systematically sought to recruit children.
This report documents the experiences of 25 children who are current or former members of opposition armed groups. It does not, for logistical and security reasons, cover all groups that reportedly use children in Syria, in particular children who reported supporting, or participating with, government troops or pro-government militias, although several credible sources indicate that children have done so.
Human Rights Watch found that opposition armed groups used boys as young as 15 as fighters and children as young as 14 in support roles. Some children who participated were detained or killed in battle. Boys interviewed fought on the frontlines, spied on hostile forces, acted as snipers, treated the wounded on battlefields, and ferried ammunition and other supplies to battles while fighting raged. One doctor described treating a boy between 10 and 12 years old whose job it was to whip prisoners held in an ISIS detention facility, according to the adult fighter who brought him.
The number of children who have taken part in Syria's armed conflict is not known. However, by May 2014, the Violations Documenting Center, a Syrian monitoring group, had documented 194 "non-civilian" male children killed since September 2011. The use of children by opposition armed groups has not been confined to one group, or to certain ideologies or ethnicities. Children interviewed by Human Rights Watch reported serving in brigades and battalions associated with the Free Syrian Army (FSA), extremist Islamist forces such as the Jabhat al-Nusra and the Islamic State of Iraq and Sham (ISIS), and Yekîneyên Parastina Gel (YPG) military and Asayish police forces in Kurdish-controlled parts of northern Syria.
Boys have joined armed opposition groups for various reasons. Many simply followed their relatives or friends. Others lived in battle zones without open schools, participated in public protests, or had personally suffered at the hands of the government. Islamist groups such as ISIS have more aggressively targeted children for recruitment, providing free lectures and schooling that included weapons and other military training.
"At first I was so scared…then I got used to it," said Ayman, who began fighting with an FSA brigade in Salqin when he was 15 years old. Others interviewed echoed his words. Few had plans or real hopes for their future beyond the next battle. "Maybe we'll live, and maybe we'll die," said Omar, who began fighting at age 14 with Jabhat al-Nusra.
International humanitarian law (the laws of war) and international human rights law ban government forces and non-state armed groups from recruiting and using children as fighters and in other support roles. The Optional Protocol to the Convention on the Rights of the Child, which Syria ratified in 2003, bans non-state armies from recruiting or using children under age 18 in direct hostilities. Conscripting or enlisting children under 15, including for support roles, is a war crime under the Rome Statute of the International Criminal Court.
Several of the children interviewed said they fought with two or three different armed groups fighting Syrian government forces. Some—like Amr who said he received US$100 a month—received monthly salaries of up to $135, while others said they participated without pay. Many attended training camps where they learned military tactics and had weapons training.
Children who wished to leave armed groups and resume a civilian life told Human Rights Watch they had few options to do so. Saleh, 17, said he fought with the Free Syrian Army at 15 after he was detained and tortured by government security forces. He later joined Ahrar al-Sham, then left to join the Jund al-Aqsa, an independent Islamist armed group. "I thought of leaving [the fighting] a lot," he said. "I lost my studies, I lost my future, I lost everything. I looked for work, but there's no work. This is the most difficult period for me." All of the armed groups have taken insufficient measures to prevent children from joining their ranks, not asking or verifying through documents children's real ages when they joined, or failing to turn children away. Three commanders of various FSA units told Human Rights Watch that their units did not accept children under 18 as a matter of official policy, but did not turn them away when they came to them eager to fight. "16, 17 is not young. [If we don't take him,] he'll go fight on his own," Abu Rida, leader of the Saif Allah al-Maslool brigade, an FSA group in Daraa, said.
Some armed groups told Human Rights Watch that they prohibit child recruitment, or have taken preliminary steps to end the practice. In March 2014, the National Coalition of Syrian Revolutionary and Opposition Forces, a coalition of opposition groups supported by the Free Syrian Army, announced that it had implemented "new training for Free Syrian Army members in International Humanitarian Law to eliminate the recruitment and participation of children in armed conflict." In December 2013, the YPG General Command issued an order prohibiting enlistment of children under age 18. In January, a YPG spokesperson told Human Rights Watch that the force had demobilized fighters under 18, though researchers met child fighters after his statement. Much more should be done to stop child soldiers from joining or continuing to fight with these groups, and the others mentioned in this report.
If they have not already done so, armed groups operating in Syria should publicly commit to end recruitment and use of children under age 18, and should demobilize all fighters or others under 18 currently in their ranks. Those recruited under age 18 but now no longer children should be free to leave opposition forces. Armed groups should also work with international agencies specialized in child protection to rehabilitate and reintegrate these children into civilian life. Finally, they should ensure that all officers under their command understand the ban on recruiting or seeking assistance from children, and establish age verification procedures they must follow to enforce it. Officers responsible for recruitment who continue to enlist children should be appropriately disciplined.
To address the practice of children joining armed groups in Syria, UN bodies should seek public commitments from armed groups not to recruit or enlist children under age 18 and use age-verification procedures to ensure that children do not join. The UN Security Council should refer the situation in Syria to the International Criminal Court to allow prosecution of war crimes, including the conscripting or enlisting of children under 15 into armed forces or non-state armed groups or their active participation in hostilities.
Governments providing aid to armed groups in Syria should review these groups' policies on child recruitment, and should suspend all military sales and assistance, including technical training and services, to all forces credibly implicated in the widespread or systematic commission of serious abuses, including the use of child soldiers, until they stop committing these crimes and take appropriate disciplinary action against perpetrators. They should also restrict residents of their countries from providing military support to these groups.
Finally, humanitarian agencies operating in Syria or assisting refugees in neighboring countries should support efforts to provide secondary education opportunities for children, and address the particular needs and vulnerabilities of boys aged 13 to 18 in their child protection programming.
To read the full report click here.
Human Rights Watch investigates and reports on abuses happening in all corners of the world. We are roughly 450 people of 70-plus nationalities who are country experts, lawyers, journalists, and others who work to protect the most at risk, from vulnerable minorities and civilians in wartime, to refugees and children in need. We direct our advocacy towards governments, armed groups and businesses, pushing them to change or enforce their laws, policies and practices. To ensure our independence, we refuse government funding and carefully review all donations to ensure that they are consistent with our policies, mission, and values. We partner with organizations large and small across the globe to protect embattled activists and to help hold abusers to account and bring justice to victims.