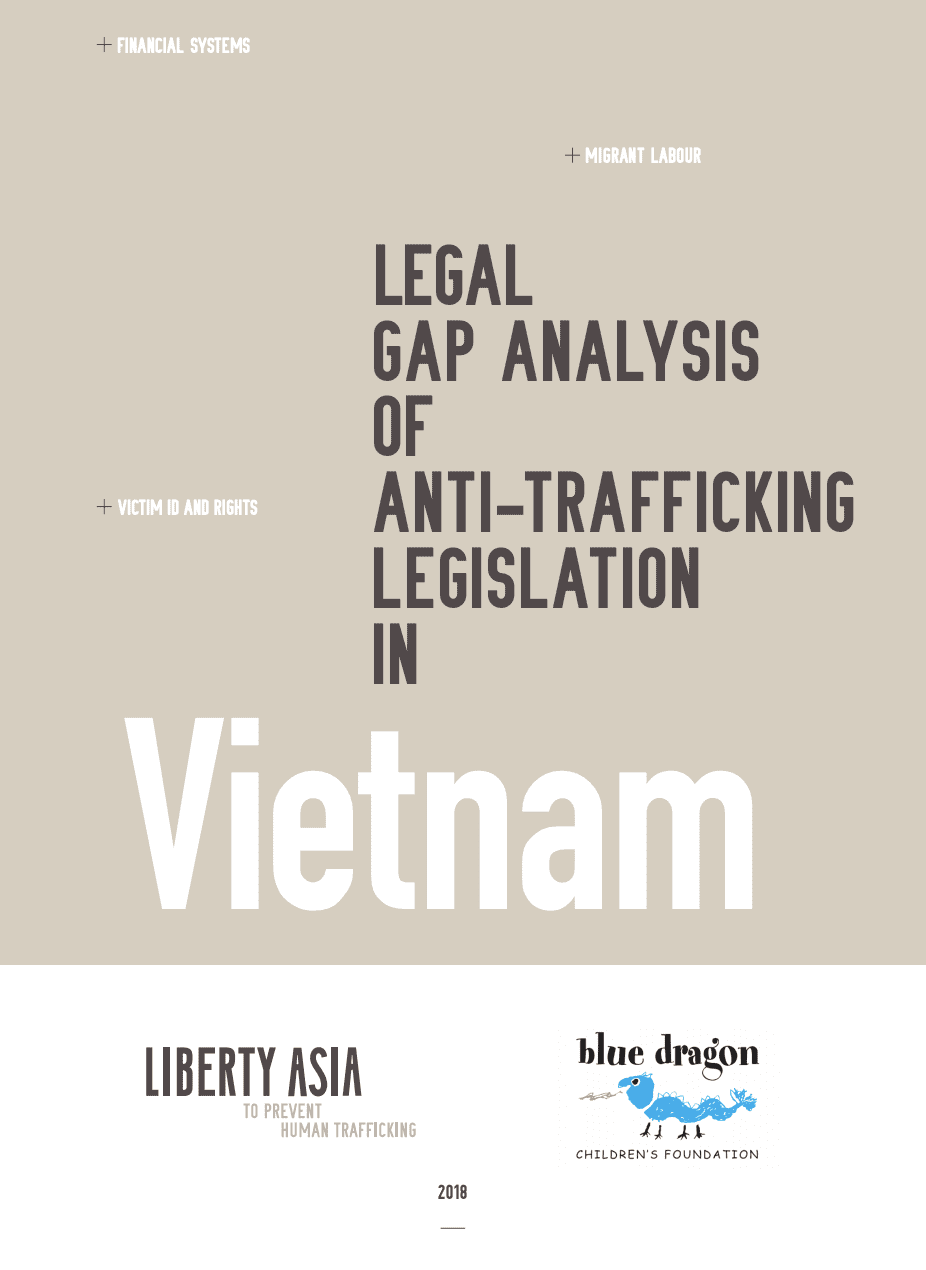 Legal Gap Analysis of Anti-Trafficking Legislation in 2018 Vietnam
Executive Summary:
Vietnamese men, women and children are trafficked for sexual exploitation and forced labour to countries such as China, Cambodia, Thailand, Hong Kong, Macau, Malaysia, Taiwan, South Korea, the United Kingdom and the Czech Republic with 60% of victims estimated to be trafficked to China (mostly from the central and northern provinces of Vietnam). The victims often end up in forced labour in factories, mining sites, constructions sites, brothels or as domestic servants or, in Europe, cannabis farms, related parts of illegal drug operations or nail bars. Human trafficking in Vietnam frequently occurs through means such as fraudulent marriage or false promises of employment. In cases where victims migrate willingly, the vulnerabilities of victims due to reasons such as poverty, gender, lack of education, and ethnicity are usually being exploited. Fraudulent marriage, false promises of employment and licensed and unlicensed migrant labour recruiting agencies are conduits for human trafficking in Vietnam. Trafficking within Vietnam also remains an issue with victims trafficked from rural to urban areas for sexual exploitation and forced labour and rural to rural areas for agriculture and mining, fishing, etc. Children are subjected to forced street hawking and begging in major urban centres of Vietnam.
To deal with the issue of human trafficking, the Vietnamese anti-trafficking legislation has evolved and advanced to the point that it is now a comprehensive anti-human trafficking legal framework, substantially compliant with Vietnam's international obligations, particularly under the Palermo Protocol. This has not always been the case but has resulted in particular from the introduction of a specific law on human trafficking in 2011, the issuance of various decrees and circulars since 2011 interpreting and expanding the law on human trafficking (particularly its victim protection and support measures) and the new Penal Code with revised trafficking offences. As a consequence, the Vietnamese anti-trafficking legislation has a broad definition of "human-trafficking" which covers the various forms of human trafficking and criminalises all forms of trafficking. Penalties for trafficking have been increased and are now commensurate with the gravity of the crime. Very serious crimes carry a minimum of 5 years imprisonment. The financial penalty has also been increased to VND 500,000 million, illustrating a serious political will of the Vietnamese government to tackle this crime. In accordance with international standards, the Vietnamese anti-trafficking legislation also places a strong emphasis on the protection and rehabilitation of the victims f trafficking.
However, despite the much improved and comprehensive anti-human trafficking legislation, issues remain particularly in relation to enforcement. Because the trafficking of women and children across Vietnam's border for sexual exploitation purposes is well documented and pervasive, the Vietnamese authorities have tended to focus on this form of trafficking (both internal and crossborder). As a consequence, there have been gaps in the prosecution and conviction of labour traffickers (with most traffickers convicted in cases involving sexual exploitation rather than labour trafficking as the Old Penal Code did not criminalise forced labour) and gaps in the identification of forced labour victims and the protection offered to male victims. Given the lack of regulations in the Old Penal Code, the prosecution and conviction of labour traffickers was handled as different crimes e.g. illegal detention, employing child employees. Trafficked victims may also face concerns about being prosecuted for crimes committed as a direct result of their trafficking as the law does not explicitly grant victims immunity. The Vietnamese government, however, appears to be listening to the international community and the development and incremental improvements in its anti-human trafficking legislation can be seen as a gradual response to the various concerns of the international community. Most recently, in relation to forced labour trafficking, the amended Penal Code expressly criminalises forced labour trafficking and treats it in the same way as trafficking for sexual exploitation.2 There is therefore room for optimism that the government's efforts to prosecute and convict forced labour traffickers will improve.
In Vietnam the offence of money laundering is broadly defined. Although Vietnam does not have any specific legislation to address money laundering which arises as a result of human trafficking, the broad definition of money laundering means there are a wide range of predicate offences, including human trafficking offences.
Vietnam has established an anti-corruption legal framework that can be considered "strong" and which broadly complies with Vietnam's international obligations. The anti-corruption regime, however, currently only applies to the public sector and not the private sector. It remains to be seen whether the National Assembly would vote in favour of the draft anti-corruption law to hold those in the private sector accountable for corrupted practices.
While Vietnam has a robust legal framework in terms of preventing and combatting money laundering and corruption, the vagueness of some of the laws (including implementing guidelines) can, in practice, lead to gaps in the practical application of anti-money laundering and anti-corruption legal frameworks. The government's efforts to enforce the law are also impeded by issues such as ineffective and time-consuming bureaucracy, lack of cross-agency coordination. Statistics on money laundering and corruption are not always available to the international community and this lack of reporting can stymie progress to eliminate or prevent these offences.
With the intensified focus on environmental and social reporting worldwide since the United Nation's unanimous endorsement in 2011 of a framework for business and human rights that emphasises the responsibility of companies to ensure that their activities do not negatively impact human rights, public firms and companies listed on the Stock Exchange are legally required to disclose on sustainable development. 3 Moreover, the listing rules of the Hochiminh Stock Exchange also require environmental, social and governance reporting by Vietnamese companies. These developments have demonstrated Vietnam's willingness to join the global initiative on market transparency. Such reporting is, however, more visible among multi-nationals doing business in Vietnam motivated by, among other things, the desire to position themselves favourably with the authorities, media and other interested parties (both in and outside Vietnam) and the level of information disclosure remains relatively low.
Read more here.