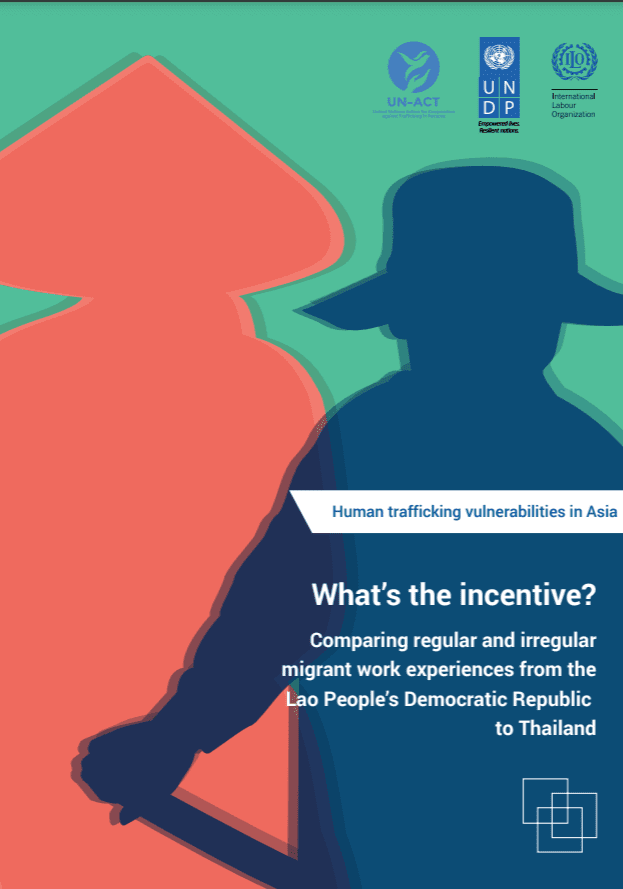 Human Trafficking Vulnerabilities in Asia: What's the Incentive?
Formal labour migration procedures are assumed to be beneficial to migrant workers in various ways, including by
reducing vulnerability to abuse and exploitations. Little empirical work, however, has been conducted comparing
the experiences of regular and irregular migrant workers, and assessing the outcomes of these different migration
models. The report contributes to filling this gap in the study of migrant work, with a focus on the migration corridor
between the Lao People's Democratic Republic and Thailand.
The analysis is informed by two surveys; the main survey captures the voices of 131 returned migrant workers from
Luong Prabang and Champassack in the Lao People's Democratic Republic – 76 men and 56 women – that enlisted
the services of recruitment agencies to take up work in Thailand, in line with a Memorandum of Understanding on
Employment Cooperation between the two countries. This data was collected between July-August 2015. Where
feasible and relevant, their experiences are compared to those of 128 irregular Lao migrant workers – 67 men and 61
women, and mostly from Champassack and Saravan – who were deported from Thailand across the Wang Tao-Chong
Mek international border, with interviews conducted from March-July 2013.
The report provides a synthesized outline of the regulatory framework for labour migration between the two
countries, evaluates that against the recruitment, work and life experiences reported by regular migrant workers,
and compares these with the conditions faced by irregular migrant workers. It is divided into four sections, covering
respondents' background information and pre-departure conditions; the recruitment process; the working and living
conditions in Thailand; and the end of their work and the return to the Lao People's Democratic Republic.
See the survey results here.