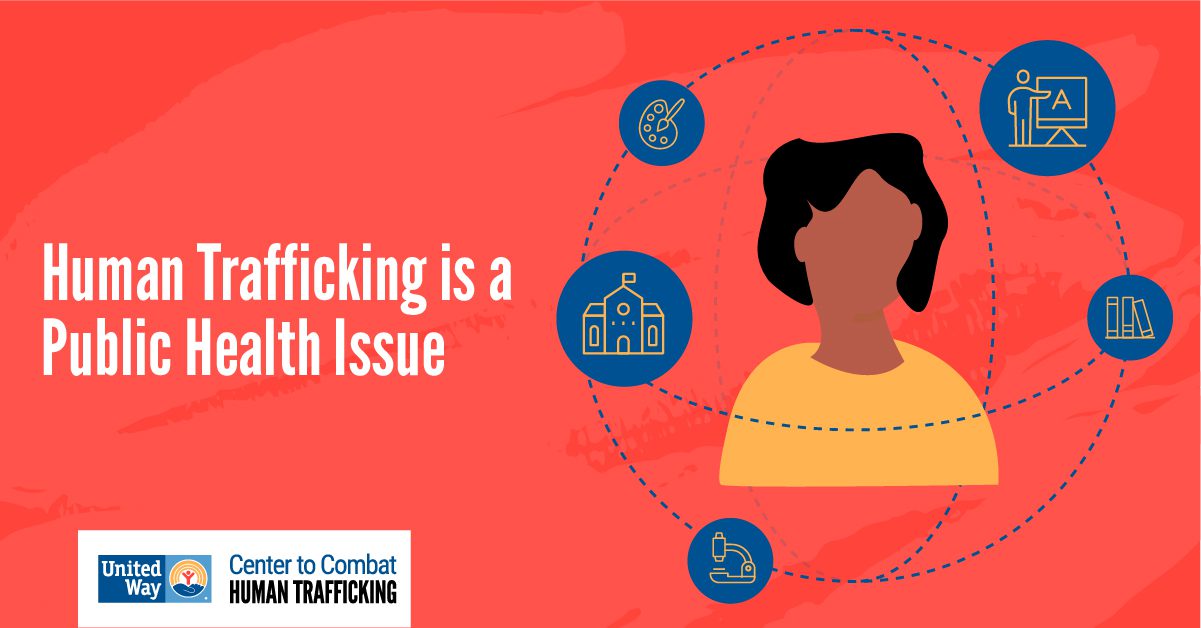 Human Trafficking is a Public Health Issue
Recognizing January as National Human Trafficking Prevention Month, this blog is the first in a series about the intersectionality of human trafficking with health, education, and financial stability. Click here and here for the other blogs in this series.
Human trafficking – the act of compelling someone to work, for little or no pay, through force, fraud, or coercion – is an incredibly complex issue that connects with many others. Systemic injustices like racism, homophobia, sexism, economic inequality, and more lead some people to face more risk of human trafficking than others. It is a multi-dimensional problem that disproportionately impacts marginalized communities around the world.
United Way envisions a world where communities ​deliver equitable solutions to achieve lasting change, giving everyone the chance to thrive — especially in education, economic mobility, and health. Each of these issues is affected by and affects human trafficking. They are prevention points *and* intervention tools in the fight against human trafficking.
This systemic injustice can't be prevented unless everyone is getting adequate access to healthcare, education, and a decent job that supports a family. And survivors of human trafficking frequently need support to access healthcare, gain a proper education, and build financially stability. Recognizing and addressing these intersection points can help strengthen community resilience to human trafficking. We're seeing in on-the-ground work across the world.
United Way believes we should use a public health approach to anti-human trafficking prevention and intervention activities. This can help communities address the root causes of this systemic issue and better support the long-term healing and success of survivors. According to the U.S. Department of Health and Human Services, the following activities are key to employing a public health approach to combatting human trafficking:
Removing barriers to health and healthcare access. Survivors frequently encounter barriers to healthcare services and medical attention before, during, and after their trafficking experience. Issues such as lack of identification documents or interpreters; feelings of shame, stigma, or fear; insufficient finances or health insurance coverage, and more frequently impair survivors' access to health and healthcare. Monitoring the health and wellness of community members by taking special care to ensure historically underserviced people groups have access to affordable, quality healthcare, is a tool for both human trafficking prevention and intervention.
Informing, educating, and empowering community members and healthcare workers about the issue of human trafficking and ensuring health industry employees understand the complexity and intersectionality of the issue. Healthcare providers must be educated about the nuances of this complex issue and should seek to understand survivors' perspectives and feelings toward healthcare systems and services. Healthcare providers should be familiar with stories of trafficking to gain an understanding of how trauma and adverse experiences may shape an individual's interactions with and view of health care services.
Survivors of human trafficking often face adverse physical and mental health issues such as higher levels of depression and post-traumatic stress; sexually transmitted infections or diseases; substance abuse struggles and addiction; physical injuries; and malnutrition, among others. Survivors frequently need immediate care to address these health issues, as well as access to long-term physical and mental health services in order to recover and rebuild their lives in a safe and healthy way.  Healthcare workers need to be prepared to utilize a trauma-informed approach with all patients.
Offering support and services to vulnerable patients if and when risk factors are identified in a healthcare setting. As a hidden crime, there are frequently no outwardly visible signs to explicitly signal that a person is being trafficked. Identifying cases of human trafficking just by "spotting the signs" is often not possible, which is why "knowing the story" of an individual is often necessary to identify human trafficking. Given the nature of their work, healthcare workers may frequently have a unique ability to identify incidences of human trafficking through their interactions with patients. By understanding common risk factors – such as histories of maltreatment, domestic violence or abuse, homelessness, financial instability, and more – healthcare workers can be well-poised to offer support to individuals being trafficked if they take time to know the story behind a situation. Intervention on the part of a healthcare worker may be sufficient to help someone leave a situation of exploitation.
Developing local, state, and national policies that uplift the health and wellbeing of all people and reduce barriers to receiving affordable, quality care, particularly for those who are considered most vulnerable. Reducing barriers to healthcare access will require communities to employ new systems and strategies. Creating laws and regulations that protect the health, wellbeing, and safety of all people is paramount, and local officials must understand how to enforce and uphold such things in an equitable manner. Furthermore, regularly improving existing healthcare systems, services, and legislation through monitoring and evaluation is necessary to ensure all people receive the care they need.
There is power in partnership with public health professionals, United Way believes. Employing a public health approach to anti-trafficking work also means building and leveraging partnerships and cross-sectoral collaboration. Local United Ways working on anti-trafficking efforts have seen firsthand the value of convening local stakeholders to collectively combat this issue.
In the Texas border town of Brownsville, United Way of Southern Cameron County has spent the past two years organizing, facilitating, and coordinating a network of local stakeholders and service providers in their community, and they have seen incredible success. Wendy Hanson, Vice President for Community Impact at United Way of Southern Cameron County, believes in the power of galvanizing the community around this issue. "(We) have expanded the knowledge base for existing services and resources available in our community… (and have) created new partnerships between social service groups." These new partnerships have enabled the stakeholders involved in this network to better utilize existing resources and provide a more holistic approach to serving survivors and at-risk people. The success of this work can be tangibly seen in the story of *Juana:
Juana was 24 and pregnant for the first time when she fled the violent situation in her home country of Guatemala. After crossing the border, Juana's smuggler confiscated her documents and kept her prisoner inside a house in Southern Cameron County, Texas, forcing her to cook and clean without pay. Her family back home was extorted to send money and told she would be harmed if they did not pay. She was not even allowed to go outside.
Over time, Juana became quite ill and began experiencing significant pain. Despite her worsening symptoms and pregnancy, Juana's trafficker did not allow her to receive medical care or attention until she suddenly went into premature labor. When her trafficker dropped her off at a local hospital, Juana made the courageous decision to tell emergency room workers some of what she had been experiencing. Fortunately, the health care staff had been trained on how to respond in such a situation, and hospital staff immediately called Refugee Services of Texas (RST), a partner in United Way of Southern Cameron County's anti-human trafficking initiative. 
A social worker from Refugee Services of Texas got emergency shelter for Juana and her newborn infant in a safe hotel, providing emotional support and ensuring their needs were met. Others from the anti-human trafficking initiative later found Juana an immigration attorney, and an investigation of her trafficker was opened at the Department of Homeland Security. A special visa application for trafficking survivors was filed so that Juana can remain in the U.S. TUnited Way partners then helped Juana move into transitional housing. Juana is now receiving trauma-informed counseling, which has helped empower her to participate in the investigation of her trafficker. She continues receiving comprehensive case management services and is participating in financial literacy classes and counseling services today. (*Juana is not her real name.)
Juana's story illustrates the importance of employing a public health approach to combatting human trafficking. Through human trafficking awareness education, Juana's health care providers knew the importance of taking time to listen to her story, and they were able to provide her with the care and support she needed. And because community stakeholders in Southern Cameron County had already been galvanized, they were able to quickly come together to provide Juana with the care, support, and services she and her baby needed.
The National Survivor Network explains that a unique benefit of taking a public health approach is that it can "provide the maximum benefit for the largest number of people," through a multi-disciplinary lens. This framework allows service providers and community leaders to understand risk factors of human trafficking as environmental or systemic, which widens the scope for organizations like United Way to support survivors.
Around the world, United Way is committed to convening stakeholders and building healthy communities. By making it easier for individuals to access things like substance abuse programs, quality health care, and nutritious foods, local United Ways are reducing vulnerabilities to human trafficking within their communities. We encourage you to learn more about United Way's health work here and check out these resources for more about the intersectionality of health and human trafficking.
Special thanks to Annie Barbour, Brooke Wheeler, Khadija Rahman, Marjorie Blum, and Tamia Ingram for their research to support the creation of this blog.