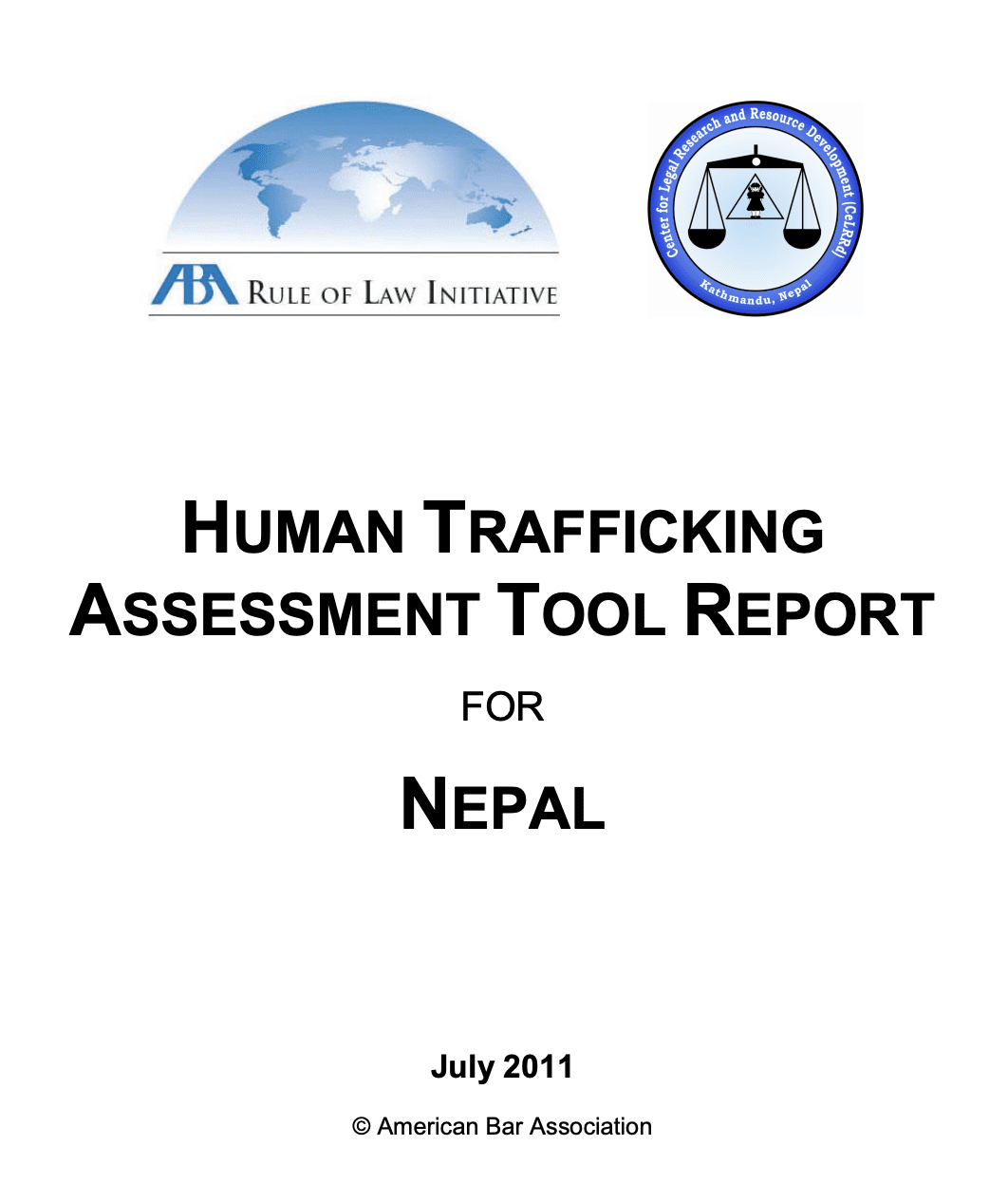 Human Trafficking Assessment Tool Report for Nepal
Trafficking in persons is a global phenomenon and one of the most prevalent crimes of the modern world. It takes a heavy toll of hundreds of thousands of victims annually, and indiscriminately affects stable democracies, countries in transition, and societies immersed in war. International organizations, governments, and non-governmental groups have recognized human trafficking as a contemporary form of slavery and – in certain circumstances – a crime against humanity.
The list of possible anti-human trafficking strategies that can come into play in the dynamics of rule of law promotion can be overwhelmingly long. They may consist of legislative reform, awareness raising, advocacy, capacity building, research, monitoring, impact litigation, or direct assistance to victims. They may be either holistic or narrowly tailored to accomplish specific objectives or address selected target groups, such as the general public, state authorities, victims, or perpetrators. The approach of the American Bar Association's Rule of Law Initiative (ABA ROLI) to combating trafficking in persons involves advancing sustainable solutions through strategic mobilization of awareness and capacity building among government entities and civil society. The projects are often undertaken in partnership with local non-governmental and international organizations.
Collection of country-specific information creates a necessary foundation for identifying important elements of the reform process in the field of counter-trafficking. With this in mind, in 2005, the ABA's Central European and Eurasian Law Initiative (ABA/CEELI), now a division of ABA ROLI, developed the Human Trafficking Assessment Tool (HTAT). The HTAT is designed to assess countries' de jure and de facto compliance with the Protocol to Prevent, Suppress and Punish Trafficking in Persons, Especially Women and Children, Supplementing the United Nations Convention against Transnational Organized Crime (Trafficking Protocol), which is one of the most important international tools aimed at combating trafficking in persons. The primary purpose of the HTAT is to enable technical assistance providers, donors, and local stakeholders to design and implement more effective national and regional counter-trafficking strategies, to enhance countries' compliance with the Trafficking Protocol, and to monitor progress in the fight against human trafficking.
The technical nature of the HTAT distinguishes this assessment tool from other independent assessments of a similar nature, such as the annual TRAFFICKING IN PERSONS REPORT published by the U.S. Department of State, Office to Monitor and Combat Trafficking in Persons, or the GLOBAL REPORT ON TRAFFICKING IN PERSONS produced by the United Nations Office on Drugs and Crime (UNODC). This comprehensive assessment measures to what extent specific legal norms and conditions present in the country comply with specific provisions of the Trafficking Protocol at a particular point in time. In addition, the HTAT's in-depth analytic process is not intended to be a scientific, statistical survey. Instead, it is first and foremost a legal inquiry into the country's antihuman trafficking regulatory framework and infrastructure. The analysis draws upon a diverse pool of information derived from the relevant legal provisions and secondary materials, interviews with key informants, and discussions with informal focus groups.
Read more here.