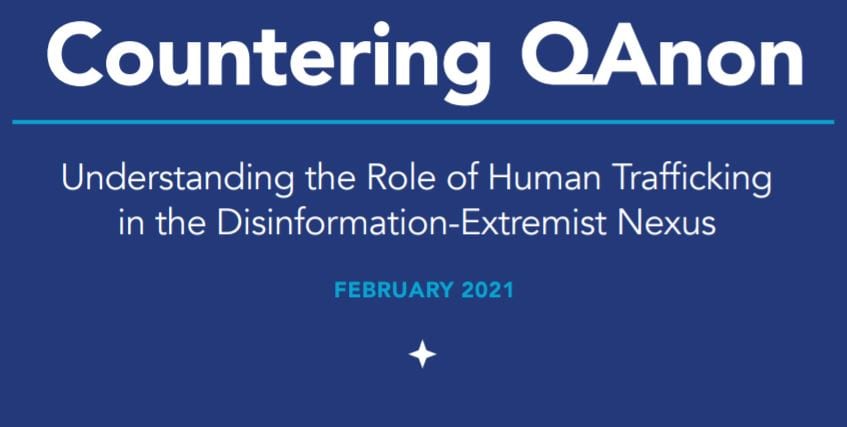 Countering QAnon: Understanding the Role of Human Trafficking in the Disinformation-Extremist Nexus
KEY FINDINGS:
• Disinformation about human trafficking serves as a gateway narrative that radicalizes susceptible audiences to condone, and even perform, acts of violence and terrorism. This ultimately poses a threat to the national security of the United States.
• The fallout from disinformation about human trafficking has a profoundly harmful impact on victims and survivors of human trafficking; the amount of time Polaris spent responding to false reports about the Wayfair conspiracy theory could have been used to respond to an additional 42 trafficking cases.
• A significant portion of the U.S. population is susceptible to being radicalized; 21 percent of U.S. adults self-identify as QAnon believers, and 41 percent of U.S. adults believe that elites, politicians, and/or celebrities are involved in a global pedophilia ring.
• In spite of de-platforming efforts by social media companies, white supremacist and other violent far right extremist groups on encrypted chat platforms are using human trafficking disinformation as a way to recruit disillusioned QAnon followers to join their movements.
• A coordinated, multi-stakeholder effort is needed to develop and implement strategies to impart the truth about human trafficking in a way that is compelling to both susceptible audiences and to audiences already convinced of the false narrative.
INTRODUCTION
On January 6, 2021, a violent mob launched a deadly siege on the U.S. Capitol with the stated purposes of disrupting the final, official certification of Joseph R. Biden, Jr. as the winner of the 2020 presidential election. Among the indelible images of that terrifying day were totems of hate desecrating one of democracy's sacred spaces — gallows and a noose; a flag representing a fictional white supremacist nation; a sweatshirt reading "Camp Auschwitz."
As the picture of the January 6th attack comes into focus, it is clear that while many attendees were animated by these expressions of hate, the reality is far more complicated. While hate certainly played a role in drawing many to the event, there was another far more benevolent force that attracted others: a concern — albeit fueled by false narratives and conspiracy theories — for the safety of children.
Read full report here.