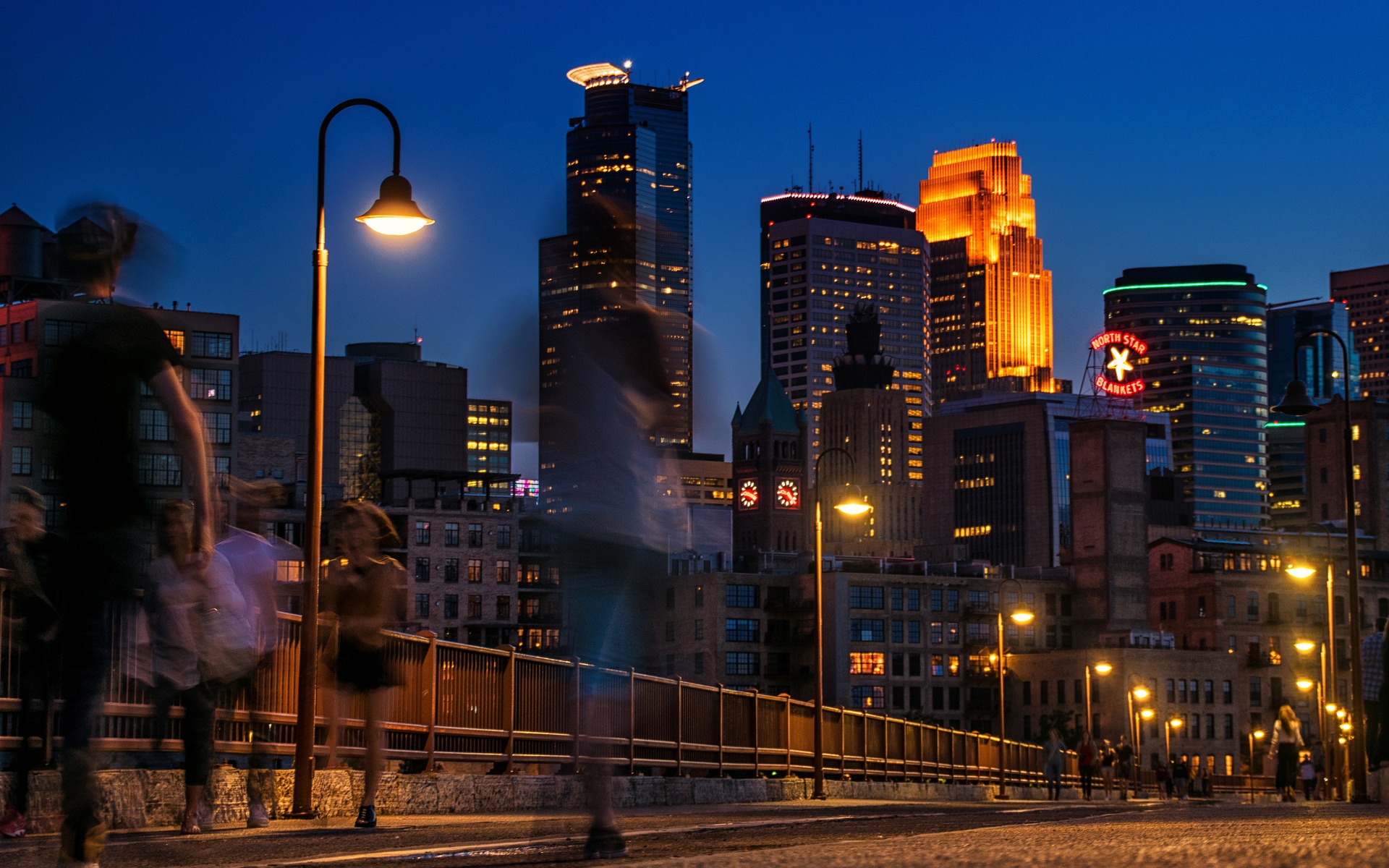 A Holistic Approach to Human Trafficking and Exploitation: A Framework for Action
The City of Minneapolis envisions being a "compassionate city where each of us can reach our full potential while caring for one another, eliminating racial disparities, improving our environment, and promoting social well-being. We lead in innovative and creative ways, focused not only on our present needs but also the success of future generations." Every four years, the City adopts goals and priorities to actualize its vision and achieve its goals of ensuring safety; eliminating racial disparities in housing; advancing economic inclusion of workers and businesses, especially for people of color, and Indigenous communities, and ensuring that immigrant businesses feel supported and can thrive. Minneapolis 2040 and the Strategic and Racial Equity Plan (SREAP) are tools that incorporate the City's values, including racial equity, in all its initiatives. Specifically, SREAP provides a framework to advance the City's work in a manner that helps ensure that City services and investments are benefitting the most marginalized and vulnerable communities in the City. SREAP focuses on creating equitable housing, public safety and economic development policies by procuring services and using existing data to inform its decisions which help advance the City's racial equity work.
The anti-trafficking and sexual exploitation work fits within the greater vision of a city where affordable housing is accessible, a livable wage is realized, neighborhoods are free of violence and exploitation, and systemic barriers are eliminated for all citizens, but particularly for those who are at a higher risk of being trafficked and exploited.
Human trafficking is a by-product of so many underlying issues, systematic barriers in the form of economic and social inequalities, and oppression of all kinds. Existing laws and policies at the federal, state and local levels, have created unfavorable social and economic conditions for those who have been historically marginalized. Many continue to face marginalization by implementation of these policies and programs and services that were not fully informed by the communities. As a result, BIPOC communities (Black, Indigenous, People of Color) continue to experience high rates of poverty, unemployment, homelessness, chemical dependency, mental health issues, violent crime, exploitation, prostitution, sexual violence, and human trafficking.
Although Minnesota enacted its human trafficking law in 2005, it was not until 2011, during the movement to pass the Safe Harbor for Youth Act, that the state acknowledged the problem as a public health issue and one that could be prevented by employing holistic and comprehensive measures and practices. Since then, Minneapolis has mobilized City departments to develop policies designed to bring about change in institutional behavior, and to invest in community organizations that provide services and outreach to victims/survivors. Despite the good work, this response is not nearly enough.
The 2013 Minneapolis City Council Resolution, authored by former council member Elizabeth Glidden, helped formalize the City's anti-sex trafficking and sexual exploitation of juveniles by directing the City to form a Coordinating Committee. The committee's goals were to coordinate and support the activities of various City departments and to coordinate City efforts with other government, non-profit organizations, and community partners. The Coordinating Committee would later be known as the Juvenile Sexual Exploitation workgroup and was chaired by former City Attorney Susan Segal.
Local Efforts to Address Human Trafficking
Since 2013, the City has passed and implemented policies and practices to operationalize and implement the Safe Harbor for Youth Act, a Minnesota law that decriminalizes youth under 18 who engage in the selling of sex and/or survival sex and directs them to receive services. It includes:
Sex Trafficking and Sexual Exploitation:
In2013,theCityCounciladoptedacitypledgetocombatcommercialsexualexploitation and trafficking of juveniles and established a cross-disciplinary Coordinating Committee to Prevent Juvenile Sex Trafficking;
In 2013, the City passed its first massage regulation ordinance to combat sex trafficking; o In 2013, the Minneapolis Youth Congress and the Youth Coordinating Board prioritized the human trafficking crisis, conducted a study, and engaged decision-makers to develop policies and regulations that reflect the City's commitment to end human trafficking;
The Minneapolis Police Department formed a dedicated juvenile sex trafficking investigation unit, comprised of two skilled investigators and an analyst, which uses a victim-centered approach. The unit also works closely with non-profit advocacy agencies and county child protection departments and prosecutors to recover victims and to develop criminal cases against traffickers; the MPD has also assigned an officer to the Minnesota Bureau of Criminal Apprehension Human Trafficking Task Force;
City staff, including school-based clinic nurses, firefighters, and housing inspectors, has received training how to identify signs of potential sex trafficking and how to appropriately respond in these situations;
Juvenile sex trafficking information and training has been provided to licensed City businesses, including hotel staff;
The City partnered with the Women's Foundation of Minnesota, non-profit organizations, and Hennepin and Ramsey County prosecutors to develop a plan to bring awareness of and to prevent juvenile sex trafficking using the 2018 Super Bowl held in Minneapolis as a platform. Funds to support the $1 million-dollar campaign were privately raised and included funding from the National Football League. The comprehensive plan focused on 1) training; 2) education and awareness through two campaigns developed by survivors of juvenile sex trafficking, ("Don't Buy It") to educate men and boys, and ("I am Priceless"), to prevent youth from becoming trafficking victims; and 3) service delivery in partnership with the Minneapolis Police Department;
City Attorney Segal participated in the State Human Trafficking Task Force Legislative and Policy Committee. The City's Intergovernmental Relations Office vetted legislative proposals and provided support for provisions consistent with the City's legislative agenda. In 2017, the City assisted in the passage of legislation that helped to fund and support research to explore the partial decriminalization of prostitution and to provide a strategic plan to the legislature, the funding for which was funneled through the Minnesota Department of Health. The Safe Harbor for All report was published in 2019, which also provided guidance in drafting policies and in implementing recommendations proposed in this Blueprint;
In 2018, the City passed an honorary resolution declaring February 15, 2018, as "Standing up Against Commercial Sexual Exploitation Day;"
In 2018, The Link, a nonprofit that provides services to homeless/runaway and sexually exploited and trafficked youth, received $25,000, from the City, for two years to support their Passageways Emergency Shelter and Housing Program;
Developed a pre-charge treatment-based diversion program for prostituted adults in partnership with The Family Partnership, Minnesota Indian Women's Resource Center, and other culturally specific, trauma-informed providers; this program is currently on hold and other best practices are being explored by the City Attorney's Office;
Implemented the juvenile supervision center staffed by The Link, our Regional Navigator for the State's Safe Harbor No Wrong Door initiative, where youth can be dropped off by officers for truancy or curfew-related issues;
The City co-funded homelessness initiatives in conjunction with Hennepin County and provided funding for street outreach workers from YouthLink, a service provider for homeless youth up to age 24;
Minneapolis Health Department ensured, and continues to ensure, compliance with the new state rules requiring training on sex trafficking for the lodging industry;
Minneapolis Health Department contracted with The Family Partnership and the Minnesota Indian Women's Resource Center (MIWRC) to conduct outreach to sexually exploited individuals on Lake Street between 2017-2019;
Minneapolis also benefits from the state's Safe Harbor programs and services through nonprofits – The Link, The Family Partnership, YMCA of the North, Outfront Minnesota, Minnesota Indian Women's Resource Center, Lutheran Social Services Streetworks Collaborative, and Mid-Minnesota Legal Aid, and the City's departments interact with these organizations in implementing the state's Safe Harbor system;
In 2018, the City applied for the Pathways to Freedom Grant, after recognizing the need for a dedicated position to drive the work forward and the need to address exploitation and human trafficking;
In 2019, the City passed a resolution directing the City to expand its focus to include sex and labor trafficking and exploitation for all;
In2019,theCityAttorney'sOfficeincollaborationwithCenteronWomen,Gender,and Public Policy and Center for Urban and Regional Affairs at University of Minnesota, Twin Cities sponsored graduate researchers to create an educational tool that will help to make expungement accessible for victims/survivors of sexual exploitation (prostitution).i
Since July of 2018, the Pathways to Freedom Grant, with a dedicated staff position, in the form of Senior Advisor, advanced the City's commitment through internal and external coordination and collaboration. Three examples presented below are a testament to it.
Read full report here